Crypto index plunges by 78%; is this the fastest brewing crisis in world?
The MVIS CryptoCompare Digital Assets 10 Index is a modified market cap-weighted index which tracks the performance of the 10 largest and most liquid digital assets.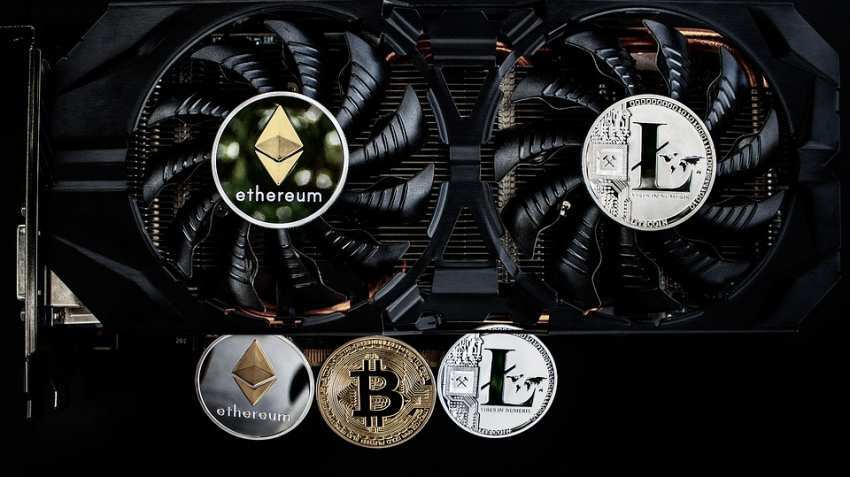 Representational Image: Photo: Pixabay
Updated: Thu, Sep 13, 2018
06:13 pm
Mumbai, ZeeBiz WebDesk
In the start of December month last year, the market world saw a new revolution. This new phase was entirely digital and in a sense, a bit scary as well, especially for regulatory authorities across the world. This was the time when Bitcoin made history by soaring to near $20,000-mark. Almost everyone was talking about the uptrend in this digital currency. Well Bitcoin is still in the news but not for its blockbuster performance anymore. Before Bitcoin could take that jump in the cryptocurrency market, there was an index formed known as MVIS CryptoCompare Digital Assets 10 Index in the same year. Why we talking about this index? Because it tracks performance of about 80% of overall cryptocurrencies market valuation. As digital coins are plunging to new depths, this index has extended its downfall so much so that, it can actually be termed as the fastest crisis in the history of trading. 
The MVIS CryptoCompare Digital Assets 10 Index is a modified market cap-weighted index which tracks the performance of the 10 largest and most liquid digital assets. 
Under the index, Bitcoin has top weightage of 35.30%, followed by Ethereum by 22.30%, XRP by 13.53%, Bitcoin Cash by 9.34%, EOS by 5.61%, Stellar by 4.84%, Litecoin by 3.67%, Cardano by 2.09%, Dash by 1.84% and Tronix by 1.47%.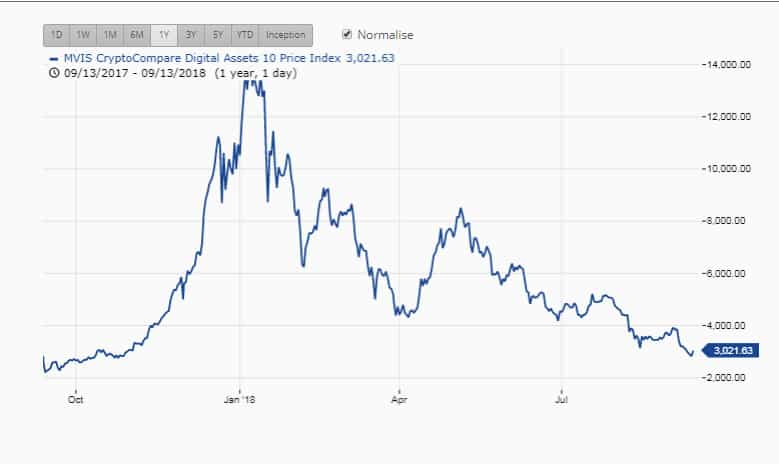 Together these virtual currencies have a market cap of $158.52 billion which would be over 80% of the overall crypto market, if we look at CoinMarketCap data where there are 1944 digital currencies listed having cumulative market cap of $196.68 billion. 
On its official website, the index shows that from January 2018 high to till date it has dropped by 78.55%. In January, the index recorded high of $14,033.24 and today has plummeted near $3,003-mark. It's lowest performance was $2,217.92 was during the month of October 2017. Looking at the trend of decline looks it can fall further near the 52-week low mark. 
The reason behind the drop of this index is because of decline logged by its first three cryptocurrencies, which together account for 71.13% of the overall index. 
From the website it is clear that year-to-date, Bitcoin has plunged by 53.39%, while XRP has slipped by massive 70.39%, while Ethereum has remained muted. 
Further Bitcoin Cash, Litecoin and Dash which together hold 14.85% of the index has also sunk from January till date by 60.15%, 49.24% and 59.53% respectively.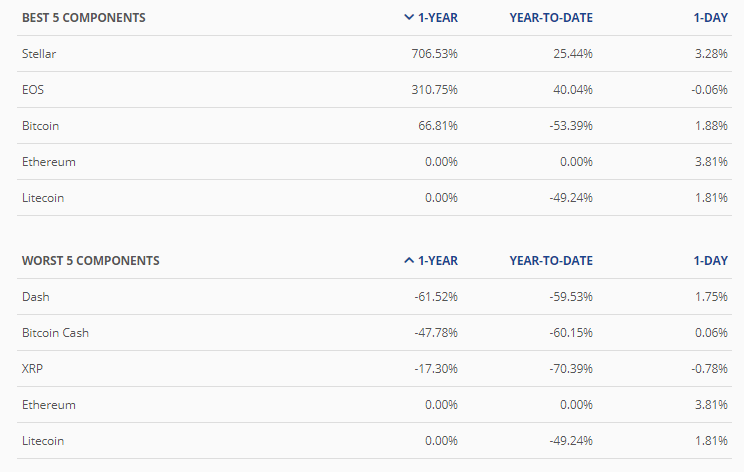 Therefore, it is noted that,  the bubble has already begun in crypto market and it will be only matter of time when it bursts. But what's shocking is the speed at which it is going - it is likely the fastest growing crisis in the market world. Let's have a look at past market crisis. 
Uranium bubble
Before crypto crash, would be the Uranium bubble which came into notice during 2007, trading coincided with significant rise in stock prices of uranium mining and exploration companies.
In mid-2007, the price of natural uranium peaked at roughly $300/kg (or ~$135/lb). After mid-2007, the price began to fall again and at the end of 2010, it was relatively stable at around $100/kg. 
The Dotcom Crash
This bubble occurred in late 1990s and has many similarities to Bitcoin. During the 90s, the value of equity markets grew exponentially with the technology-dominated NASDAQ index rising from under 1,000 to more than 5,000 between 1995 and 2000.
Over the next five years, the dotcom boom was fed by cheap money, easy capital, market overconfidence and pure speculation. By the end of 2001, majority of publicly traded dotcom companies folded, and trillions of dollars of investment capital evaporated.
The South Sea Bubble (1711)
This one even fooled Isaac Newton. A South Sea company was formed in 1711 and was promised a monopoly of all trade to the Spanish colonies in South America in exchange for taking over and consolidating the national debt raised by the War of Spanish Succession (1701-1714).
By the end of August 1720, stock was valued at less than £800, and by September the share price had plummeted to £175.
The Tulip and Bulb Craze (1630s)
The Dutch tulip bulb market is till date one of the most famous bubble market stories. It came into limelight in early 1600 in Holland.
However, this came to an end in 1637, when prices dropped sharply and panic selling began leaving many people in financial ruin.
It needs to be noted that, since Bitcoin rocketted near $20,000-mark, experts were in two opinions. Some called it another bubble phase, while some referred it as a gateway to internet trading mechanism. Looks like the ones who did not favor crypto market can now say, 'I Told You So'.