China's November industry profits grow well, but chance to sustain gains clouded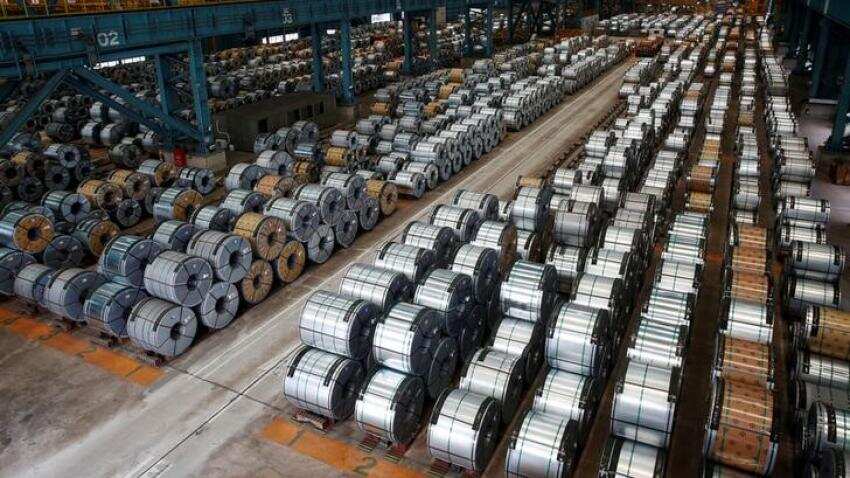 Rolls of steel are stacked inside the China Steel Corporation factory in Kaohsiung. Image Source: Reuters
China`s industrial sector showed the strongest profit growth in three months in November, suggesting the world`s second-largest economy was improving, though policymakers noted gains were too dependent on rebounding prices for oil products, iron and steel.
Industrial profits have had a solid rebound this year after falling last year, boosted by a recovery in commodity prices as supply tightened due to a capacity reduction drive and an infrastructure boom.
Profits in November rose 14.5% to 774.6 billion yuan ($111 billion) from a year ago, the highest since August`s record 19.5% spike, National Bureau of Statistics (NBS) said on Tuesday. Profits in October rose 9.8%. 
Industrial profits rose 9.4% in the first 11 months from a year earlier, up from 8.6% in January-October.
"Industrial profits rose relatively fast due to a lower base last year, and the growth was overly reliant on a price rebound in raw material industries such as oil refining, and iron and steel," He Ping, an NBS official, said in a note accompanying the data. 
Profits in manufacturing rose 13.7% for January-November from a year earlier, while those for the ferrous metal processing industry as well as oil and nuclear fuel refining more than tripled. 
ALSO READ: China's economy will grow around 6.5% in 2017; yuan to continue falling: CASS Researchers 
Broader Crackdown?
Producer prices rose at the fastest pace in more than five years in November as prices of coal, steel and other building materials soared, boosting industrial profits and giving firms more cash to pay off mountains of debt.
But analysts say recent signals from China`s top leaders that more will be done in 2017 to crack down on asset bubbles is putting pressures on raw material prices, casting doubts over the sustainability of such a price rebound. 
"The question is whether price rises in recent months resulted from a genuine improvement in demand, or financial speculation," said Zhou Hao, senior economist at Commerzbank.
"From what we are seeing, the leadership apparently thinks it`s the latter." 
Zhou said the government "might introduce new policy measures to curb raw material price growth." 
Chinese steel futures fell sharply on Monday to the lowest level in over a month, as traders took cues from market talk that Beijing may tolerate slower economic growth amid rising debt and an uncertain global environment.
ALSO READ: China's property market has bubble but won't collapse, says Wanda chairman
Stable Growth 
Tuesday`s data covers large enterprises with annual revenue of more than 20 million yuan from their main operations.
China`s growth has stabilised this year, with 6.7% expansion in gross domestic product (GDP) in the first three quarters. But corporate debt continues to rise, increasing risks as China looks to push ahead structural reforms. 
Firms are seeing more payments being delayed, as accounts receivable at the end of November rose 9% from a year earlier. That increase was biggest than the rise in revenue from main operations. 
"The difficulty in making repayments is still a relatively large hurdle that limits the production and operation of firms," NBS`s He noted.
Tuesday`s data also showed Chinese industrial firms` liabilities at the end of November were 5.6% higher than at the same point last year, despite rising at a slower pace than assets have.
China`s industrial output should grow around 6% in 2017, like this year, a state-run newspaper quoted industry minister Miao Wei as saying on Monday.
ALSO READ: China's November home prices show govt curbs starting to cool sharp rally
Updated: Tue, Dec 27, 2016
10:25 am
Beijing, Reuters