China to target around 6.5% economic growth in 2017: Sources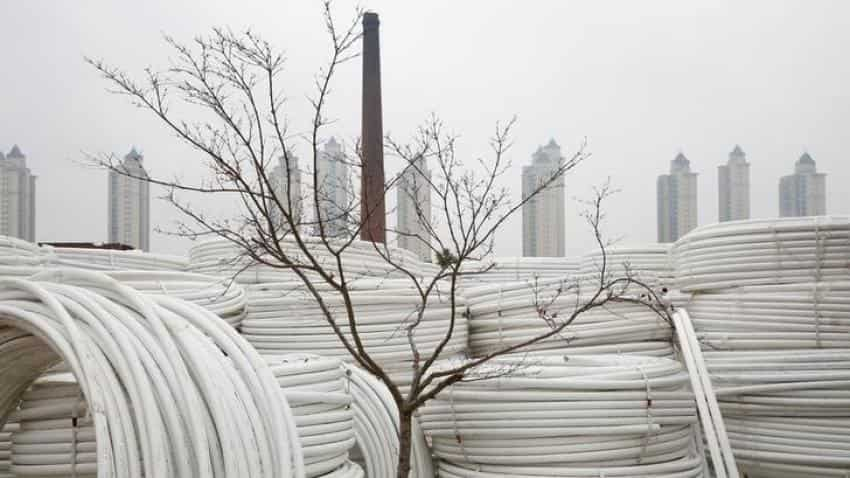 A tree is seen surrounded by plastic pipes at a factory in Jiaxing. Image Source: Reuters
China will lower its 2017 economic growth target to around 6.5% from last year`s 6.5-7%, policy sources said, reinforcing a policy shift from supporting growth to pushing reforms to contain debt and housing risks.
The proposed target was endorsed by top leaders at the closed-door Central Economic Work Conference in mid-December, according to four sources with knowledge of the meeting outcome.
"The target will be around 6.5%, which indicates that slightly slower growth is acceptable," said one of the sources, a policy adviser.
The State Council Information Office, the public relations arm of the government, declined to comment.
The world`s second-largest economy likely grew around 6.7% last year - roughly in the middle of the government`s target range - but it faces increasing uncertainties in 2017, the head of China`s state planning agency said on January 10.
Policy stimulus measures - evident in record lending from mostly state-owned banks and increased government spending - have fuelled worries among top leaders about high debt levels and an overheating housing market that could threaten financial stability if not addressed, the sources said.
ALSO READ: China's property market has bubble but won't collapse, says Wanda chairman 
Under the central bank`s recently announced "prudent and neutral" stance, it is expected to guide market interest rates higher to help put the brakes on flush credit conditions, which should also support the weakening yuan, the sources said.
"They`ve put more emphasis on controlling risks, and monetary policy could be a bit tighter," said a second policy source, though he characterised the change as `fine-tuning` ahead of a key party meeting in the autumn at which there will be a change in the top leadership.
"They are keen to keep economic growth stable before the 19th party congress," the source said.
Top leaders have pledged to stem the growth of asset bubbles in 2017 and place greater importance on the prevention of financial risk, while keeping the economy on a path of stable and healthy growth.
China`s banks doled out a record 12.56 trillion yuan ($1.82 trillion) of loans in 2016 as the government encouraged more credit-fuelled stimulus to meet its economic growth target, despite worries about the risks of an explosive jump in debt.
Reform versus Growth 
The economy needs to grow at least 6.5% between 2016 and 2020 to meet Beijing`s goals of doubling gross domestic product (GDP) and per capita income by 2020 from 2010 levels.
But they have also pledged "decisive results" by 2020 on a wide range of reforms to let market forces play a bigger role in driving the economy away from inefficient state-owned enterprises, which in the short-term could slow output.
Last year`s expected growth of 6.7%, though the slowest in 26 years, will have given the government a little more room to manoeuvre, but Beijing will not tolerate a sharp slowdown ahead of the leadership transition, the policy sources said.
The 2017 growth target will be announced at the annual meeting of the National People`s Congress, the country`s parliament, in early March.
The sources said government was set to maintain a 3% inflation target this year, suggesting policymakers are less worried about a sharp surge in consumer prices, despite surging factory-gate costs in recent months.
December consumer prices rose 2.1% from a year earlier, easing from a 2.3% rise in November, while producer prices jumped 5.5% in December year-on-year, the most since September 2011.
China`s producer price jump, fuelled by rising commodity prices, has yet to filter into consumer prices due to weak demand, so the central bank is not yet under big pressure to tighten policy.
Even if inflation hits 3% in some months this year, the central bank would have to assess whether the economy is on a solid footing before raising interest rates, which may help the struggling yuan, the policy sources said.
"If you don`t want the exchange rate to depreciate, you should tighten credit, but there could be problems in debt prices and market liquidity – how to balance them is a very difficult thing," one of the sources said.
ALSO READ: China factory-gate inflation hits 5.5% in December 
Updated: Mon, Jan 16, 2017
07:55 pm
Beijing, Reuters