Bitcoin price: How low will cryptocurrency fall as 'bubble' uncertainty emerges?
Bitcoin remained the only cryptocurrency till 2011 holding 100% market capitalisation, but after 2011, over 1500 virtual currencies came into existence.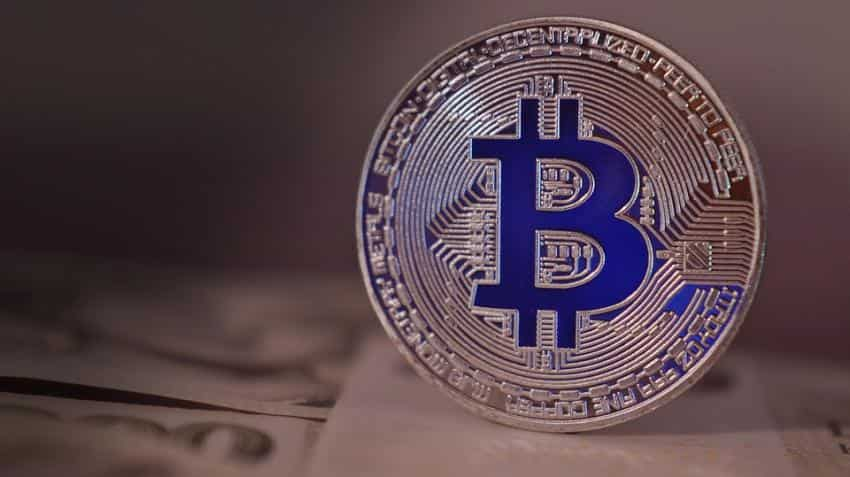 Representational Image: Photo: Pixabay
Updated: Fri, Mar 23, 2018
07:07 pm
Mumbai, ZeeBiz WebDesk
It feels like just yesterday, when the entire world was touched by the Bitcoinperformance, so much so that, they reposed full faith in the cryptocurrency market. However, it would not be wrong to say, that even though there are many digital currencies across nations, yet Bitcoin remains the brand and hope of this market.  Just before Christmas last year, investors were crazy over Bitcoin, every day there was  something or the other happening. Nobody could understand what was pushing Bitcoin prices to such an extent. Andrew Kenningham, Chief Global Economist at Capital Economic once said that the "true" value of Bitcoin is unknown because it is unclear whether it has a long term future.
Well, just like after every dawn comes dusk, and it looks like Bitcoin has come across its own bleak days. Before getting into data analysis, one needs to remember, that many economists believe that trading in Bitcoin is an illusion and say it was created out of thin air. Since it was introduced by an anonymous individual, it does not serve the purpose as an instrument to buy and sell goods. Economists also say that people are trading in it without even understanding what it is all about. Market guru Warren Buffet believes the cyrptocurrency will come to a bad ending. 
So let's understand, what's happening in Bitcoin. On Friday, Bitcoin's value dropped more than 4%, after Japanese markets national regulator issued a warning to the world`s largest cryptocurrency exchange, Binance, over its unlicensed operations. As per CoinMarketCap data, after dropping by 4% so far, on the day, Bitcoin was trading at $ 8,497.67 down by 2.99% with market cap of $143.91 billion. 
Bitcoin in this week touched as low as $7412.34 with market cap of $125.46 billion. But that's not the lowest performance, Bitcoin since the start of 2018, has seen negative reaction from investors, which is why, the coin cracked near $6,141.89-level with market cap of $103.48 billion.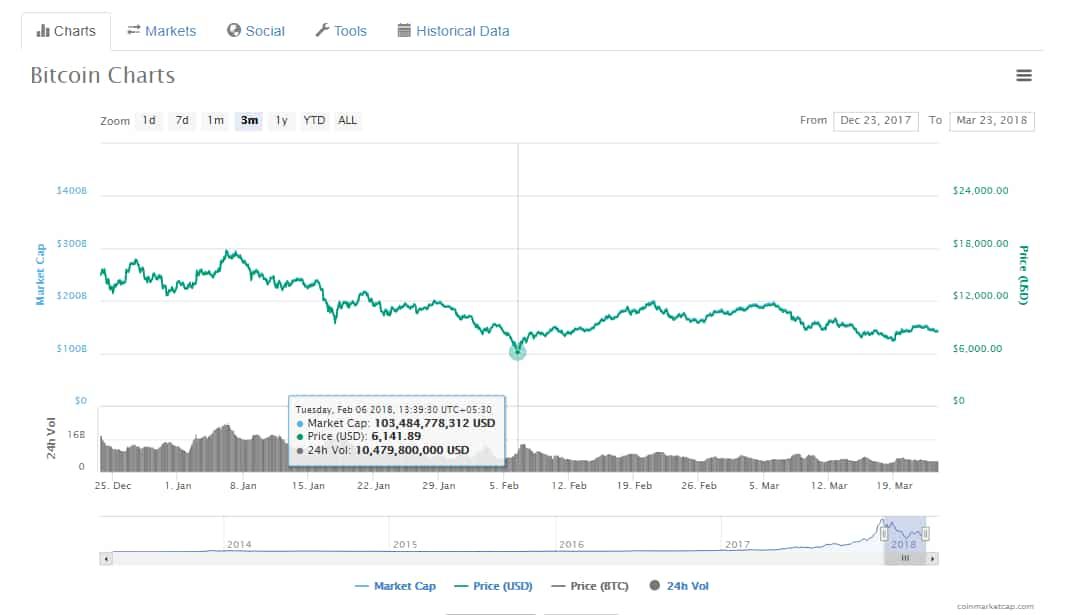 With this, Bitcoin price has dropped by 67.75% so far in 2018, with market cap seeing decline of 67.55% - compared to the high of  $20,000 and total valuation of $276 billion before December 25, 2017. 
Bitcoin has been available for trading since 2009, but it was in last three months of 2017, where Bitcoin just outshined everything else. From 2013 - 2017, Bitcoin managed  give return 18,329.91% or 184.30 times return.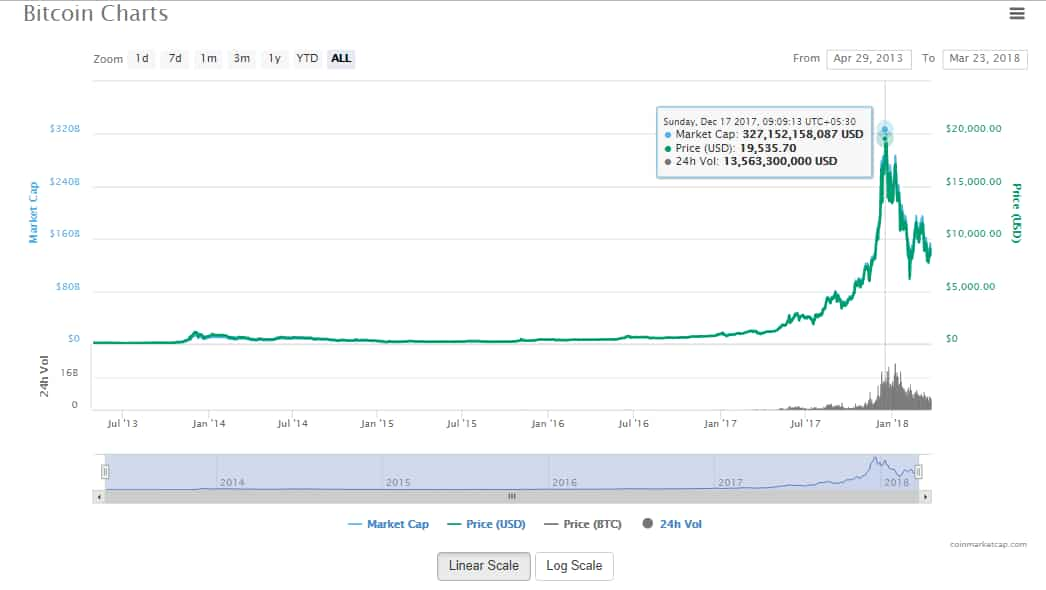 But now we have reached in the month of March  and Bitcoin is still trying to catch its breath, as it hovers between $7,000 to $9,500. Some reports are saying, Bitcoin can be a classic bubble bursting, and making remarks about the price may even go down further. If that is correct, then many would tend to lose a lot of money. 
Firstly, reason behind tumble of Bitcoin, is many regulations and restrictions made by countries and stock exchanges across countries. Also banks have started banning usage of their credit and debit for transacting in cryptocurrency. 
Recently, largest search engine Google announced ban on advertisements that promote cryptocurrencies starting in June - this comes as an effort for eliminating unregulated financial products off it's platform. 
Clayton and Chris Giancarlo, chairman of the Commodity Futures Trading Commission, testified in a CNN report, that tighter regulation and a more coordinated response between federal agencies were needed to protect investors from fraud and abuse in digital currency markets.
It added, "Securities and commodities laws protecting investors don't neatly apply to new online currency trading."
Meanwhile, recently, the U.K., Lloyds Banking Group (LLDTF) reportedly stated that, they will no longer accept transactions involving the purchase of cryptocurrencies on credit cards issued by Lloyds Bank, Bank of Scotland, Halifax and MBNA.
According to the bank, the rapid rise and drop in price of bitcoin, and other virtual currencies, may lead to customers getting into deep debt if they use their credit cards for purchase. 
Similarly, Bank of America (BAC) and JPMorgan Chase (JPM) also are not processing the credit card usage in transaction of cryptocurrency. 
Even in India, lenders like Citi Bank and State Bank of India have announced to ban their cards in Bitcoin transactions. 
As per Goldman Sachs, firstly Bitcoin exchange volumes are now dominated by investors in Korea and Japan – countries with no recent history of monetary instability and/or unmet portfolio diversification needs.
Secondly, cryptocurrency prices are co-related with Google search volumes – this points to significant retail investor participation in these markets.
Marc Andreessen, an American investor in Incrementum research, said, "Bitcoin gives us, for the first time, a way for one Internet user to transfer a unique piece of digital property to another Internet user, such that the transfer is guaranteed to be safe and secure, everyone knows that the transfer has taken place, and nobody can challenge the legitimacy of the transfer. The consequences of this breakthrough are hard to overstate."
Zach Pandl and Charles P Himmelberg, Economist at Goldman Sachs, said, "The anonymity of many cryptocurrencies makes them a useful medium of exchange for criminal activities, including tax avoidance and the circumvention of capital controls."
"As such, it would be surprising if continued growth in their popularity did not eventually attract greater regulation and law enforcement action by government," the duo added.
The recent fluctuations in Bitcoin and its relatives suggest they are much too volatile to serve as money.
Vicky Redwood, Global Economist at Capital Economics said, "Even though Bitcoin is almost certainly a bubble, the blockchain technology underpinning it has much greater potential. That said, claims that it will be "the next internet" may be overdoing it."
However, Redwood said, "we need to keep a sense of perspective. For a start, the technology is still in its early days and is largely untested on a very wide scale. So at the very least, the blockchain is not something that will transform the global economy within the next year or two."
As per a Bloomberg report, Bitcoin's 50-day moving average has dropped to the closest proximity to its 200-day moving average in nine months. Crossing below that level -- something it hasn't done since 2015 -- signals fresh weakness to come for technical traders who would dub such a move a "death cross." Thus, it believes Bitcoin to a paltry $2,800, if the downtrend is repeated.
Bitcoin remained the only cryptocurrency till 2011 holding 100% market capitalisation, but after 2011, over 1500 virtual currencies came into existence. 
Considering Bitcoin still dominates the market, anything that happens to this coin, the impact is also witnessed in other cryptocurrencies, and Friday was one good example of it. 
On Friday, Ethereum stood at $519.97 down by 4.34%, Ripple at $0.635461 below 4.30%, Bitcoin Cash at $986.87 lower by 2.53% and Litecoin at $160.14 which fell by 3.59%. 

So, it will be keenly watched on how low Bitcoin bubble can be seen this time, and what happens to other cryptocurrencies after Bitcoin emerges further down. 
 
Get Latest Business News, Stock Market Updates and Videos; Check your tax outgo through Income Tax Calculator and save money through our Personal Finance coverage. Check Business Breaking News Live on Zee Business Twitter and Facebook. Subscribe on YouTube.