Asian stocks, pound falls in Brexit aftershocks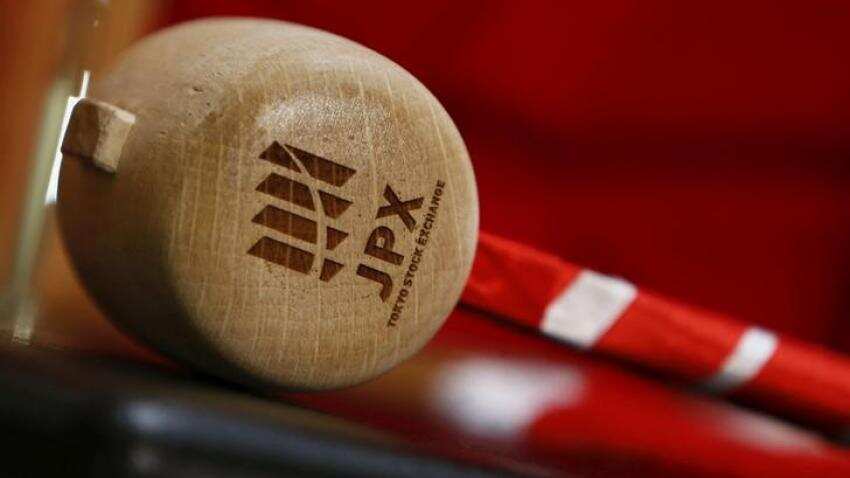 Image of Japan Exchange Group Inc. seen on a gavel before the New Year opening ceremony at the Tokyo Stock Exchange. Image Source: Reuters
Updated: Mon, Jun 27, 2016
08:24 am
Tokyo, Reuters
Asian stocks fell and the British pound tumbled more than 2 % in early trade on Monday as markets struggled to shake off deep uncertainty sparked by Britain`s decision to leave the European Union.
The worst of the turmoil seen on Friday, when global stock markets suffered their biggest decline in nearly five years, had eased, but sentiment remained weak and trading was volatile.
"Things are so uncertain that investors still do not have a clear idea how much risk assets they need to sell," said Hiroko Iwaki, senior foreign bond strategist at Mizuho Securities.
"But it is safe to assume investors are not yet with done all the selling they need to. I wouldn`t be surprised to see another 10 % fall in share prices," she added.
Among many questions the British exit, or Brexit, has triggered are just how much UK and European economies will slow, how they will negotiate their new relationship and how European leaders will try to boost the crumbling European Union. 
"We believe that markets will remain cautious, as uncertainty over exit negotiations causes risk averse sentiment to linger," George Davis, chief technical analyst at RBC Dominion Securities in Toronto said in a note.
U.S. S&P mini futures, the world`s most traded stock futures, fell 0.7 % to 2,004 on Monday, edging near Friday`s 3-1/2 month low of 1,999.
MSCI`s broadest index of Asia-Pacific shares outside Japan dropped 1.2 % in volatile trade as companies with British exposure in particular came under more pressure.
Japan`s Nikkei, however, rose 1.8 %, a partial rebound after Friday`s hefty 7.9 % fall.
The British pound fell 2.3 % to $1.3388, still some distance from the 31-year low of $1.3228 touched during Friday`s wild trade.
Against the yen, sterling fell more than 2 % to 136.85 yen. That was more than 14 % below its levels early on Friday when investors believed the "remain" camp would win the referendum.
The euro also came under further pressure, falling almost 1 % against the dollar, as investors fret Brexit could stoke the anti-establishment mood in Europe and even talk of disintegration of the union.
"(There will be) sell-off in the euro as talk of other exit referenda builds," said Jerome Booth, chairman of New Sparta Asset Management in London.
"This sell-off will be more profound and long-lasting and will be not just against the dollar and yen but also against the pound. It will also raise fears of significant loss of values for holders of Euro-zone government bonds."
The euro fell to $1.1008, edging closer to Friday`s 3-1/2-month low of $1.0912.
Still, in a sign Britain`s shock decision to leave the European Union may be encouraging Europeans to seek the safety of the status quo, support for Spain`s conservative People`s Party (PP) surged in Sunday`s general election.
Oil prices fell more than 1 % in early trade, with international benchmark Brent futures down 1.3 % to $47.80 per barrel.
Demand for safe haven assets such as government debt and precious metals remained strong.
The 10-year U.S. debt yield dropped 9 basis points to 1.490 % in early Asian trade. On Friday, it fell as low as 1.406 %, near its record low of 1.381 % marked in July 2012.
U.S. interest rate futures have completely priced out chance of a rate hike by the Federal Reserve this year and pricing in less than 50 % chance of a rate hike even by the end of 2017.
Gold rose 1 % to $1,334.50 per ounce.