Asian stocks plunge on Brexit fears
MSCI's broadest index of Asia-Pacific shares outside Japan fell 1.6%, its biggest daily fall since April 5.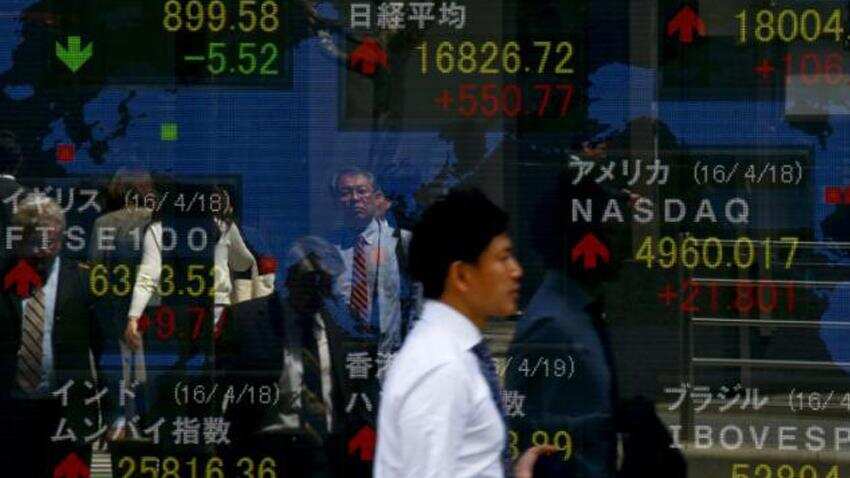 A man walks past a display of the Nikkei average and other market indices outside a brokerage in Tokyo, Japan April 19, 2016. Image Source: Reuters/Thomas Peter
Updated: Mon, Jun 13, 2016
10:38 am
Hong Kong , Reuters
Asian stocks fell the most in over two months and the Japanese yen soared on Monday as riskier assets took a hammering before key central bank meetings this week and as nervous investors awaited a referendum that could see Britain exiting the European Union (EU).
Sapping confidence further over recent days has been a steady drip of economic data that has highlighted an underpowered world economy despite years of massive easings delivered by global central banks.
The US Federal Reserve, Bank of England (BoE), Swiss National Bank and the Bank of Japan (BOJ) will meet this week. All are expected to hold monetary policy steady against a backdrop of caution heightened by the global impact from a possible Brexit.
MSCI's broadest index of Asia-Pacific shares outside Japan fell 1.6%, its biggest daily fall since April 5. It has fallen 3.4% in the last two sessions.
Japanese stocks led regional losses with the benchmark index falling 3% in choppy trade.
"There are many long-term investors who have given up on Japanese stocks as there are no structural reforms being delivered. Meanwhile, monetary policy decisions only have short-term effects," said Michiro Naito, executive director at equity derivatives at JPMorgan who recently visited Asian investors.
Net selling by foreign investors from January through May was roughly 4.5 trillion yen ($42.07 billion) in Japanese cash equities, according to exchange data, a stark turn from net purchases of about 2.83 trillion yen in the same period last year.
Investors hunting for bright spots in Asia this year in China and India have also been disappointed by poor data.
Latest data showed China's fixed-asset investment growth cooling to 9.6% in January-May from the same period a year earlier, below market expectations, while the statistics bureau said downward pressures still exist in the economy.
"We have downgraded the China market because of the debt problems and we think by the third quarter, growth numbers would start reflecting a broader slowdown," said Francis Cheung, head of China and Hong Kong strategy at CLSA.
Reflecting the bearish sentiment, S&P e-mini futures were down 0.4% in Asia after Wall Street marked steep losses on Friday. A shootout in Orlando that killed dozens and injured many others only added to the pessimism.
In currency markets, the mood was one of risk aversion with the Japanese yen rising to a five-week high against the dollar. The yen was trading at 106.05 per dollar, its lowest since May 3.
The British pound has whipsawed in recent weeks on news related to June 23 referendum on its EU membership.
Early on Monday, the pound fell to as low as 150.63 yen, its lowest level since August 2013 while the euro fell to 119.44 yen, a level last seen in April 2013.
Two polls on Saturday showed British voters were still closely divided on whether to stay or go.
"Ahead of the referendum, many look for sterling to underperform and the yen and Swiss franc to outperform," Marc Chandler, global head of currency strategy at Brown Brothers Harriman, said in a note.
"The euro and central and eastern European currencies are vulnerable, while risk assets, in general, are expected to weaken on a Brexit victory," he said.
Crude oil futures extended losses after plunging 3% on Friday, pressured by the stronger dollar and data showing the US oil drilling rig count rose for the second week in row.
US crude futures fell 0.8% to $48.69 a barrel, while Brent slipped 0.6% to $50.25.
Government bonds benefited with the yield on the ten-year Japanese bond marking yet another record low. Yields up to fifteen-year maturities were well into negative territory.
Gold rose, hovering close to three-week highs. Spot gold added 0.3% to $1,277.51 an ounce