Asia shares pause, sterling stands tall as Brexit vote looms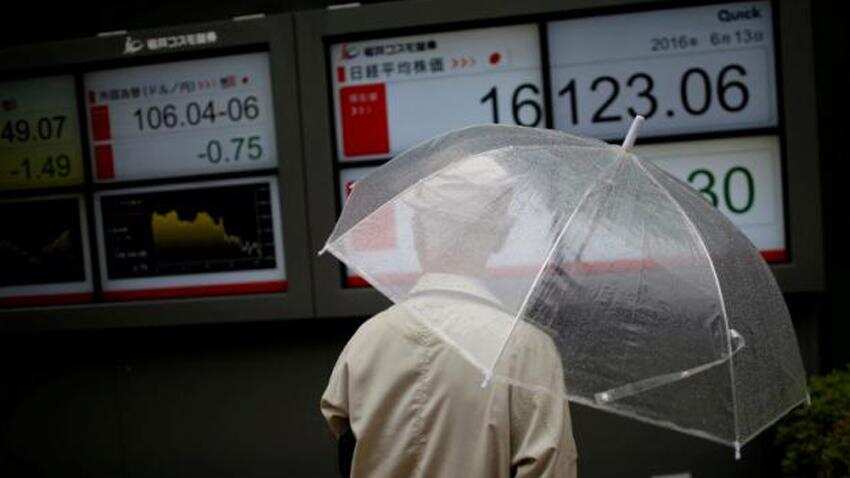 A man looks at an electronic board showing the recent exchange rate between Japanese yen against the US dollar and Japan's Nikkei average (R) outside a brokerage in Tokyo, Japan, June 13, 2016. Image Source: Reuters/Issei Kato
Updated: Tue, Jun 21, 2016
09:37 am
Tokyo , Reuters
Asian shares got off to a tentative start on Tuesday, as investors paused after a rally triggered by growing expectations that British voters will opt to remain in the European Union (EU) in this week's referendum.
Two of the latest polls released over the weekend showed the "Remain" camp in the lead, reversing a recent rise in support for pulling out and prompting a rally in global equities and the pound on Monday. 
"The polls were not supposed to influence as much as they have, but overnight we have seen a rampant position adjustment and an unwind of `Brexit` hedges," wrote Chris Weston, chief market strategist at IG in Melbourne. 
Bookmakers' odds have also shown "Remain" gaining traction, with Betfair putting the implied probability of such an outcome at 72% on Monday, up from 60-67% on Friday. 
But investors remain wary ahead of Thursday`s vote, as well as US Federal Reserve chief Janet Yellen's two-day testimony before Congress which starts later on Tuesday, in which she might offer clues on the timing of the central bank`s next interest rate increase.
MSCI`s broadest index of Asia-Pacific shares outside Japan was narrowly positive in early trading, while Japan`s Nikkei stock index slipped 0.7% as the perceived safe-haven yen clawed back some of its losses of the previous session as risk appetite rebounded.
A Reuters poll showed that confidence at Japanese manufacturers inched up in June from the prior month's three-year low and is seen rising only slightly ahead, reflecting worries about the yen's rise ahead of the British vote.
The pound edged down 0.1% to $1.4666 after it rose as high as $1.4721 on Monday, extending a recovery from last Thursday`s more than two-month trough of $1.4013.
The dollar slipped 0.1% to 103.85 yen , moving back toward Thursday`s nearly two-year low of 103.55 hit after the Bank of Japan (BOJ) held policy steady and disappointed investors hoping for more stimulus.
The euro gained 0.1% to $1.1324 . 
Later in the session, Germany`s constitutional court will rule on the emergency bond-buying plan devised by the European Central Bank (ECB) during the financial crisis. An outright rejection of the programme is viewed as unlikely, but the ruling could potentially upset the ECB`s current programme and roil markets.
Crude oil futures gave back some of their gains after surging 3% on Monday as "Brexit" fears waned.
Brent crude shed 0.5% to $50.42 a barrel, while the US crude was down 0.3%, at $49.21.