80% of Bitcoin mined; charm for this cryptocurrency still persists
Available for trading since 2009, Bitcoin has a fixed supply capped at 21 million.
Representational Image: Photo: Pixabay
Although Bitcoin is passing through a bad phase, it does not mean that love for this cryptocurrency is over. The recent data suggest that 80% of this digital coin has already been mined.
 
Bitcoin, which is trading $13,164.68-level, down by 3.10%, has seen a circulation of nearly 16.81 million, according to CoinDesk report.
 
The report says that merely 4.2 million token (20%) coins are left to be mined to reach its hardwired token limit.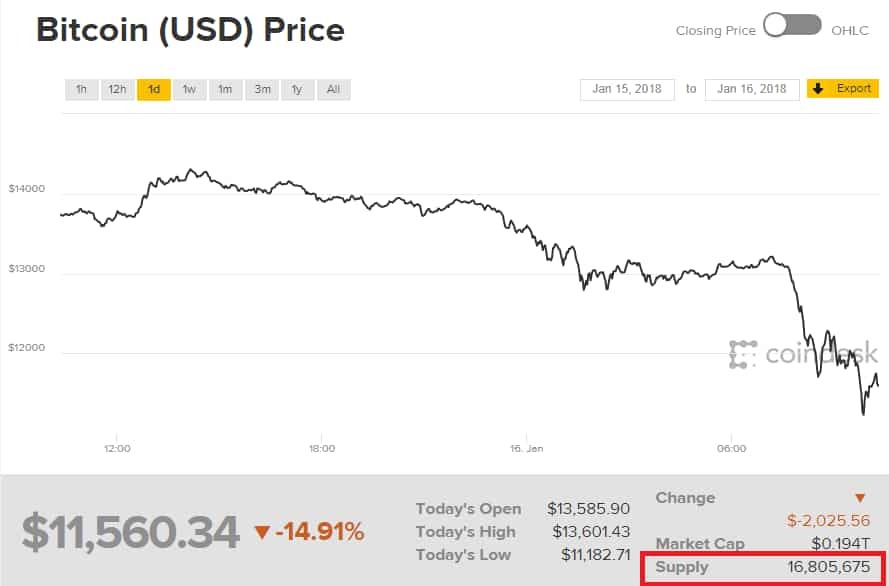 Last year, Bitcoin created a new history for digital currency market by surging to a whopping 1,41,198.21% or 1412.98 times between 2013 and December 19, 2017.
 
Available for trading since 2009, Bitcoin has a fixed supply capped at 21 million and the currency's inflation rate is programmed to decrease by half about every four years.
 
Everyday, around 1,800 Bitcoins are released into the market.
 
An Incrementum research report says that this rate of supply will be half to 900 Bitcoins per day by 2020, and then to 450 Bitcoins per day by 2024. The study estimates that the last Bitcoin will be mined in the year 2140 AD.
 
Further, it explains that the finite supply gradually enters the market according to a mathematical algorithm that releases approximately 12.5 Bitcoin into the network's supply of Bitcoin every ten minutes.
 
The inflation rate decreases over time, according to the algorithm, until every unit of the finite supply has been released in the economy.
 
Investors were so optimistic of Bitcoin last year that they even boosted cryptocurrencies like Ethereum, Litecoin, Ripple, Dash, TRON and Monero.
 
Bitcoin remained the only cryptocurrency till 2011, holding 100% market capitalisation. After 2011, over 1300 cryptocurrencies have come into existence with a total market cap of over $300 billion.
 
Mining a Bitcoin
 
The best strategy to hold a Bitcoin is to mine them, but this option also presents a considerable amount of risk.
 
Mining hardware for Bitcoin would cost an upfront investment ranging from $10,000 to $1 million. The technology, used to build mining hardware is rapidly advancing, shortens the useful lifetime of a miner to approximately 1.5 to 2 years.
 
Mining is a specialized division of labour, and is not the best strategy for an investor who simply wants to gain exposure to fluctuations in the price of Bitcoin.
 
The key point to know is that Bitcoin has limited cryptocurrency and majority of them has been mined.
 
Just like every startup, analysts have always found it difficult to predict the future of Bitcoin. Now that this coin is nearing to its token limit, what can we expect from it.
 
Recently, Warren Buffet an investor and philanthropist told CNBC's 'Squawk Box' programme, "In terms of cryptocurrencies, generally, I can say with almost certainty that they will come to a bad ending."
 
Buffet firmly stated that Bitcoin and it's fellow cryptocurrencies are "bubbles", and that investors are excited because things are going up at the moment and it sounds vaguely modern.
 
Other economists and trading experts have also termed Bitcoin as an illusion, a mass hallucination just like a soap bubble mainly because no central bank is backing this cryptocurrency and it has no legal exchange rate.
 
As per Goldman Sachs, firstly Bitcoin exchange volumes are now dominated by investors in Korea and Japan – countries with no recent history of monetary instability and/or unmet portfolio diversification needs.
 
Secondly, cryptocurrency prices are co-related with Google search volumes – this points to significant retail investor participation in these markets.
 
Marc Andreessen, an American investor in Incrementum research, said, "Bitcoin gives us, for the first time, a way for one Internet user to transfer a unique piece of digital property to another Internet user, such that the transfer is guaranteed to be safe and secure, everyone knows that the transfer has taken place, and nobody can challenge the legitimacy of the transfer. The consequences of this breakthrough are hard to overstate."
 
Also, some features of cryptocurrencies that might make them competitive with alternative stores of value are also features that are likely to attract government scrutiny.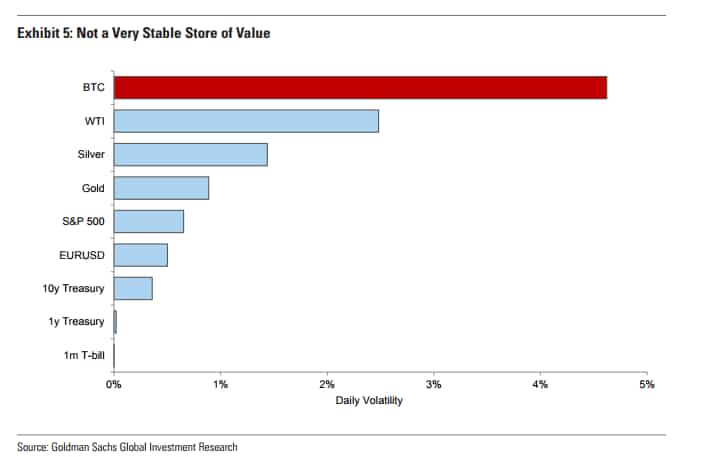 Zach Pandl and Charles P Himmelberg, Economist at Goldman Sachs, said, "The anonymity of many cryptocurrencies makes them a useful medium of exchange for criminal activities, including tax avoidance and the circumvention of capital controls."
 
"As such, it would be surprising if continued growth in their popularity did not eventually attract greater regulation and law enforcement action by government," the duo added.
 
The recent fluctuations in Bitcoin and its relatives suggest they are much too volatile to serve as money.
 
Meanwhile, Bitcoin slid as much as 14% today to hit a four-week low below $12,000, as fears grew of a regulatory crackdown after reports that South Korea`s Finance Minister had said banning trading in cryptocurrencies was still an option, said a Reuters report.
 
The latest tumble leaves bitcoin more than 40% down from the record highs of around $20,000 reached in mid-December, wiping about $125 billion from its "market cap" - the price of bitcoin multiplied by the total number of bitcoins that have been "mined", or released into the market, the report added.
Updated: Tue, Jan 16, 2018
03:44 pm
Mumbai, ZeeBiz WebDesk