8 lesser known facts about Mohammad Ali that you need to know
Ali during his lifetime is expected to have amassed a fortune of over $50 million through his fights,  endorsements  and his company.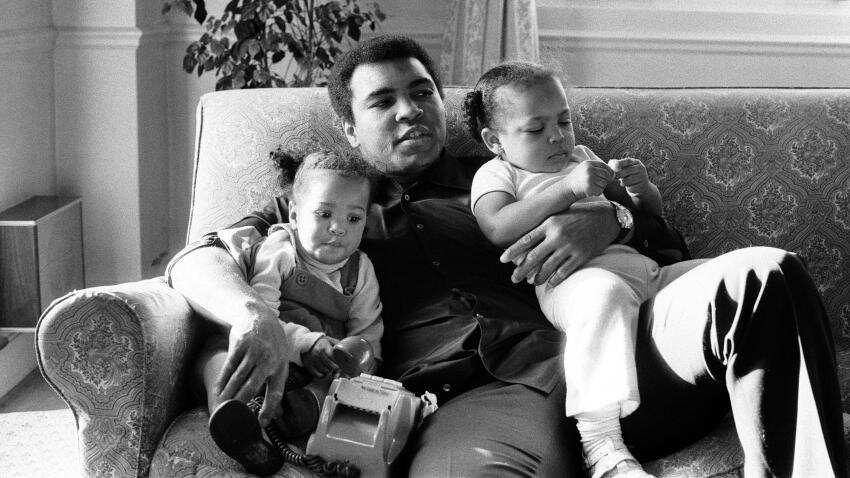 Muhammad Ali is seen cuddling his daughters Laila, (L ) and Hana (R) at a Hotel in London, Britain December 19, 1978. Photo: Reuters
Updated: Sat, Jun 04, 2016
02:10 pm
Mumbai, ZeeBiz WebDesk
The world on Saturday morning lost the 'Greatest of All Time' boxer Muhammad Ali. While he had an illustrious boxing career, his fame outside the ring grew after he openly expressed his views on various crucial issues at the time, such as the Vietnam War. He is known to have famously said: 
"Why should they ask me to put on a uniform and go ten thousand miles from home and drop bombs and bullets on brown people in Vietnam while so-called Negro people in Louisville are treated like dogs and denied simple human rights?"
Ali, during his lifetime, amassed a fortune of over $50 million through his fights, endorsements and his company. While much is known about Ali, here are 5 lesser known facts about him:
1. Cassius Clay: Born Cassius Marcellus Clay Jr on January 17, 1942, to a sign and mural painter, he later changed his name to Muhammad Ali on March 6, 1964, after converting to Islam.
2. GOAT LLC: Acronym for 'Greatest of All Time', the company of earned revenues of about $4-7 million (about Rs 26-46 crore) through endorsement deals with brands such as Adidas and Electronic Arts, according to an International Business Times report. A majority 80% of the company sold in 2005 by Ali and his wife to CNX Inc for $50 million, a Forbes report said. He, however, retained 20% stake in the company.
3. Father to nine children: He fathered nine children including seven daughters and two sons. They are, Laila Ali, Rasheda Ali, Hana Ali, Asaad Amin, Maryum Ali, Jamillah Ali, Khaliah Ali, Muhammad Ali Jr, and Miya Ali.
4. Daughter Laila Ali's net worth - $10 million: She's one of the most successful of his nine children. She too followed his footsteps and retired as a boxing champion. Currently she appears on reality shows and is celebrity with net worth of $10 million, according to Heavy.com.
5. $1.64-million home: Ali purchased a $1.64-million six-bedroom home in a gated community in Arizona in 2005, according the report. The home was situated near Camelback Golf Club in Paradise Valley.
6. Mohammad Ali Jr claimed poverty: One of his sons was, however, not very successful and claimed that he was broke in 2014, lived on food stamps and resided in a poor apartment in Chicago. He claimed that his stepmother kept him apart from his father.
7. Ali's long battle with Parkinson's: His battle with Parkinson's disease lasted for over three decades (diagnosed in 1984), a fight he eventually could not win.
8. Ali goes to the bank: Like many sports stars, Ali posed for picture for Sports Illustrated. But unlike other athletes, he posed with stacks of money inside a bank vault.   
Muhammad Ali on the cover of Sports Illustrated 1964 inside a Bank of America vault in Los Angeles. pic.twitter.com/hJlq1tCmph

— History In Pictures (@HistoryInPics) May 19, 2014