What's in store for Air India in Union Budget 2018?
The only state-run airline, Air India, may look forward to a special mention in the Union Budget of FY19.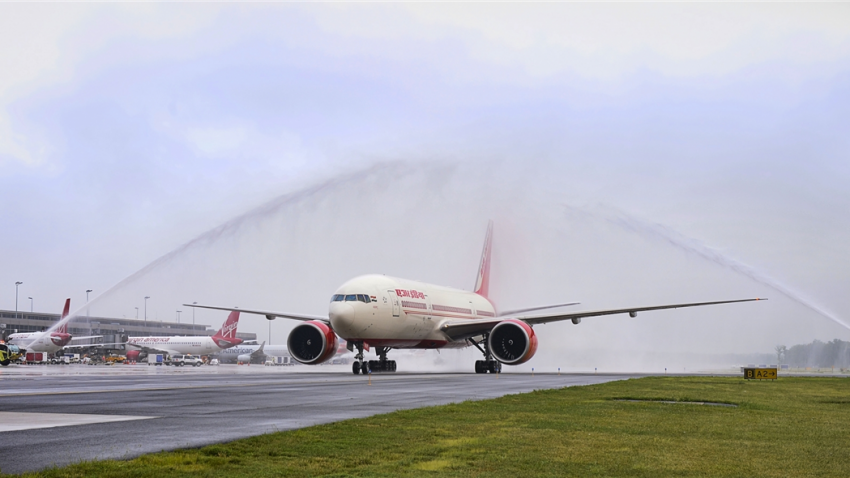 A photo of an Air India plane on the runway. Image Source: IANS
The fate of the national carrier still hangs in the balance as talks of Air India disinvestment loom. Unlike previous Union Budgets where the government would simply announce capital infusion into the beleaguered airline, this one may shine light on its privatisation.
The Union Budget for FY19 will be presented by Finance Minister Arun Jaitley on February 1, 2018.
In the FY18 budget, the government set aside nearly Rs 1,800 crore as equity infusion in Air India.
Air India's demands however were scaling new heights as it had asked for an investment of Rs 1,400 crore this fiscal. The disinvestment-bound Air India was also seeking a loan worth over Rs 1,100 crore for modification of two Boeing aircraft scheduled to be acquired next month for ferrying VVIPs.
In the economic survey released on Monday, the government pushed ahead with its disinvestment plans. Economic survey FY18 said that Air India's disinvestment will be completed by next fiscal.
"The agenda for the next year consequently remains full: stablizing the GST, completing the TBS actions, privatizing Air India, and staving off threats to macro-economic stability," the government said.
The previous year's economic survey as well pointed to the obvious solution to privatise Air India that now has a burgeoning debt of over Rs 50,000 crore.
Air India with a fleet of nearly 130 planes that flies to 41 international and 72 domestic destinations is expected to help the government meet its disinvestment target for FY19.
The government had realised Rs 55,000 crore in FY18 out of its target of Rs 72,500 crore. The budget target for FY18 included Rs 46,500 crore to be raised through minority stake sale in PSUs, Rs 15,000 crore from strategic stake sale and Rs 11,000 crore from listing of general insurance companies.
Earlier this month, the government eased foreign direct investment policy and also allowed for up to 49% investment by foreign players in Air India.
Junior Aviation Minister Jayant Sinha also confirmed that the airline will be split into four parts for its sale.
News that a foreign player, possibly an airline, was interested in the national carrier broke last week. The unidentified player was hinting at buying 49% stake in Air India.
Singapore Airlines via Tata Group was in the running for this pursuit.
On asking Spicejet's Ajay Singh, he said the company was 'too small to snap up Air India'.
Another report by Live Mint on Wednesday revealed that more domestic airlines like – Jet Airways, IndiGo, Spicejet and Vistara could also show interest in Air India.
Source have confirmed that the government may release bid documents for Air India by the end of February 2018.
Updated: Wed, Jan 31, 2018
04:34 pm
Mumbai, ZeeBiz WebDesk