Jaitley makes an effort to please all through his budget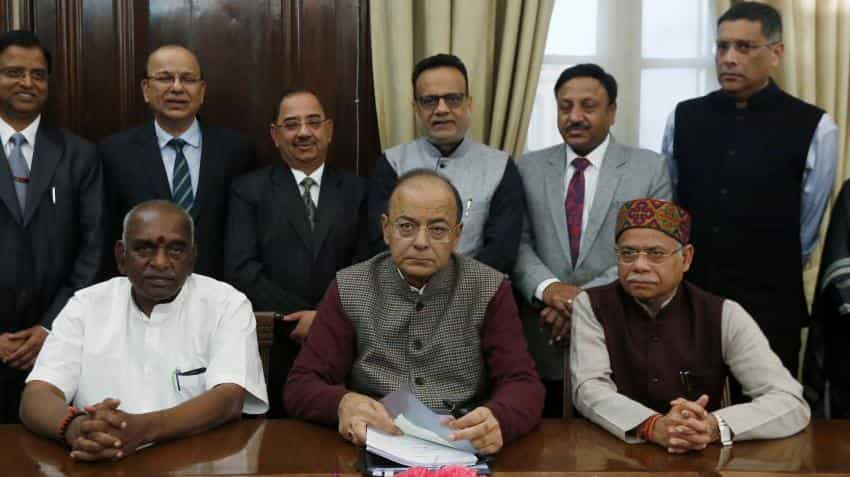 Finance minister said that the government will focus on strengthening rural, agriculture economy. Image source: Reuters
Finance Minister Arun Jaitley today presented the Budget for 2018-19 with several important announcements. Jaitley spoke of massive spending on rural infrastructure, to win over voters in the countryside where two-thirds of India`s people.
The complete speech of Finance Minister on budget
Here are the highlights of the budget:
TAXATION
To reduce corporate tax to 25 percent for companies who report turnover of up to 2.5 billion rupees
Finance minister says "tax buoyancy more than expected, thanks to greater compliance"
Proposes bringing listed entities under long-term capital gains tax
Long-term capital gains exceeding 100,000 rupees to be taxed at 10 percent
Proposes to raise import tax on mobile phones to 20 percent from 15 percent
To raise health and education cess to 4 percent from 3 percent
AGRICULTURE
Finance minister said that the government will focus on strengthening rural, agriculture economy.
Sets 10 trillion rupees to 11 trillion rupees credit for "agricultural activities."
Minimum support price of all crops to be increased to at least 1.5 times of production cost.
Export of agriculture commodities to be liberalised.
To give 100 percent tax deduction for the first five years to companies registered as farmer producer companies with a turnover of 1 billion rupees and above.
HEALTH/POLLUTION
To provide 500,000 rupees per family annually for medical reimbursement under National Health Protection Scheme. Finance minister says the plan will protect 500 million poor people and will be world`s largest health protection scheme.
To implement special schemes for governments around Delhi to address air pollution.
Removal of crop residue to be subsidized in order to tackle the problem of pollution due to burning of crop residue.
FISCAL DEFICIT
Fiscal deficit for 2017/18 seen at 3.5 percent of GDP
Fiscal deficit for 2018/19 seen at 3.3 pct of GDP
To use fiscal deficit target as key operational parameter for fiscal consolidation
GROWTH
Estimates 7.2 to 7.5 percent GDP growth in second half of current fiscal year
Finance minister says "firmly on path to achieve 8 percent plus growth soon"
EXPENDITURE
Revised expenditure for 2017/18 at 21.57 trillion rupees
Total expenditure for 2018/19 seen at 24.42 trillion rupees
Estimates 1.38 trillion rupees expenditure on health, education and social security
Railway capital expenditure set at 1.49 trillion rupees for 2018/19
BORROWING
Gross market borrowing seen at 6.06 trillion rupees in 2018/19
Net market borrowing seen at 4.62 trln rupees in 2018/19
Government to switch 280.6 billion rupees of bonds in 2018/19
INFRASTRUCTURE
To spend 14.34 trillion rupees ($225.50 billion) on rural infrastructure
BANKING/LENDING
To soon announce measures to address bad loans of small and medium enterprises
Proposes setting up 3 trillion rupees plan for lending for small enterprises
Reserve Bank of India Act being amended to provide the central bank with leeway to manage excess liquidity
DIVESTMENT/CONSOLIDATION
To merge government insurance companies into a single entity
Finance minister says divestment target for 2017/18 has been exceeded, to reach 1 trillion rupees
Divestment target for 2018/19 set at 800 billion rupees
GOLD
To formulate a comprehensive gold policy
To revamp gold monetisation scheme
India`s benchmark 10-year bonds slumped after the government set a higher-than-expected fiscal deficit target for the year starting in April.
Indian shares also fell briefly after the government imposed a long-term capital gains tax, but major indexes later clawed back into positive territory.
Experts speak
RADHIKA RAO, GROUP ECONOMIST, DBS, SINGAPORE
"Overall measures have very strong social sector emphasis, which covers agricultural and rural sectors all the way to health and education sectors. Simultaneously, there is focus on infrastructure as well."
"As early as Aug-Sept last year, as the fiscal numbers were coming in, we were expecting a slippage in this target. But it has panned out. The bond market had expected fiscal slippage, I think it has not been as wide as feared."
"Divestment is expected to be much better than targeted for the first time in many years."
SUJAN HAJRA, CHIEF ECONOMIST, ANAND RATHI SECURITIES, MUMBAI
"We were expecting (fiscal deficit of) 3.4 percent for the current year and 3.2 percent for the next year, and these announcements are slightly higher than expected. This is slightly negative for bond markets."
"The long-term capital gain is a singular negative thing for the stock markets."
"With the agrarian crisis and unemployment situation, these kinds of policies are expected with or without elections."
SHILAN SHAH, INDIA ECONOMIST, CAPITAL ECONOMICS, SINGAPORE
"It was no surprise to us that they relaxed the deficit targets. It looks like the BJP is aiming to shore up support among rural voters, there have been plenty of measures announced to boost the rural economy. These are quite trademarked things ahead of an election."
"In cumulative terms, the deficit has already overshot the previous target, it had to be revised up, but it does need to demonstrate some kind of fiscal prudence. The deficit this year will be same as last year, I don`t think that comes as a surprise."
The Lok Sabha, which was adjourned after the budget presentation, will remain adjourned on Friday as a mark of respect to sitting BJP MP from Maharashtra, Chintaman Wanaga, who died in New Delhi on Tuesday.
On Thursday, before the Budget was presented, Speaker Sumitra Mahajan made an obituary reference to the deceased member, and added that the House should have been adjourned for the day but could not be in view of the Budget presentation.
(with agency inputs)
Updated: Thu, Feb 01, 2018
04:14 pm
ZeeBiz WebDesk