Budget 2023: What are key takeaways for Tech, Startup sector? Experts opine
Budget 2023: The government proposed to extend the period of incorporation of eligible startups by one more year till March 31, 2024, for providing tax incentives to encourage budding entrepreneurs.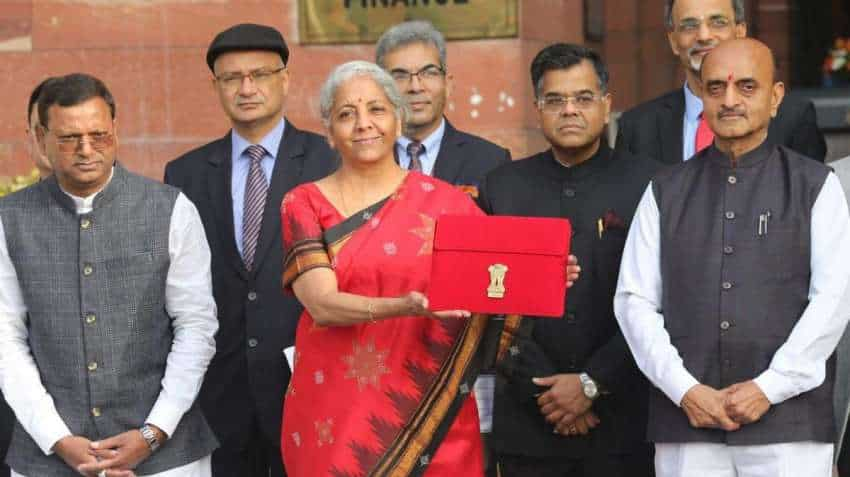 The government proposed to extend the period of incorporation of eligible startups by one more year till March 31, 2024, for providing tax incentives to encourage budding entrepreneurs.
Budget 2023: Nirmala Sitharaman, the Union Finance Minister, unveiled the Union Budget for the Financial Year 2023–2024 and made a number of announcements, including changes to income tax brackets, a decrease in some customs duties, and imposed subsidies.
In Budget speech, Finance Minister Nirmala Sitharaman made a number of announcements about the tech and startup industries, including the reduction of customs duties on the import of specific components, an expansion of the use cases for Digilocker, and the establishment of AI centres. Additionally, they suggested creating three centres of excellence for artificial intelligence (AI) in prestigious universities to "make AI in India, make AI work for India, and impose 5G Applications."
Ankita Dabas, Chief Growth Officer, Veative Group said, "The Union Budget brings laser sharp focus to digital infrastructure, upskilling, and teachers' training to further the cause of digital India. As active promoters of technology to make quality education accessible to all, we welcome this move. A technological revolution is the only way forward to align education with future-readiness. As pioneers of immersive learning solutions, Veative Group has invested 1 million+ manhours since 2016 to create a digital ecosystem in AR/VR, applications for training and development, along with making curriculum-aligned immersive content available globally. In our endeavour to take education to the last mile, we have established 42 VR labs in govt secondary schools in Nagaland under the initiative 'Sabko Shiksha, Achchi Shiksha'."
"These labs are equipped to provide VR-based educational content in both offline and online mode, thus addressing the challenges of physical infrastructure, geographical barriers, and sporadic internet connectivity. Budget allocation to train education professionals will certainly empower them with the tools and know-how for effective implementation of technology in classrooms.  In furtherance to our mission of making learners future-ready, we are all set to launch the world's first careers metaverse later this year, giving school-going learners an opportunity to connect with emerging careers and future employers. We are with the govt in making India a leading digital force of reckoning in the world," she opined. 
Amandeep Kaur, Founder and CEO, Phoenix TalentX Branding added, "Budget 2023 is definitely a growth-oriented budget with several sectors gaining in one go and an acute focus on building a tech-driven, green-led and financially independent economy. We are particularly excited about the active role and sponsorship of the government towards Skill India initiatives like the International Skill Centers, Centres for excellence in AI, and 100 labs in engineering colleges to develop 5G apps. It will not only empower the youth of the country, boost our knowledge economy, talent capital but also accelerate India's role in building cutting-edge and innovative digital technology solutions for the citizens of the planet . This inclusive budget will further consolidate India's position in the world economic order – our macro-economic and financial stability as ushered by this new budget too will further propel India's image as a rising economy."
The government on Wednesday proposed to extend the period of incorporation of eligible startups by one more year till March 31, 2024, for providing tax incentives to encourage budding entrepreneurs.
Finance Minister Nirmala Sitharaman has also proposed to ease norms for startups by extending the benefit of carrying forward losses to 10 years.
Sana Afreen, CCO & Asst. Director -Program Management, Rizzle said, "The 2023 Union Budget of India is a clear indication of our determination to make AI work for India, by investing in its development and utilizing its power to address the unique challenges facing our nation. We are poised to harness the full potential of AI and create a brighter future for all. The use of AI has already sparked a revolution. Businesses will increasingly employ AI to improve customer experience and make operational tasks more efficient. On digital platforms, AI-based discussions and other use cases are widely available."
To encourage agri-startups by young entrepreneurs in rural areas, the finance minister stated that the government will set up an Agriculture Accelerator Fund (AAF). A digital public infrastructure for agriculture will also be built to enable inclusive, farmer-centric solutions.
In the last year's budget, the government extended this till March 31 this year. Eligible startups established before March 31, 2023, have been provided with a tax incentive for three consecutive years out of ten years from incorporation. Startups incorporated on or after April 1, 2016, can apply for income tax exemption.
Shweta Tanwar Mukherjee, Entrepreneur & Content Creator, Founder, SociallKnot said, "Budget 2023, presented by FM Nirmala Sitharaman, builds on the momentum of last year's productive expenditure and reinforces the government's commitment to supporting India's growth and development. The Union Budget recognizes the importance of innovation, research, and development, essential to reaching the aspirational goal of becoming a $5 trillion economy and a world-class technology ecosystem."
She noted, "The addition of cutting-edge technologies such as drones and 3D printing, the establishment of 30 Skill India International centers, and the launch of a unified skill platform demonstrate the government's commitment to equipping the future workforce with the tools necessary for success in a rapidly changing job market. The budget includes several initiatives aimed at promoting women's empowerment, including savings schemes specifically designed to meet their financial needs. These efforts are a critical step towards achieving gender equality and creating a more inclusive and sustainable future for all."
Minal Anand, Founder & CEO, GuruQ expressed that this can be done through collaboration with private education companies and edtech organizations to provide education to the youth in tier one, tier two, and tier three cities, and improve the literacy rate in the country. In conclusion, while the Union Budget 2023 has made significant progress towards promoting AI and innovation in India, there is still a need for greater focus on education and the development of human capital. Only through a comprehensive approach that takes into account the needs of the youth, startups, and the education sector can we truly achieve the goal of making India a digital superpower.
Several announcements relating to Fintech were announced during the budget speech. The range of documents that are accessible to private users of DigiLocker will be widened to support additional cutting-edge Fintech services. A "risk-based" strategy will be used in place of a "one size fits all" method to streamline the infomed KYC procedure. The financial sector regulators will also be pushed to develop a KYC system that is entirely compatible with Digital India's requirements.
Vivek Banka, Co-Founder - GoalTeller one-app solution believe that though fairly uneventful as over the past many years, the budget has a few takeaways 1) Increased focus of the government on the new and Simplified tax regime and focus on spending rather than savings, 2) Plugging tax loopholes that especially HNI's used to exploit loopholes ( Market Linked Debentures and Insurance) and lastly continued focus on infrastructure and agricultural economy. All worries about capital gains turned out to be thankfully a damp squib. All in all an excellent budget with continued focus on what we've been seeing last many years."
Nehal Mota, co-founder and CEO, Finnovate said it was a tightrope walk for the Finance Minister. She announced a Rs 20 trillion allocation for agricultural credit and 33% higher capex guidance at Rs10 trillion or 3.3% of GDP. Effective capex was Rs13.70 trillion or 4.5% of GDP. The gap between government optimism and public scepticism called for a sound budget.
Parry Singh, Founder and CEO,  Red Fort Capital said the finance minister has focused on growth and digitalization, which is the need of the hour. Capital Investment outlay has been increased by 33% to Rs 10 lakh crore, which would have a multiplier effect on the economy. The government has continued its support to MSMEs by announcing 9000 crores for the MSME credit scheme and returning 95% of the forfeited amount for contract failure during Covid-19. Furthermore, the enhancement in DigiLocker will increase the efficiency and reduce TAT for financial institutions and FinTech.
Mrinaal Mittal, Director, BlackTeak Realty said that "Based on my preliminary reckonings of the 2023 Budget, the real estate industry has been treated as-is, not much benefit given to real estate sector either developers or customers. The sector is bound to benefit indirectly from the focus on infrastructure development, particularly urban infrastructure. This fraternity also benefits indirectly from the decrease in individual tax outlays. A bigger budget under the PMAY for affordable housing, which is 65% higher than last year, will boost this segment of real estate. The net yield to REIT (Real Estate Investment Trust) investors has decreased as a result of changes to the taxation of REITs and InvITs (Infrastructure Investment Trusts), which include distributions made to repay debt as taxable income.  The capital investment outgoing witnesses a sharp incline of 33% up to Rs 10 lakh crore and this will comprise 3.3% of the nation's GDP. This outlay is three times of the same made in 2019. Overall a rather underwhelming treatment and tepid measures for the real estate fraternity."
Hari Kishan Movva, Senior Vice President, SILA added that a status quo has been maintained with respect to the Real Estate sector. The focus on infrastructure development, especially urban infrastructure would have an indirect positive impact on the sector. Similarly, the reduction in tax outflow for individuals is also an indirect positive to the sector. Amendments in taxation of REITs / InvITs wherein distributions via repayment of debt have been included in taxable income reduce the net yield to REIT investors. The introduction of a limit of INR 10cr on capital gains exemption for the purchase of residential property under Section 54 & Section 54F is also a marginal negative for the luxury residential sector.
Numerous Sustainable Development Goals (SDGs) have seen great growth in India, and the per capita income has climbed to Rs 1.97 lakh. Agriculture-related digital public infrastructure will be developed as a freely available, freely usable, and interoperable public benefit. Through pertinent information services for crop planning and health, greater access to farm inputs, loans, and insurance, assistance for crop estimation, market intelligence, and support for expansion of the agri-tech industry and start-ups, this would enable inclusive, farmer-centric solutions.
What the Sustainable & Agritech Industries have to say is listed below
Rajeev Sinha, Co-Founder, Onlygood - A Unified Sustainability Monitoring & Management Platform  said "The Budget 2023 paves an urgent pathway towards a more focused Sustainable Development of the nation & its economy. A welcome and seemingly robust steering of the economy can be expected in the coming years, courtesy wider budget allocations to Sustainability based infrastructure & capacity-building for this year. Better Capacity Battery Energy Storage Systems, Green Credit Programme for intrinsic behavioral change, PM-PRANAM Initiative for Restoration, Conservation & Awareness of Natural Resources, GOBARdhan Scheme to inspire circular economy etc. are some heart-warming additions in the Budget in terms of Green Growth of the Nation. It would seem very likely that relevant institutions & our government are now motivated with urgency to achieve the promised Net Zero Goals, primarily through Energy Transition Objectives."
In my opinion, this is going to be a very important year from the lens of Sustainability, as the trickle-down effect of this crucial concept has acquired a considerable pace in the last year. In this welcome advance, we shall hope to be an important part of Sustainability's very own torchbearer community"
Congratulating the union government on the latest union budget, Mr. Tarun Prajapati, Co-founder and Managing Director, Cultivator Natural Products Pvt. Ltd. said, "The finance minister has shown solidarity with farmers by announcing that Over the next 3 years, one crore farmers will get assistance to adopt natural farming and 10,000 bio input resource centres will be set up. We also applaud the fact that the Hon'ble Finance Minister has also announced accelerator fund for agriculture startups in 'Amrit Kaal' Budget."
He further added, "India is moving on the right track despite having multiple odds. The government is also increasing digital infrastructure in the rural areas and setting up an accelerator fund for agri-based rural startups. India is primarily an agriculture-based economy and this budget is definitely a pro-farmer one. We also congratulate the government for bringing an agriculture credit target by 20 lakh crores that focuses on empowering every walk of Indian socio-economic strata. We are optimistic about the overall economic growth of the nation."
Get Latest Business News, Stock Market Updates and Videos; Check your tax outgo through Income Tax Calculator and save money through our Personal Finance coverage. Check Business Breaking News Live on Zee Business Twitter and Facebook. Subscribe on YouTube.
Updated: Fri, Feb 03, 2023
11:01 am
New Delhi, ZeeBiz WebDesk