Budget 2018: Realty sector has long-list of demand from FM
Sector players say that the issues such as granting of industry status to the sector, single window clearance will help gain momentum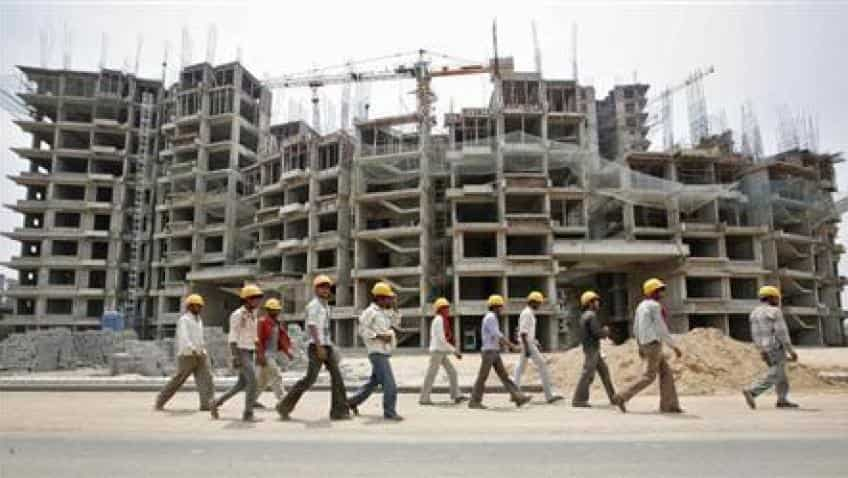 Single window clearance for all approvals has been a demand for a while now. Image source: Reuters
As the realty sector continues to deal with the after-effects of note ban, RERA and goods and services tax (GST) , industry experts are hopeful that 2018 Budget will bring some cheers to the sector. 
 
This is the crucial year for implementation of the government's Housing for all by 2022 scheme, as the deadline is fast approaching and for Finance Minister Arun Jaitley this is the last full Budget before general elections in 2019.   
Sector players say that the issues such as granting of industry status to the sector, single-window clearance to reduce delays in the approval process, reduction in GST rates, corporate tax rates and reduction in long-term capital gains holding period for REITs should be given priority in this Budget.
Srinivasan Gopalan, Group CEO of Ozone Group, said  with the introduction of policies such as demonetisation and RERA along with the inclusion of under-construction real estate projects in the GST bracket, the sector has witnessed a series of changes in 2017. RERA compliance will bring transparency and accountability into the system once it is completely implemented, consolidating the sector," said .
Single-window clearance for all approvals has been a demand for a while now, and we are hopeful that the forthcoming Budget will address this aspect, he said. 
In addition, the real estate segment is in dire need of industry status. This would help boost growth, as it will allow developers to raise funds at lower rates and  in turn reduce project costs. 
Currently, under-construction properties are levied a GST of 12%, which is significantly higher than the previous taxes.  A revision of taxes to the tune of 6% to 8% charges would be a welcome announcement, Gopalan said, adding that it would be an added bonus for the sector if registration charges could be absorbed in the GST.  
"Positive announcements for the affordable housing, which has been a focus area of the government, would help make property investments in this segment attractive for both buyers and developers."
 Abhishek Bansal, Executive Director of Pacific Mall, Tagore Garden,  said the industry status will help the sector in raising money. It will also help the industry players portraying themselves to the world in what expertise they use to be in real estate. 
"That is a big change that we expect that will help us." 
 Last year's Union Budget granted infrastructure status to affordable homes along with several other measures for the realty sector to step up its efforts to provide housing for all.
 
"For retail development, people like us who are doing shopping centres for whom the real estate plays really for 3-4 years not beyond that so it's more like hotel operators who are not into real estate. And we are not into real estate, we are mall owners so that is the difference we want to bring into the industry. Besides, the retail industry is also seeking relaxed FDI regime for multi-brand retail trade (MBRT) as also incentives to be provided for setting up warehousing and cold-chain storage facilities".
With a competitive cost of funding, benefits can easily be passed on to the customers. Bansal expects a single window clearance system so that sector players can fulfil their promise of timely project delivery. 
"In terms of financial instruments, what we expect is that the Reserve Bank of India (RBI) should bring rules in order to direct implementation of lending rate policies that would benefit end users. With a real estate regulator, the sector would enter into a maturity phase bringing positive outcomes which is the need of the hour."
"If the government is serious about their target of 'Housing for All by 2022', we should expect to see significant action on reviving and incentivising the housing sector-specific, targeted tax breaks and steps to make the purchasing and ownership of private homes more efficient, transparent and cost effective would be welcome," said Sarjan P Shah, Managing Director, Group Satellite. 
"It is expected that the Budget will focus more on infrastructure projects and housing sector this year. Some of the major issues like granting of industry status to the sector, single window clearance to reduce delays in the approval process, reduction in GST rates and corporate tax rates that have been pending for some time now demand closure this year,"  Prashant Solomon, Managing Director, Chintels India. 
He said  the real potential of Real Estate Investment Trust (REITs) is yet to be realised in India. The reduction in long-term capital gains holding period for REITs and streamlining of taxation norms will make it more attractive and incentivised for investors. 
REITs should be extended to residential as well (presently it is only for commercial projects in India). In other countries it is allowed for residential and commercial both, Solomon said. 
"The sector holds immense potential and investment opportunities and with the right reforms it can not only address the future challenges to the society but also go a long way in boosting the country's economic confidence," he added.
Updated: Fri, Jan 26, 2018
12:55 am
ZeeBiz WebDesk