Strong presence in India, makes Xiaomi's IPO a must watch; set to touch new milestone
It is being expected that Xiaomi will list it's shares in Hong Kong over next few months and would also become one of the biggest IPO in four years globally.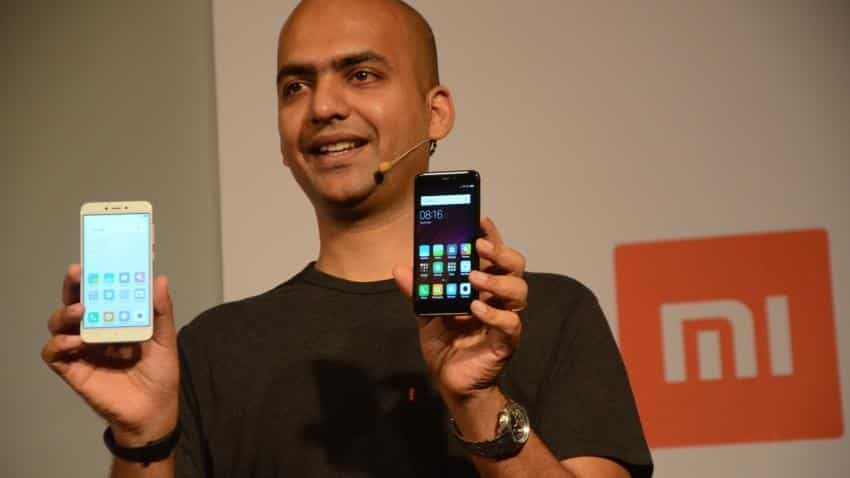 Xiaomi India Managing Director Manu Kumar Jain at the launch of Redmi 4, Redmi 4A and Mi Router 3C in Mumbai, on June 1, 2017. Photo: IANS
The Chinese smartphone maker Xiaomi in eight years of it's presence have made a significant impact among customers not only in India but also globally. Xiaomi with it's two brand Mi and Redmi has swayed the smartphone market to a great extent. The company is among favorite android phones who rides on good camera service, heavy storage, long-lasting battery life and low-budget. Xiaomi phones are quite handy and almost anyone can purchase it and enjoy various services. Xiaomi after strengthening it's foothold in smartphone market, has now planned to set another milestone with the launch of it's initial public offering (IPO). Xiaomi has India to thank for it in some ways. Not only this, Manu Kumar Jain the current Managing Director and global vice-president will become Xiaomi's only Indian leader to witness such a new height of the company.
Jain who is 37 years of age, joined the Xiaomi group in October 20147 and heads Xiaomi's business in India.  He is the only foreigner among the 10 employees on board and senior management team, who are allotted with shares under the employee stock ownership plan (ESOP), as per the IPO draft filed by the company. Also, Jain becomes the third-highest ESOP holder globally in Xiaomi, with holdings up to 2.3 million shares.
It is being expected that Xiaomi will list it's shares in Hong Kong over next few months and would also become one of the biggest IPO in four years globally.
According to a Reuters report, Xiaomi's IPO is expected to raise about $10 billion at a valuation of $80-100 billion.
Xiaomi's business portfolio has been commendable due to it's presence in home country China and rising market share in India, so much so, that the company has even outrunned South Korea's Samsung Electronics.
Xiaomi in the IPO document said, "We were number one in terms of smartphone unit shipments online in both mainland China and India in the fourth quarter of 2017, according to IDC."
The success that Xiaomi travels on today, can be due to it's performance in India, where it stays the number one smartphone.
"India represents our largest market outside of mainland China and is an example of the success we achieved in international expansion. We have built a robust new retail infrastructure for the distribution for our products and service. We are also expanding our internet service offerings to users in India through collaborating with and investment in local partners such as video content providers," says Xiaomi.
Data reveals that, Xiaomi stays on fourth position in terms of market share ranking of smartphone vendor by unit shipments in Q4 of 2017, by holding 7.2%, following Huawei which stays at third spot with share of 10.7% and  Samsung bagging second spot with share of 18.9%. It is Apple Inc who stays at first spot globally with market share of 19.7%.

Even in mainland China, Xiaomi has stayed at 4th position with  market share ranking by unit shipments at 13.9%, following Vivo at 16.5%, OPPO at 17.5% and Huawei at 21.3%.
Also in emerging market, Xiaomi stays at third spot with market share of 7.3%.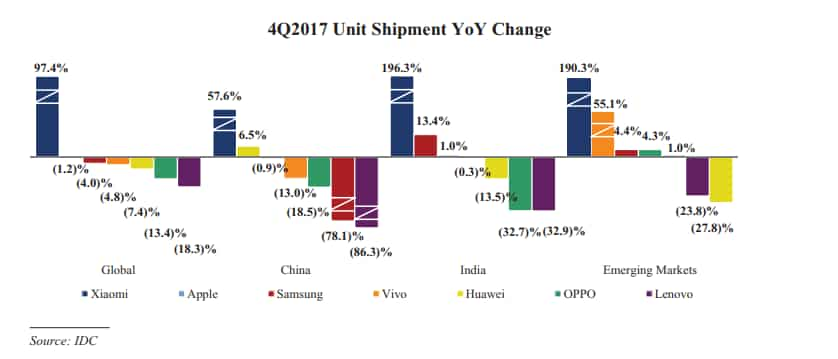 It is only in India, where Xiaomi holds number one position with a market share of 26.8%, followed by Samsung at 24.2%, Vivo at 6.5% and Lenovo 5.6%. In India, low-budgeted smartphone have great demand.
As for smartphone brands in fourth quarter of 2017 by online shipment, Xiaomi bagged top spot with market share of a whopping 57%, followed by Samsung at 9%, Motorola at 8.9%, Lenovo at 4% and luxury phone Apple at last spot with 3.4%.
In terms of offline smartphone unit shipments in India, Xiaomi stood at second spot with 11% market share in the same period, as per IDC data.
It is expected that, Xiaomi's internet penetration rates in rural and urban region of India can reach up to 34.2% and 80.7% by 2022 respectively. By end of 2017, the rate stood at 20.4% in rural and 64.1% in urban region.

There is no sign of slowing down for Xiaomi in Indian market, as even in Q1 of 2018, the Chinese smartphone vendor registered an impressive 155% annual shipment growth, taking the lead in a smartphone market that is growing yet rapidly consolidating.
Xiaomi shipped over 9 million units, giving it a market share of just over 31%, the highest ever for a vendor since Q1 2014, when Samsung had a share of 33%.
Impressively,  Xiaomi also continued to widen the gap between itself and Samsung.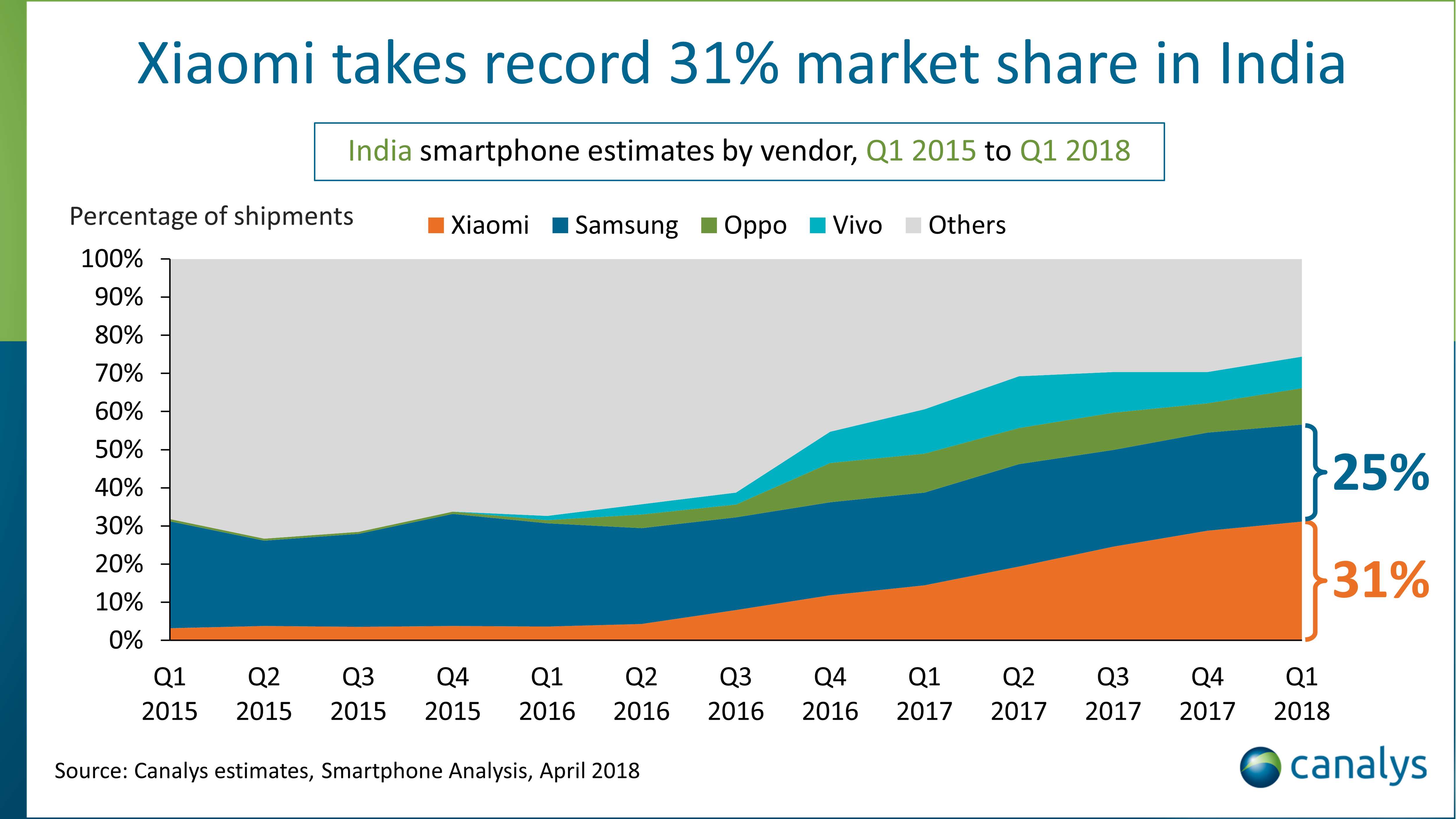 Canalys Research Analyst Ishan Dutt said, "Xiaomi is becoming a force to be reckoned with in India. Apart from being some of the best value devices on the market, Xiaomi's smartphones are now available in more places and in larger quantities. All in all, Xiaomi's product and channel strategies are working."
Recently, Xiaomi has introduced Redmi 5, Redmi 5A and Redmi Note 5 have seen runaway success, with the Redmi 5A reaching record sales of 3.5 million in the quarter.
Dutt added, "Xiaomi is now bringing this cost disruption to TVs, another consumer market that is dominated by heavyweights, such as Samsung, Sony and LG. The move will add much needed equity to its brand and will positively affect its longevity in the market."
Such performance of Xiaomi has also given hard times to smaller vendors, as the report mentioned that, the market also continues to consolidate, with smaller vendors finding it extremely difficult to succeed in the face of Xiaomi's growing prominence. The top four vendors accounted for about 75% of all smartphone shipments to India, with Xiaomi and Samsung accounting for 56%.
So one thing is for sure, Xiaomi's earning and leadership rides on Indian market presence, and in case if any hurdles arise, the company will face heavy losses.
Under the risk factor of IPO data, Xiaomi highlighted that their business and financial performance in India could adversely be affected by unfavourable changes in or interpretations of existing, or the promulgation of new, laws, rules and regulations applicable to us and our business in India.
The company says, 'Such unfavourable changes could decrease demand for our products and services, increase cost and or subject us to additional liabilities in India, which in turn could have a material adverse effect on our financial condition and results of operation."
Canalys Research Manager Rushabh Dosh said, "India remains a huge investment for any smartphone brand."
He added, "India's massive independent retail channel has always relied on intense competition to negotiate higher margins and marketing funds."
Tarun Pathak, associate director at Counterpoint Research in a Quartz report said, "India will be a priority market." He added, "There has been a lot of energy spent on making India-centric products, so after the IPO we will see more energy in the India market and that will be not just devices but the ecosystem as a whole."
Updated: Sun, May 06, 2018
07:56 pm
Mumbai, ZeeBiz WebDesk