Samsung Galaxy Watch 4 Review - The best Samsung smartwatch so far!
I have been using the Samsung Galaxy Watch 4 for more than three weeks and here is what I have to say about the new smartwatch.
Samsung Galaxy Watch 4 Review: After the COVID-19 pandemic, many people, especially youngsters, have embraced smartwatches in a big way for several purposes such as monitoring health and fitness 24/7, managing notifications, taking some stress off daily work, and more. With the sudden rise in demands of wearables, especially in India, all major tech brands are expanding their product lineup. In the fast-growing wearable market, the South Korean smartphone brand Samsung recently announced its latest smartwatch Galaxy Watch Active 4 series in India, which can be the best Android wearable when it comes to monitoring health and fitness.  The Galaxy Watch capabilities have expanded and now, Galaxy Watch 4 gives new experiences in health and wellness monitoring.  ​This new Samsung watch comes with top-end features to track body composition, sleep pattern, blood oxygen level among others. Galaxy Watch 4 Series is the first generation of smartwatches to feature Wear OS, powered by Samsung and built by Samsung and Google.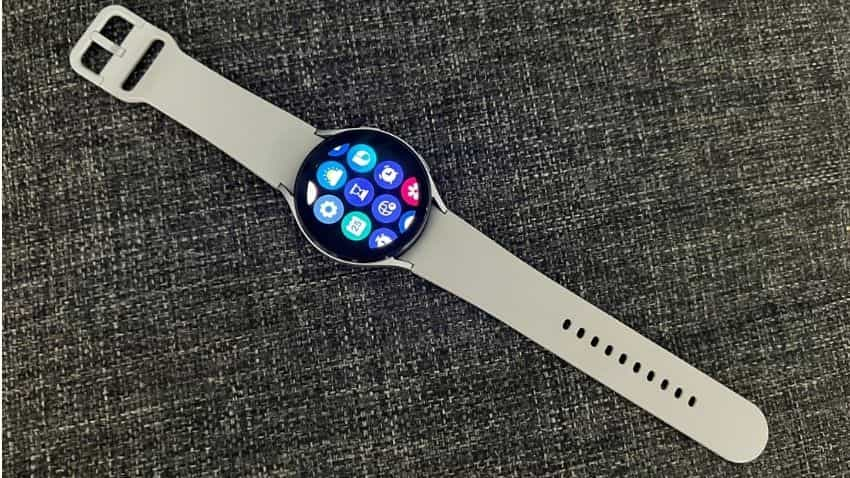 The 40mm Bluetooth variant is priced at Rs 23,999, whereas the LTE variant is priced at Rs 28,999. It comes in Pink, Gold, Black, and Silver colors. The Galaxy Watch 4 44mm Bluetooth model is priced at Rs 26,999, whereas the LTE model is priced at Rs 31,999. It comes in Black, Green and Silver colors. Samsung Galaxy Watch 4 Classic are priced at Rs 34,999 and Rs 39,999, respectively. It comes in Black and Silver color options. Galaxy Watch 4 Classic price in India starts at Rs 31,999 for the 42mm Bluetooth model. The LTE model is priced at Rs 36,999. The 46mm variant also comes in Bluetooth and LTE models. I have been using the Samsung Galaxy Watch 4 for more than three weeks and here is what I feel about the new smartwatch. In terms, of design, build quality, and outlook, Samsung Galaxy 4 ticks most of the right boxes. This newly launched smartwatch from Samsung is extremely comfortable to wear all through the day and doesn't feel all that heavy at any point in the day. The Galaxy Watch 4 comes with a clean design with a big circular dial, which also attracts smudges very easily.
With a premium round design and top-notch health tracking, higher resolution display and enhanced Wear OS co-created with Google, Galaxy Watch 4 comes with big features. In terms of display performance, it features a 1.4-inch 450x450 Super AMOLED, Full Color Always On Display on the 44mm variant with the same resolution that is protected by Corning Gorilla Glass DX. The display is as colour-rich and vibrant as expected from Samsung, with clear, crisp text, thanks to the AMOLED. The screen is also bright and reading notifications or fitness data while outside is no problem for us. ​Weighing just 30.3 grams, the Galaxy Watch 4 is extremely light, making it comfortable during work out and it is indeed a perfect companion for the wrist all day long. This multi-tasking smartwatch gives premium look on your wrist.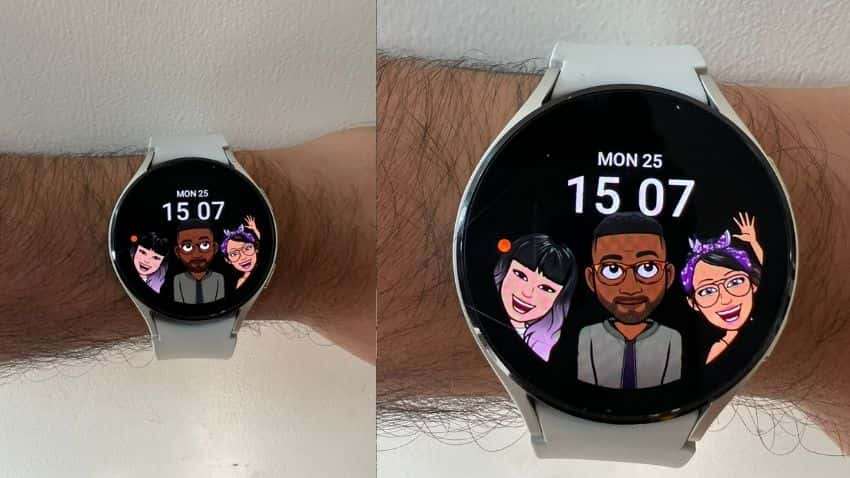 On the right side of the watch, you will see two buttons, including the power button, which is easily reachable. The strap is lightweight and makes it comfortable to wear the watch all through the day. The touch screen of the smartwatch offers a pretty smooth experience and makes it extremely easy to use. The big circular dial shows notifications very clearly in large font and also lets you pick calls and check messages, read emails and even get social updates regularly. Customizable and attractive watch faces, animation effects, and layouts will certainly attract young buyers. The smartwatch provided sharp and clear visuals indoors, as well as under direct sunlight. In terms of brightness, the display worked well in various light conditions. The touchscreen features a higher resolution and worked smoothly. We didn't find any lag here.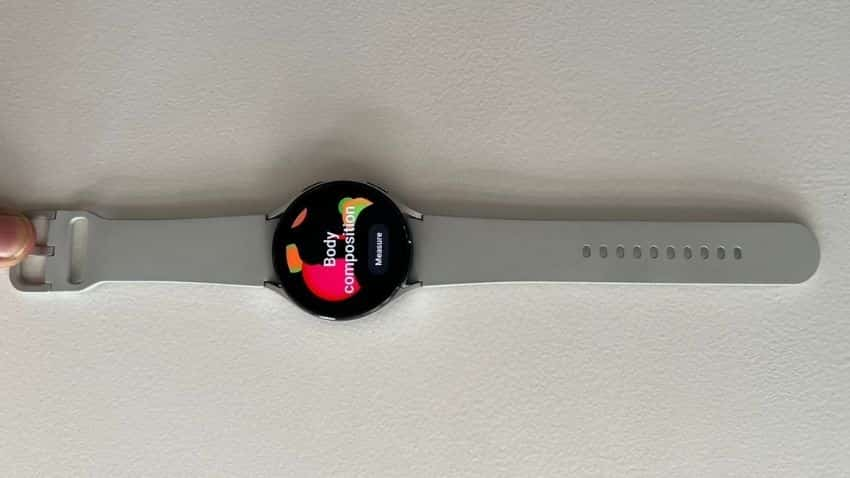 The Galaxy Watch 4 works with phones running the latest version of Android but works best on Samsung smartphones. Once connected, you can easily read incoming alerts and messages directly on the screen. The smartwatch also comes with Always-On-Display (AOD) mode. I used AOD mode almost every time and I personally liked it. However, users must note that AOD mode eats a lot of battery. Once fully charged, the smartwatch lasted for more than 30 hours on heavy usage and as I mentioned above I kept the AOD mode on during the review period. The major feature of this smartwatch is, it comes with a body composition measurement tool. The all-new body composition measurement tool allows you to calculate their body composition and give them a deeper understanding of general health and fitness. You can easily check body composition from their wrist with just two fingers and get the result in about 15 seconds. The result captures 2400 data points and is 98 percent accurate compared to the conventional techniques.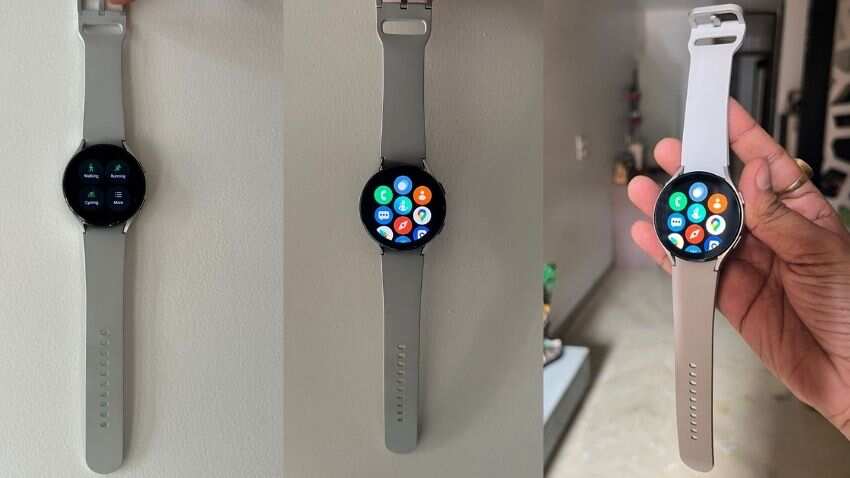 Also, Galaxy Watch 4 offers in-depth sleep pattern analysis where the user's compatible smartphone can detect the sound of snores while the smartwatch measures the blood oxygen level when asleep. Together with advanced Sleep Scores, you can learn more about sleep patterns to get better rest and understand the quality of sleep. Galaxy Watch 4 is the first generation of smartwatches to feature Wear OS, powered by Samsung and built by Samsung and Google. The watch also comes with Bluetooth and WiFi connectivity. The collaboration lets users experience an array of Google apps and Galaxy services from their wrist, including Google Maps, YouTube Music among others. The new platform also includes support for leading third-party apps for enhanced and seamless user experience. ​For connectivity, You will need to download the Galaxy Wearable app from the Google Play store on your Android smartphone to set up the watch and connect it to your phone to receive timely notifications and track steps and other health features.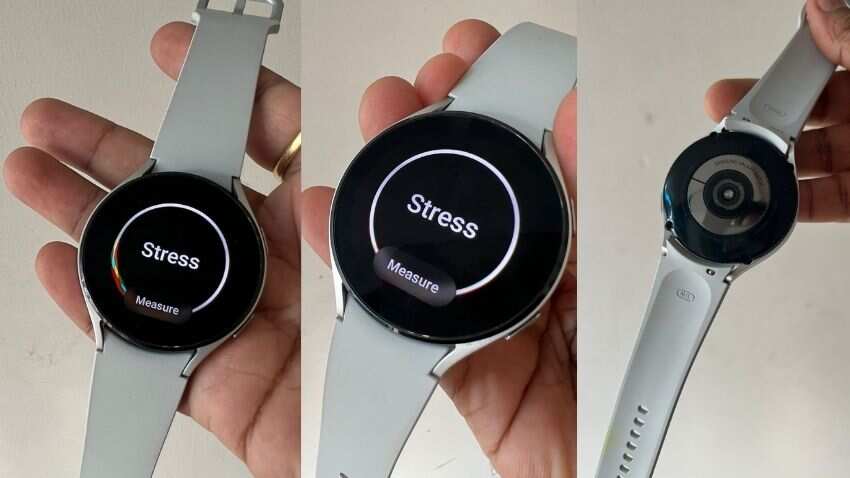 The smartwatch offers various watch faces, which can be accessed either from the app or the watch itself. Samsung has added AR emojis and other funky watch faces this time, which adds to the overall design of the watch. Galaxy Watch 4 is rated as IP68. Based on test conditions for submersion in up to 1.5 meters of freshwater for up to 30 minutes and the smartwatch detects physical activity to track your routines and supports more than 90 exercises for a more accurate report of your workouts. Also, this new Samsung smartwatch offers many sensors including, Accelerometer, Barometer, Gyro Sensor, Geomagnetic Sensor, Light Sensor, and more. While doing basic tasks like doing physical activities, the Samsung Galaxy Watch 4 didn't disappoint at all. The smartwatch worked smoothly. One of the major USPs of this smartwatch is its battery life. Samsung has worked on the improvement in the battery performance of the smartwatch. In terms of battery performance, the 360mAh battery is fit for a two-three day usage time with the always-on screen option off, which is not bad at all. Also, the charging speed is decently fast. The charging cable comes bundled with the retail box, but you will need your phone's adapter to put the watch on charging. The Samsung Galaxy Watch 4 takes around 3 hours to fully charge, from 0 to 100 percent.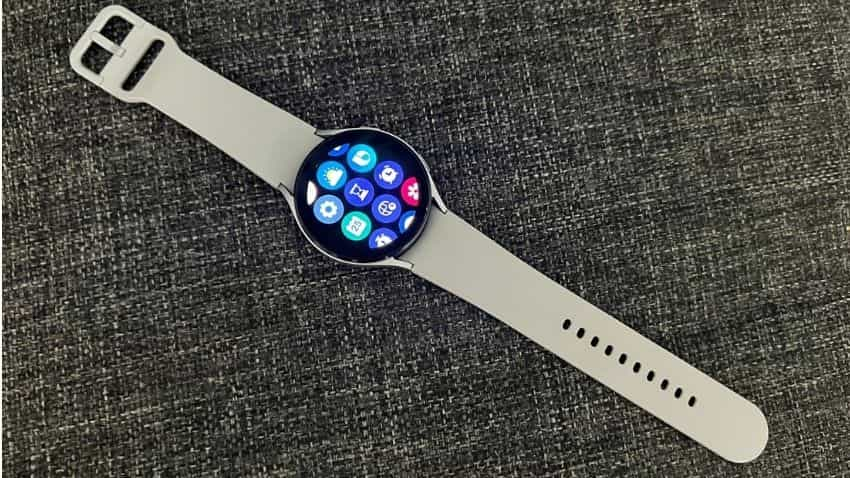 Samsung Galaxy Watch 4 verdict: Samsung Galaxy Watch 4 is the most advanced non-Apple smartwatch and a great option for android users. This new Samsung watch comes with top-end features to track body composition, sleep pattern, blood oxygen level among others. Galaxy Watch 4 Series is the first generation of smartwatches to feature Wear OS, powered by Samsung and built by Samsung and Google. With the body composition tool, this smartwatch can be the best option for any android user to go for