THIS Edtech start-up helps learning in places without internet, electricity | A peek into its unique model that's revolutionizing remote learning
Edtech has become a major thrust area for the education sector which holds immense potential for investors as well as the government.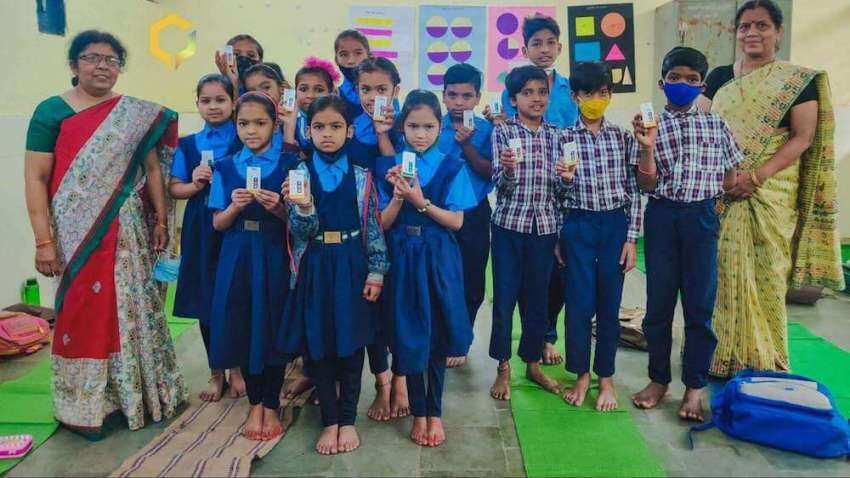 Indian Education Industry has undergone a sea change since Covid pandemic.
Edtech start-up helps remote learning in off-grid places - The Covid-19 pandemic was a roller-coaster ride for students which impacted their studies. The Indian Education Industry has undergone a sea change since then. 
From app learning to online classes or OMR-based examinations, the conventional methods of learning have evolved in the last about two years. In a short span of time, they have gained trust of both parents and children alike.
Looking ahead, Edtech, or education technology has become a major thrust area for the education sector, especially in the post-Covid world. The sector holds immense potential for investors as well as the government. 
Walking on a similar path, Class Saathi has given teaching methods a new lease of life and demonstrates huge potential to change the lives of millions of students. It's a clicker based smart classroom solution that makes formative assessments seamless and data-driven. It's an AI powered learning platform from TagHive, a Samsung funded education technology company. 
The bluetooth-based clicker device Class Saathi was built so that the lack of internet and electricity doesn't hamper the learning. 
How does it work without electricity and internet
Class Saathi has two components, the hardware and the software. It is the world's first and only Bluetooth-based clicker device, which is used by each student in a classroom to respond to the teacher's questions. Students can answer MCQ-based questions by simply responding on the clicker device. 
Since clickers can connect to the teacher's smartphone, it doesn't require any electricity connection (since it is battery powered); and the device does not need internet for the teachers to conduct assessments and ask questions. 
The data is stored locally on the device until an internet connection is established, upon which it is automatically synced for administrators also to see on a dashboard. Teachers, meanwhile, can still see data and insights instantly on their devices regardless of an internet connection.
Pankaj Agarwal, Founder & CEO, TagHive, said, "This is exactly the challenge that Class Saathi is built to solve. When I came back to my school after decades of studying and working outside India, it seemed like almost nothing had changed. Upon research, I was made aware that most public schools in India are under-resourced like this." 
"I always believe that technology is built to make our lives better, and started thinking about how technology can enable these school ecosystems while keeping in mind the context, and thus, our solution is built to bridge learning gaps through two key aspects: student engagement, and performance tracking," he added. 
Teachers can use the Class Saathi app to evaluate students' proficiency in various concepts taught in class. Administrators and Parents can also see this learning data on their respective applications. 
Aligned with the New Education Policy's micro-learning objectives and continuous assessments, Class Saathi's "Data First" approach ensures greater accountability at all levels. Class Saathi is affordable and doesn't require schools to upgrade their infrastructure. 
A classroom is only 'smart' when students have a voice, feel involved in the learning process, and have a two-way conversation with their teachers; and through Class Saathi, that's exactly what happens. Teachers can instantly ask questions based on topics they've taught, or at the end of a topic, and basically, conduct quick and easy assessments where they can see how their students are learning. 
This keeps students engaged and makes sure that every single student's voice is heard, so there's both inclusivity and a sense of peer learning and competition. All this data is then visible to teachers, administrators and parents in the form of insights powered by AI, which can be used to create more focused strategies to bridge learning gaps. 
Pankaj Agarwal noted, "We allow for voice, transparency, and accountability in the education system, without infrastructural requirements. Initially, we were incubated (and are still supported) by Samsung. Their support and network helped build the foundation of the company, and then we raised funds from Korean investors keen to work with innovations to solve real-world problems. Currently, we work with partners and organizations at scale, that in turn work with Government projects/tenders, or school networks."
Available on smartphones, tablets, PCs, and interactive panels, Class Saathi is currently being used in over 3000 schools in India and South Korea.  
Also Read | 5 money management tips for home loan borrowers | Home loan tips
Start-up ecosystem In India
Pankaj Agarwal opined, "I think that the startup ecosystem is thriving in India. I'm seeing new start-ups coming up with every-day with innovations for solving different challenges and creating a niche for themselves in sectors that we never thought about earlier."
Nidhi Aggarwal, Founder. SpaceMantra added, "Constructing a self-sufficient India will indeed lead us to emerge as a reliable dominant powerhouse that really can approach across the globe out of a strong position of strength."
Kumar Saurav, Global Mobile Business Head, AdCounty Media Pvt. Ltd pointed out, "While the start-up mission was truly a boon, it also helped the country cope with difficult times." 
Now that people know that it is indeed possible to learn remotely, there is a lot of opportunity because they are now more open to new and innovative learning mechanisms using technology. Schools now realize that to differentiate themselves, they have to offer an extra edge in learning, which is now a technology assisted solution. 
TagHive's Pankaj Agarwal further said, "The general attitude towards digital learning because of the National Education Policy 2020 and the push for platforms like DIKSHA also means that the Government is seriously looking at digitizing the teaching-learning process.
Agarwal believes that the challenges however are immense as well. Because such a large number of students in schools have lost learning time, the gaps have also become wider. Combined with the wildly varying contexts and demographics around the country, it is extremely difficult to have a solution that can truly cater to all. 
This also means that while there is immense potential, there is also a huge magnitude of work that remains to be done in order to address daunting problems which are made severe due to the complexities on the ground. 
Also Read | What is EEE in Income Tax? 5 tax free investment options to become crorepati
Updated: Mon, Nov 28, 2022
10:32 am
New Delhi, ZeeBiz WebDesk