Softbank's India plans to continue unhindered, Nikesh Arora assures
With Arora's exit, the future of these investments and the future strategy of Softbank of India came under clouds.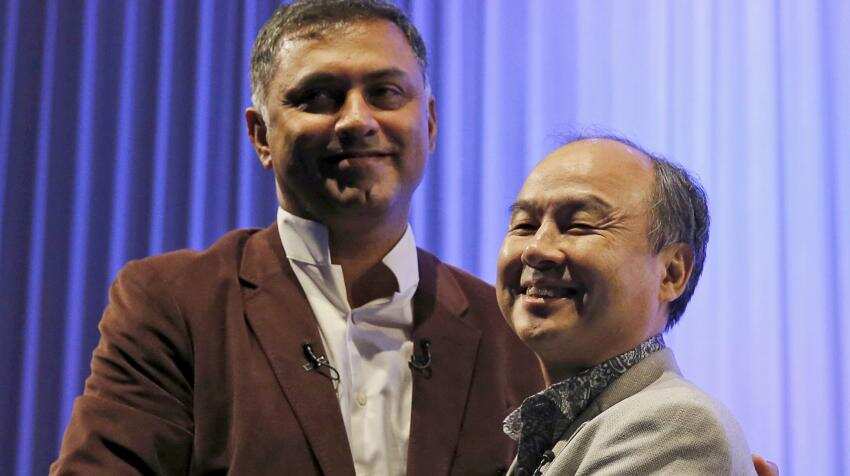 SoftBank Group Corp Chairman and CEO Masayoshi Son (R) and President and COO Nikesh Arora shake hands during a special lecture of the SoftBank Academia in Tokyo. Photo: Reuters/Toru Hanai
Updated: Wed, Jun 22, 2016
04:53 pm
Mumbai, ZeeBiz WebDesk
Entrepreneurs across the globe, especially India, skipped a beat on Tuesday when Softbank's President Nikesh Arora announced his departure from the company.
Japanese venture capital firm has been aggressive with its India strategy, majorly led by Arora. Over the past two years, the company has invested heavily in Uber's Indian competition Olacabs, a hotel room aggregator Oyo Rooms, Housing.com, Hike Messenger, Snapdeal, and many others.
Softbank, under Arora, announced $10 billion investments in Indian start-up scene over the next few years.
With Arora's exit, the future of these investments and the future strategy of Softbank of India came under clouds.
When asked on social networking website Twitter about the future of SoftBank's Indian portfolio, Arora said, "Like every individual has a different future, so does every company".
However, in a response to a Zeebiz.com article raising questions of Softbank's India strategy, Arora said, "No. Masa (Masayoshi Son, Founder and CEO, Softbank) is as much an indophile as I am."
There are two major reasons that are being cited for Arora's exit from Softbank.
The first being the longer wait for him to take over the reins of the company from Masayoshi. Second being the ire of investors who weren't happy with the returns Softbank was giving them on their money.  
It is this reason that puts a big question mark on Softbank's future in India. For instance, according to a LiveMint report, Snapdeal reported Rs 1,328 crore loss in financial year 2016. While Olacabs reported Rs 34.2 crore loss in FY2014, according to an Economic Times report. The company's revenue for 2014-15 jumped seven-fold to Rs 380 crore but it didn't provide profit figures.
Other investments such as Housing.com, Oyo Rooms, Grofers and Hike aren't doing particularly well.
Most of the co-founding team at Housing.com has quit the company and it is moving out of rental business. Housing.com losses amounted to Rs 279 crore in FY2015, according to trak.in.
Hike Messenger's users are spending only 120 minutes on the messaging app per week and Grofers has ceased operations in a few cities in India.
According to CNBC TV18, Rahul Yadav, former CEO of Housing.com, said, SoftBank's investments are currently not doing well and thus the bank should have given more time to Arora.
Softbank, in its investor presentation for FY2016, showed how the company saw its Indian investments.
While the firm proudly listed the total revenue growth, mobile revenue and net income of Alibaba, only Snapdeal's gross merchandising value (GMV) was listed. And while the presentation showed a 90% year-on-year (YoY) GMV growth of Snapdeal, it was much smaller than the Indonesia's Tokopedia which showed a 254% growth YoY.
This shows in what position Softbank's Indian investments currently are and if it will indeed choose to pump in more money when Arora is long gone.