Relive F.R.I.E.N.D.S experience at this Kolkata café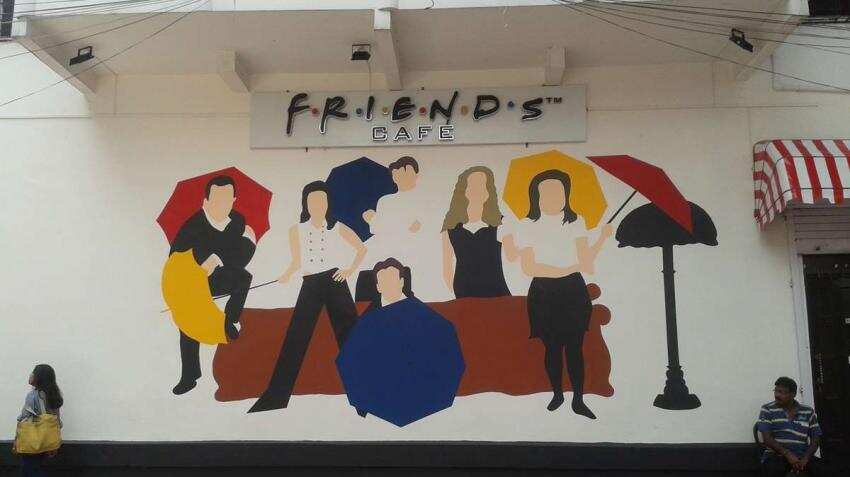 F.R.I.E.N.D.S. cafe in Kolkata. Image Source: Zomato
Updated: Sun, Jun 05, 2016
02:22 pm
Mumbai, ZeeBiz WebDesk
If you're a 90s' kid, there is a slim chance you haven't heard of the popular show F.R.I.E.N.D.S. And if you have, there's even lesser chance you're not a fan. 
Now, you can relive the show right here in India. The F.R.I.E.N.D.S Cafe in Kolkata, is set up by 19-year old Mahima Bachhawat and her brother, Aditya Bachhawat, in the basement of their Deshapriya Park building. 

Image Source: Reuters
The F.R.I.E.N.D.S Cafe isn't exactly Central Perk but it is the first one that takes after the theme of the show in India. 
Here are 5 characteristics of the show that you will find in the cafe that is sure to make you nostalgic!
The purple and green doors: Remember Monica Geller's apartment door with the empty golden yellow picture frame around the peep hole? You will now find it in the cafe in the City of Joy. It also houses Joey and Chandler's green apartment door with number '19' on it. 

Image Source: Zomato

Image Source: Zomato
Ross Geller's Sandwich: The cafe's menu offers its take on the famous turkey sandwich that cost Ross his beloved job at the museum when he found out that his colleague had not just taken it from the fridge but had thrown most of it away!
The 'ugly' porcelain dog: Monica refused to take the porcelain 'ugly' dog when Chandler was moving in with her in the later seasons. 

Image Source: Zomato
Phoebe's pink bicycle: The cute pink flowery cycle on which Phoebe learns to ride is a part of the decor at the cafe. 

Image Source: Zomato
The famous Central Perk orange couch and green armchair: If someone asks you to name three locations that appear the most on the show, they would be, Joey and Chandler's apartment, Monica and Rachel's apartment, and the Central Perk couch. You can now 'feel' like the F.R.I.E.N.D.S gang and spend hours, day after day on the couch.