Interview: Business environment for startups in India is improving, says Charcoal Eats CEO Anurag Mehrotra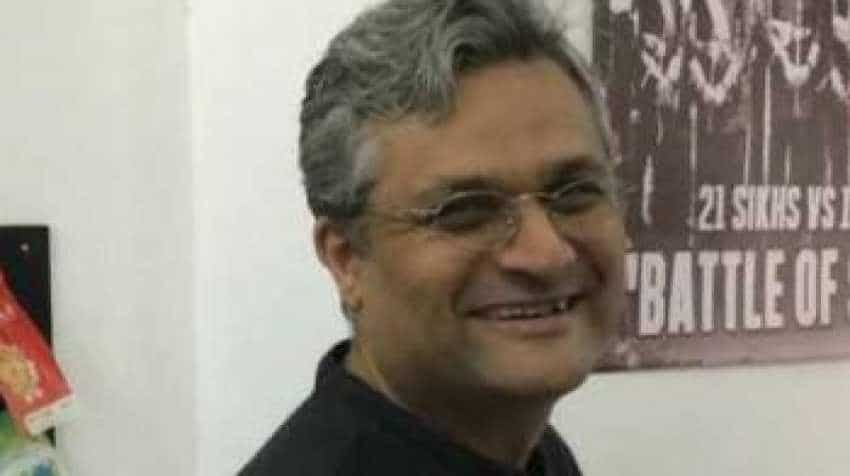 Of late, India has started taking various initiatives at a government level fairly and we are already seeing a large number of startups come up across industries, says Charcoal Eats CEO Anurag Mehrotra. Image source: zeebiz.com
Charcoal Eats, a startup which offers traditional Indian cuisine with a modern twist, aims to meet the growing need for on-demand, high-quality food. In an email interview with Zee Business Online, its CEO Anurag Mehrotra talks about various aspects of the startup ecosystem in India and abroad; and the company's expansion plans. 
Do you think the business environment is favourable for startups in India? 
I think the business environment for startups in India is improving by leaps and bounds. We have always had an abundance of entrepreneurial talent. The emergence of investors, mentors and incubation infrastructure is slowly unshackling this energy. India is already the third largest startup ecosystem in the world. Though the business environment, in India as well across the globe, is volatile and tough, there is huge scope for startups that create a unique proposition, have a business model with defined revenue streams, and a team that is hungry to create something great.
A big step in this regard is the government's recognition of the importance of a formal policy framework that encourages startups and its focus on improving the policy ecosystem. A recent initiative was easing of the Angel Tax conditions. In addition to tech, digital and consumer goods sectors; the government is also encouraging setting up of world-class manufacturing infrastructure, skill development, and intellectual property protection, among other things.
A huge advantage for startups in India is the availability of a huge talent pool that is increasingly eschewing conventional jobs in large companies in favour of startups. Startups that can harness and focus this energy will be winners. The complexity of daily life and the various challenges for different consumers in India opens doors to life-changing solutions, especially for the emerging and developing markets. India is leading the world in many consumer services including digital payments, mobile banking, and unique identification system for targeted benefits.
There is a lot of opportunities in India for businesses to succeed with the right growth and expansion strategies in place.
Do you think angel tax on investments by VCs and other funders is a hurdle in startups' growth?
The government has taken certain steps to ease the old rules on angel tax on investments in startups by VCs. While the old rules were introduced as a justified attempt to eliminate any money laundering, these nevertheless had a negative impact on investor confidence. With the current dispensation favourably inclined to consider the requirements of the startup community, it augurs well for the investment scenario for startups.
If you compare the US, Singapore and India, which country you think has the favourable environment to nurture a startup?
The US has been built on the back of startups and holds an incomparable position as a country that provides an ideal environment for startups to succeed at the global level. The sheer scale of the startup ecosystem makes it a desired destination. Singapore has also built itself as a favourable environment to start a business and has been consistently ranked among the top countries in the World Bank's "Doing Business Report".
Of late, India has started taking these initiatives at a government level fairly and we are already seeing a large number of startups come up across industries. Given the natural entrepreneurial talent in India, this should kickstart a virtuous cycle for startups.
How did the idea of Charcoal Eats come?
The idea behind Charcoal Eats came when seasoned finance executives Anurag Mehrotra and Krishnakant Thakur met Mohammed Bhol, an expert biryani chef with international experience, came together. The trio realised that there was no full-stack QSR venture for good Indian food, comparable to global QSR brands, and set themselves a challenge to build exactly that.
The eureka moment was the realisation that with standardised processes and recipes, dependency on chefs at the outlet level could be eliminated.
Who are the investors and how much have you raised?
A total of Rs 12.9 crore has been raised in four rounds of angel, seed and pre-Series-A fundings. In the Pre-A Series funding, we have raised Rs 50 million from seasoned investors such as Rajesh Ramanathan, Head Global Growth Mondelez International; Sanjay Bhandarkar, Ex Rothschild India MD; Amit Gupta of New Quest Capital Partners;  Vishesh Shrivastav of Temasek; Sachin Khivasara of Buoyant Capital; Chetan Mehrotra; Pankaj Razdan, MD and CEO of Aditya Birla Sun Life Insurance; and Kush Verma of Asoka Capital.
We will be doing another round of funding shortly. The funds raised will be used for expanding into new geographies & increasing coverage in the existing market, brand building and technology.
What about your profitability and sales?
Charcoal Eats is currently present with 43 dine-in and express outlets across 13 cities (Mumbai, Navi Mumbai, Thane, Pune, Gurugram, Nashik, Chennai, Ahmedabad, Kolkata, Jamshedpur, Indore, Bengaluru, and Jaipur).
A key element of our growth story is the hassle-free, high ROI franchise model for people looking to start their food business. The company takes care of the food, marketing, supply chain, technology and customer care, while the franchisee focuses on managing outlet operations and local area marketing. Multiple outlet formats (dine-in, express, mini) allow us to open outlets suitable to a location's specific requirement/ profile.
All Charcoal Eats outlets are designed to be capital and resource efficient, enabling quick break-even and profitability at an outlet level.
In terms of revenues, we have shown growth of almost 3.5 times from April 2018 to March 2019, with a revenue run rate of INR 17.5 mn for March 2019 v/s INR 5.0 million in April 2018. Our order numbers have shown a 400% growth from April 2018 to March 2019, with approx. 55,000 orders in March 2019, up from 13,600 orders in April 2018. This growth has been driven by two factors - our pivot from a 'meals only' to an 'all day dining' menu and the increase in Charcoal Eats outlets across the country.
What do you expect in 2019 in terms of revenue?
We will be building on our growth momentum of 2018 and are working towards a 6X revenue rate growth over 2018. A 4X increase in the number of outlets, taking the count to 160, will help fuel this growth.
Tell us about the customer base, number of outlets, and dishes
 We have served over 1 million customers since its inception in 2015. A top-notch customer satisfaction rating and high repeat orders stand testament to the durability of our growth.
We are currently present in 43 locations across 13 cities, spread across the country. This number will go up to 160 locations by March 2020.
Franchisees are an integral part of our business. With a breakeven for each outlet between 3-5 months and investment breakeven at 18-20 months, our focus is on getting each individual outlet profitable as quickly as possible so that our franchise partners can maximise their ROI.
Charcoal Eats specialises in modern Indian flavours, serving a wide range of biryanis, starters, rolls, pav wows, loaded fries, curries and meals, at very affordable prices. Our food philosophy is that we will not serve to customers anything that we can't serve our kids. High-quality ingredients, stringent hygiene standards and no harmful additives (MSG, added colours, preservatives) ensure that our food is as wholesome as it is delicious.
Do you have an app? 
Convenience is one of our cornerstones. We seek to be available to consumers in whichever format they are comfortable with. Consumers can walk up to our located outlets or order home delivery. For the digital-savvy customers, we have a website and an app. We are also present on all leading food delivery platforms. For those preferring a human interaction for placing their order, we have a customer care team ready to guide customers in placing their order.
 
Get Latest Business News, Stock Market Updates and Videos; Check your tax outgo through Income Tax Calculator and save money through our Personal Finance coverage. Check Business Breaking News Live on Zee Business Twitter and Facebook. Subscribe on YouTube.