International SME Day 2021 – How DIGITIZATION to bring windfall gains for Indian MSMEs? Experts have the answers
The impact of Covid-19 pandemic on life and livelihoods has been immense, yet many companies have gone to great lengths to support their employees. They see the digitization as a way forward for MSMEs to sustain and flourish
•Updated: July 22, 2021 14:44 pm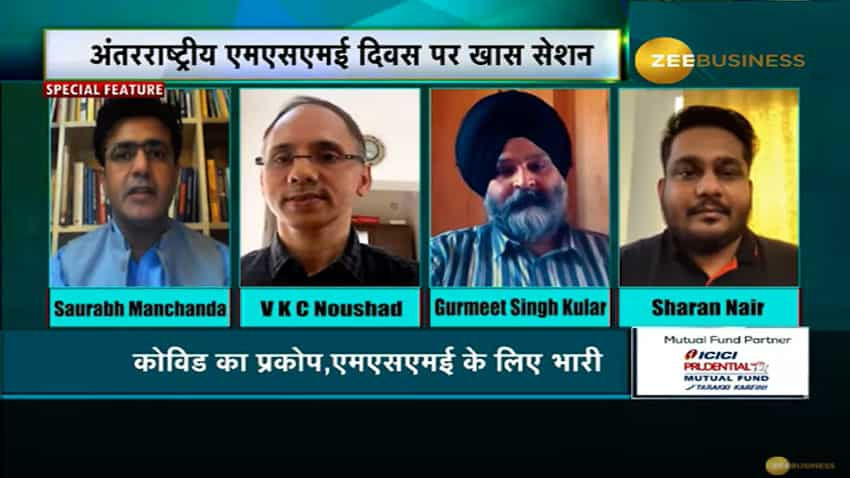 The impact of Covid-19 pandemic on life and livelihoods has been immense, yet many companies have gone to great lengths to support their employees. They see the digitization as a way forward for MSMEs to sustain and flourish.
"We have taken care to continue and reassure our team through constant communications and also make sure that there was no loss of income on account of the lockdown," VKC Naushad Founder VKC Group told SME Editor Saurabh Manchanda of Zee Business. VKC is a Kerala-based footwear company.
See Zee Business Live TV Streaming Below:
"Salary we have paid on time," Naushad said adding that this has enthused high morale among the employees of the company. He said that the company outsources its stitching work to over 200 micro enterprises which are also facing stiff challenges. The company was doing all to support these companies, the Founder said. He is also the Managing Director of Walkaroo International.
Naushad was speaking during a panel discussion on MSME Day which is observed on June 27 every year. United Nations has been observing this day as an MSME Day since 2017 to recognise the contribution of these industries in the implementation of the Sustainable Development Goals (SDGs).
International MSMEs Day 2021: One of the themes of the Micro, Small and Medium-sized Enterprises Day for this edition was 'How Traditional SMEs Can Embrace Digitisation'. The UN has hosted a series of events to explore how MSMEs — the backbone of our economies can be equipped to ensure an equitable and sustainable post-COVID-19 recovery.
Naushad said that over 80 per cent of the units were affected by the lockdowns in various states including his own company. He said that his line of business falls under the non-essential category and hence was not allowed to operate. While 80 per cent of the MSMEs which are affected by the pandemic are looking for help from the government and banks.
"As entrepreneurs, we have to take responsibility of the present situation and lead the team. As a leader we have to ensure that we act morally and boost confidence level," he further said.
Sectors like bicycle, auto parts and textiles have been severely hit from the second wave of the Coronavirus Pandemic, Gurmeet Singh Kular, President of Federation of Industrial and Commercial Organisation (FICO) said. India is the second largest manufacturer of bicycle parts he added.
He said that the retail business has been hit because of the state-wise lockdown restrictions. This has had a direct impact on the MSME sector. The MSME sector has seen stagnation in its businesses and that has led to stockpiling. The working capital has come to a standstill. It is becoming difficult for small businesses to sustain, he further said.
He said that the steel prices have been increasing rapidly to the detriment of the cycle industry. Moreover, state government is collecting fixed charges on power even when the units have been completely shut, Kular said.
He said that the government must give help for the MSME sector to come out of this crisis.
Despite challenges, technology has been a great enabler during the times of pandemic ensuring higher customer interaction with the service providers, Sharan Nair Chief Business Officer at CoinSwich Kuber said. He was also a panellist in the discussion. He said that MSME will play a "humongous" role if India has to realise its USD 5 trillion economy goal.
However, he was of the view that the government must be the biggest enabler or catalyst in uplifting the MSMEs. He said that the governments must help and educate MSMEs, build programmes and must also give grants and incentives for MSMEs to graduate from mom-and-pop stores and adopt digitization.
Headwinds and Solutions:
-- Small SMEs are P2P – Peer-to-Partner and digitization for them is a huge challenge, Kular said. This can be done with the help of associations and largescale players, he added.
-- Many small businesses have been forced to shut down because they were unable to digitize. The owners are also not educated enough to adopt digitization, Kular said. They cannot hire services of experts as there is an added cost to this and which is huge, he lamented.
-- On the challenges for companies in footwear business, Naushad said the preferences of the customers are very dynamic and the business must cater to those needs. If the Indian businesses are unable to address this, imports will increase to fill this gap, he pointed out. As the imports have come down, it is a big opportunity for domestic industry to fill the gap, he said. Flexibility will be the key to not only survive but also thrive.
-- Formal credit channels do not work for small businesses as capital financing business has now become risk averse, Nair said. However, his own industry i.e. the cryptocurrency industry is a risk tolerant industry, he said. He said that the capital that is going towards lending protocols is amazing in this segment. If this segment can be plugged into the MSME lending ecosystem, it will be very helpful for the small businesses, Nair further said.
On the issue of cryptocurrency being unregulated in India, Nair said that every industry driven by technology is first unregulated. The regulation follows thereafter, Nair said.
He said the concerns of the government are valid and the businesses in this field are working closely with the regulators and policy makers, he said. The industry is trying to educate them and also point out the benefits of cryptocurrency.
This event was sponsored by several clients, Presented by Coinswitch Kuber, Driven by Skoda. E commerce partner wasTata Cliq while special partner was Go Daddy. The banking partner of this event was Canara Bank while technology partner was Dell.