E-commerce valuations correct but Infibeam refuses to compromise
The company's issue seems highly expensive at current valuations and investors should give its IPO a miss, said IIFL in its research note.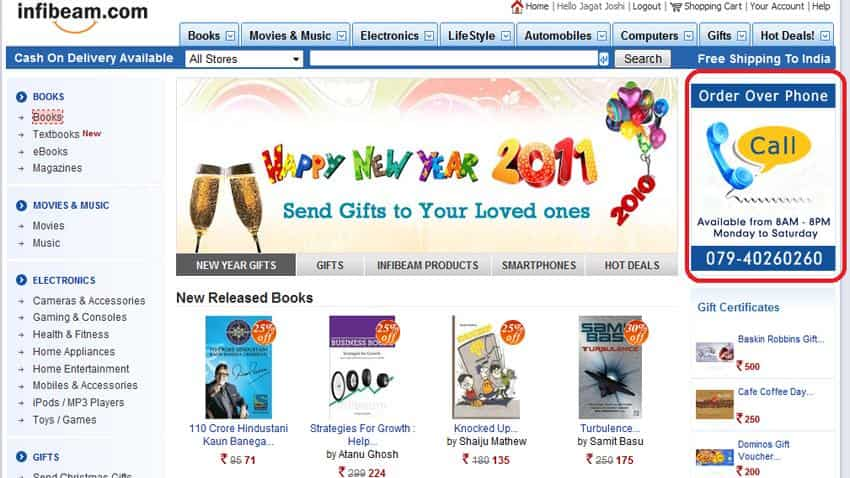 Broking houses are of the opinion that the valuations of Infibeam are expensive and have warned investors to stay clear from investing. Image Source: Official Website
Updated: Thu, Apr 14, 2016
03:34 pm
Mumbai , ZeeBiz WebDesk
Infibeam Incorporation, the first e-commerce company in India to launch an initial public offer (IPO) to raise Rs 450 crore has seen a lukewarm response so far.
As on March 22, 2016, 2.40 pm, National Stock Exchange (NSE) data showed that the company has managed to attract bids for just 23.72 lakh shares as against 1.25 crore shares on offer. Retail investors  have so far decided to ignore the IPO with bids only for a mere 1,29,812 shares as against 12.5 lakh shares on offer. However, retail investors are known to put-in their bids at the last moment. The issue closes on Wednesday, March 23.
Infibeam is a homegrown e-commerce company selling products through its website. Infibeam operates the Infibeam BuildaBazaar (BaB) e‐commerce marketplace, which provides the cloud‐based digital solution and value‐added services (VAS) to set up online storefronts for customers. It faces competition from e-commerce behemoths like Flipkart, Amazon, eBay and Snapdeal. 
E-commerce has seen explosive growth in India over the past few years and is only expected to grow in the coming future. Internet penetration in India remains at 19% as against 87% and 46% in the US and China, respectively.  
Amarjeet S Maurya and Milan Desai of Angel Broking, in a report dated march 19 said, "With an expected improvement in the number of internet users in the country, the online shopper base is expected to improve from the present 35 lakh to 1.8 crore by 2020. As a result, the E-retail market size in India is expected to grow from $7 billion (over Rs 42,000 crore) in 2015 (1.2% of total retail) to $44 billion (nearly Rs 3 lakh crore or 4.0% of total retail) in 2020."
"This positive outlook for the E-retail industry augurs well for e-commerce players. Despite such strong anticipated growth rate of the industry, Infibeam suffers from having the smaller scale, the absence of funding and lacks the customer mindshare that the other larger players like Flipkart have garnered. In the past, it (CAGR of 22% over FY2012-15 to Rs 221) has not been able to match the revenue growth of bigger players like Flipkart India (CAGR of 260% over FY2012-15 to Rs 9,537)," said the two analysts from Angel Broking.
Broking houses are of the opinion that the valuations of Infibeam are expensive and have warned investors to stay clear from investing. 
According to Saptarishi Mukherjee and Amod Joshi of Indiainfoline (IIFL), in a report dated March 17, said, "Notably, there were some instances in recent times, wherein valuations of e‐commerce companies were either marked down in the unlisted space or have corrected in the global listed space. However, Infibeam has not compromised on its valuations. Furthermore, the exit of two investment bankers just before RHP calls for concerns. It will be a challenge for Infibeam to compete with the existing e‐commerce giants."
"We envisage better profitability on the back of the upcoming cloud data centre and improvement in technology infrastructure and overseas growth. However, Infibeam issue seems highly expensive at current valuations. Investors should give the IPO a miss," the duo added. 
Infibeam plans to use proceeds from IPO for setting up of cloud data centre and purchase of property for shifting of its corporate offices. Besides, the company plans to use funds for setting up of 75 logistic centres, purchase of software and for general corporate purposes.  
Angel Broking has given a neutral recommendation on the Infibeam's IPO.  
"Infibeam's e-retail business has a similar model as Flipkart and Snapdeal but is significantly smaller than the two dominant players which have a strong private equity (PE) backup. Its other business, that is BaB, in revenue terms is also smaller ( Rs 67 crore in FY15) compared to global players like Shopify.com ($205 million or Rs 1,363.81 crore in the calendar year 2015)," the broking firm said in its research note on March 19. 
"Given that the company is still evolving, has an unproven profitability track record and the expensive valuation, we have a neutral recommendation on the issue," Angel Broking said.
HDFC Securities has raised concerns over Infibeam's significant losses in the past and the research firm says the company may continue to incur significant losses in the future. 
"Infibeam has incurred these losses, in part, because it has a limited operating history. In addition, its operating expenses may increase in the future due to various factors including the proposed expansion of its operations, its technology infrastructure, marketing and branding initiatives, addition of human resources, expansion of service offerings, research and development initiatives and upgradations of operational and financial systems," HDFC Securities said in its research note on March 18. 
As a result, any decrease or delay in generating additional revenue could result in substantial operating losses which would have an adverse effect on its business, results of operations and financial condition, the broking firm said. 
Experts are unanimous that the Infibeam IPO is highly expensive at current valuations.