What's better for startups, a private limited company or an LLP?
In a dilemma of incorporating your startup as a Private Limited Company or a Limited Liability Partnership. Read on, to understand the basics.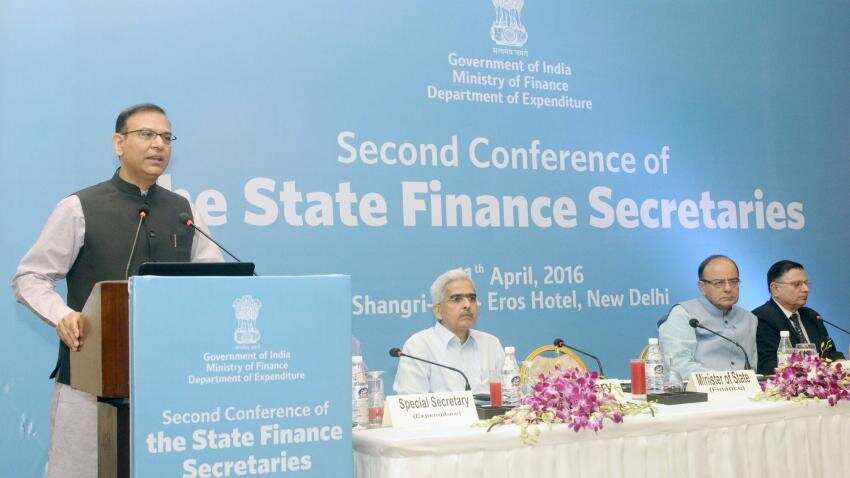 Representational image. Minister of State Finance Jayant Sinha and Finance Minister Arun Jaitley at a public function. Pic: IANS
What is a Private Limited Company?
A private limited company is a voluntary association of not less than two and not more than fifty members, whose liability is limited, the transfer of whose shares is limited to its members and who is not allowed to invite the general public to subscribe to its shares or debentures. Here, the liability of its members is limited and the shares allotted to its members are also not freely transferable between them.
What is a Limited Liability Partnership?
In India, An LLP is treated like any other partnership firm. No partner is made liable on account of the independent or unauthorized actions of other partners & there is no joint liability created by other partners. LLP is therefore a body corporate and a legal entity separate from its partners, having perpetual succession.
Preference of Investors
Private Limited Company is preferred by Venture Capitalists over Limited Liability Partnerships - all because it provides much easier investment opportunities and hence capital can be raised in easier ways as compared to a LLP.
In India, VCs are not yet comfortable with LLPs, and insist that the startups they will consider should be in the form of Private limited Company. VCs are risk averse and generally have proven to be slow adopters despite significant benefits of the LLP form in case of many business models as far as India is concerned. If you are planning to raise venture capital in the near future, private limited company is the way to go.
Key Advantages of choosing Pvt. Ltd. company over LLP
To Attract Funding- Funding is essential for starting, maintaining, and growing a business. Proprietorship, partnership firms, and Limited Liability Partnerships cannot issue shares, and are thereby unable to attract equity funding. This disadvantage could be critical in the growth stages of a business.
To Improve Business Credibility- Today customers, vendors and investors look for credibility in the businesses they deal with. In starting a private limited company, the information relating to the company, such as name of the company, date of incorporation, registered office address, status of the company, and other information are made available in a publicly searchable database. This feature makes it easy to authenticate the existence of the business, improving business credibility.
To Pursue Multiple Opportunities- Successful entrepreneurs are often serial entrepreneurs, who go on to repeat the success they have in one business in multiple other ventures. Businesses started as a proprietorship or partnership would have trouble pursuing many opportunities that come their way, as they are not considered separate legal entities and are tied to the promoter. Starting a private limited company, on the other hand, would allow the promoter to pursue multiple opportunities as the business evolves over time.
An 'Exit Plan'- Most entrepreneurs, while launching their businesses, only think about expanding their businesses, and never have an exit plan. Private limited companies offer the best type of exit strategy for all promoters. Only shares of a company can be sold or transferred in part or whole to another entity easily without any hassles, while the business remains a going concern. Therefore, starting a private limited company provides a tremendous edge in planning and executing a business exit plan.
Going International- Private limited companies and limited companies are the only types of entities that allow for Foreign Direct Investment of upto 100% through the automatic route, meaning, any foreign entity or foreign person can invest in a company without any prior government approval. Entities like proprietorship, partnership and limited liability partnership require prior approval from the Government to accept investments from foreign entities. Therefore, if your business has aspirations for going international, then it is best to start a private limited company.
Benefits of LLP over Pvt. Ltd. Company
No limit on owners of business- LLP requires minimum 2 partners. There is no limit on maximum partners unlike a private limited company wherein there is a restriction of not having more than 200 members.
No requirement of minimum contribution- As against company there is no minimum capital requirement in LLP. An LLP can be formed with least possible capital.
No requirement of compulsory Audit- All the companies, whether private or public, irrespective of their share capital, are required to get their accounts audited. But in case of LLP, there is no such mandatory requirement. A Limited Liability Partnership is required to get the audit done only if the contributions of the LLP exceeds Rs. 25 Lakhs, or the annual turnover of the LLP exceeds Rs. 40 Lakhs.
Lower compliance burden resulting in savings- Approximately at least 8 to10 compliances per annum are required to be made by a private limited company whereas a Limited Liability Partnership is required to file only the Annual Return & a Statement of Accounts & Solvency.
Taxation Aspect on LLP- For income tax purpose, LLP is treated at par with partnership firms. Thus, LLP is liable for payment of income tax and share of its partners in LLP is not liable to tax. Thus no dividend distribution tax is payable. Provision of 'deemed dividend' under income tax law, is not applicable to LLP.
Converting from company to LLP- Conversion from company is possible. The capital gain on conversion of company in to LLP is exempt if the conditions of section 47(xiiib) of the Companies Act 2013 are followed.
This article was first published here and has been co-authored by Harshit Parekh, Co-Founder, Director atLegalNow and Guest author — Rudraksh Durrani, Rudraksh is a 3rd law student at Rajiv Gandhi National University of Law, Punjab.
LegalNow is an online cloud based legal tech platform for connecting lawyers with customers directly. Visits us here.
Get Latest Business News, Stock Market Updates and Videos; Check your tax outgo through Income Tax Calculator and save money through our Personal Finance coverage. Check Business Breaking News Live on Zee Business Twitter and Facebook. Subscribe on YouTube.
Updated: Thu, Jun 23, 2016
12:21 pm
Mumbai, ZeeBiz WebDesk