Want to earn as big as Warren Buffett; know 3 stocks of the ace investor worth buying
Among many quotes of Warren Buffett, one that stands out says, "The stock market is a device for transferring money from the patient to the impatient."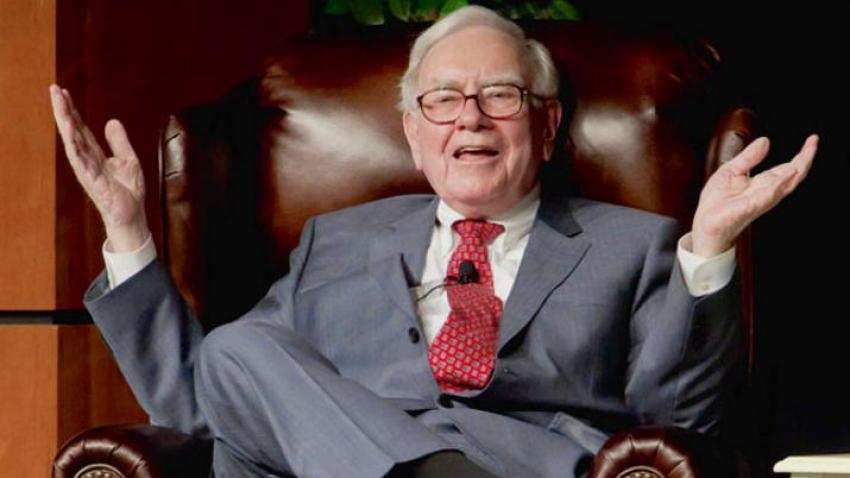 Representational Image: Photo: PTI
Updated: Tue, Sep 18, 2018
06:31 pm
Mumbai, ZeeBiz WebDesk
It is always best to learn from someone who has already made it big when it comes to investing in markets. The nature of equities is very fragile and sentiment driven, hence it comes with lot of responsibility. And if you are planning to invest in equities, why not just follow the man who has mastered this investment tool with his patient as well as risk bearing boldness. Yes, we are talking about Warren Buffett, the man who changed the way the world looks at equities. Buffett is taken as an idol by many investors, after all he even aced the 2008 global crisis test. 
Among many quotes of Buffett, one that stands out says, "The stock market is a device for transferring money from the patient to the impatient." Surely, this is the key when it comes to equities. And if you are planning to avail benefits of equities and earn big, here's a list of three stocks from Buffett's kitty that can be worth investing. 
A The Motley Fool report stated, they asked their contributors to sift through Berkshire's portfolio of stocks and come up with three picks worth buying. Two of its contributors picked Store Capital and Synchrony Financial, while one argued that you might be better off just buying Berkshire Hathaway itself. 
Let's understand why these three stocks can be your success story on stock markets, as per the report. 
Store Capital
Last year, Berkshire added real estate industry to its portfolio when it bought shares in real estate investment trust (REIT) Store Capital. This company is stated as the only real estate stock that Berkshire holds making it even more unique. 
In its latest quarter, Store Capital posted an occupancy rate of 99.7%, 15% growth in revenue, and 19% jump in adjusted funds from operations (AFFO). 
Further, Store Capital expects to earn $1.78-$1.84 in AFFO per share in 2018, representing 6% upside at the midpoint from 2017. 
Since its listing in 2014, Store Capital has surged its AFFO and dividends per share at a healthy clip, with the stock currently yielding 4.3%. 
Synchrony Financial
This company is just another addition to Berkshire's love for banking stocks. Interestingly, there are many banking stocks that Berkshire owns, however, being one of the smallest of the group, Synchrony is often overlooked. 
Although Synchrony's charge-off rate of nearly 6% is quite high in relation to other credit card issuers like American Express and Capital One, the high-APR nature of the products more than makes up for it.
Going ahead, the  Synchrony's net interest margin comes in at 15.3% after accounting for charge-offs and interest expenses. Also, the bank's return on assets (ROA) is roughly three times the industry's 1% benchmark, and its 31% efficiency ratio which makes it very impressive even for a branchless bank.
Berkshire Hathaway 
Contributors at The Motley Fool said, "There are lots of stocks in the Berkshire portfolio that are worth owning on their own, but I think that investors would be missing the forest for the trees if they didn't consider putting that money into the entirety of Berkshire's stock holdings rather than trying to cherry-pick one or two of them."
Berkshire's share price have risen at an impressive 19% over the past year, but the stock still looks relatively cheap all things considered. The shares are at 1.46 times book value, which is above 1.2 times threshold that Buffett used to use as a gauge for when to buy back stock, but keep in mind that $111 billion of that book value is in cash. The underlying assets of the business are valued for less than that. 
Berkshire's return are undeniably great, and can be said as a trump card of Buffett. 
It is well known that Buffett picked all the stocks in his portfolio for a reason, hence, why try to beat them when you can join them?