SBI vs ICICI Bank vs BoB vs HDFC Bank: When will your home loan EMIs get cheaper post RBI rate cut?
RBI has bagged a hatrick by trimming down the repo rate by total 75 basis points between February 2019 to June 2019 policy.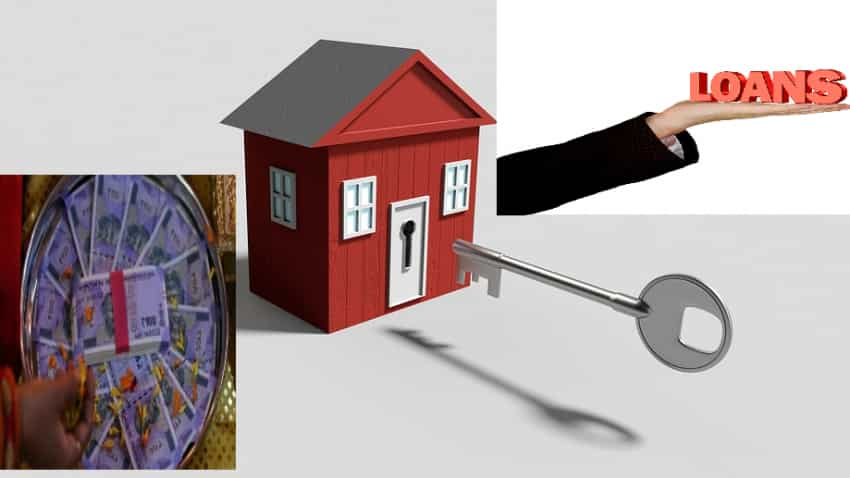 Reserve Bank of India (RBI) has cut down policy repo rate by another 25 basis points. Photo: Pixabay/Reuters
The June 2019 RBI monetary policy was definitely a booster to common man, and major focus shifted towards home loan interest rates. Why? Well, the Reserve Bank of India (RBI) has cut down policy repo rate by another 25 basis points, taking the indicator at 5.75%. Rise or fall in repo rate has a direct impact on home loans. That is because this type of loan is related to floating rates mostly and banks change it according to repo rate movement. Also, RBI has bagged a hattrick by trimming down the repo rate by total 75 basis points between February 2019 to June 2019 policies. Now, opting for home loan has become better and attractive than ever. In fact, it will only be a matter of time, when banks start to pass on the benefit or RBI rate cut to their customers in the form of home loan. 
Home loans and their relationship with repo rate!
As ironic as it may sound, but if your bank is happy so shall you be! In past few quarters, home loan has been a robust performer in retail lending segment. Home loans can help you when you are planning to buy your dream house. By choosing this type of loan, you minimise the burden of collecting cash and can repay banks in monthly installments. Hence, you balance and diversify your debt repayment and expenses. 
Home loans do have two types of interest rates namely floating and fixed one. Currently, banks offer home loans against floating interest rates, which is linked with Marginal Cost of funds based Lending Rates (MCLR). Now MCLR is a benchmark given to banks, where they cannot lend below it. Thereby, banks offer MCLR plus spread while deciding floating interest rates on home loan. For example MCLR if set at 8.50% by XYZ bank, while spread is defined to be 0.25%, then your overall home loan interest rates would come at 8.75% (MCLR+Spread). 
Just like the way you borrow from banks, your lender also relies on RBI for borrowing. Banks loan interest rates from RBI is policy repo rate. Notably, it is not necessary that a bank will immediately pass on the benefit of RBI rate cut, as it also depends upon the availability of funds with them. 
Other than that, every rate cut given by RBI, makes borrowing cheaper for banks from the central bank. If that becomes cheaper, banks have more freedom to make their loans even more appealing and a competition is stirred. To be precise, right now repo rate have come down to its lowest after 9 years, hence, both banks and home loan borrowers can make most of this opportunity. 
When will your EMIs get cheaper post RBI June 2019 rate cut?
For home buyers, Sarojini Ahuja - VP, Sales & Marketing, Transcon Triumph said, "RBI has given positive signs showing that the market is improving and finally the financial institutions can now start on to pass the benefits to the end-users. Stable Government, cheaper loans for home buyers and rising demand will create renewed interest in residential property purchase from end users." 
Meanwhile, Hiral Sheth - HOD, Marketing, Sheth Creators believes EMIs to become cheaper soon. Post RBI policy, she said, "This is the third consecutive rate cut this year which will definitely help in bringing down the home loan interest rates and will also bring some amount of cheer to the homebuyers. As EMIs are likely to fall due to drop in interest rates, the demand for housing should rise and propel the growth of the industry. The real estate market is quite bullish with Modi 2.0 coming in action and will further boost sentiments of the buyers."
Interestingly, buying your dream house can become reality soon with RBI's rate cut gift. Rajat Rastogi - Executive Director, Runwal Group said, "Presuming that the banks will extend the benefits to the customers which will lead to lower EMI and higher purchasing power capacity of the home buyers. A stable government at the centre, declining interest rates along with new reduced GST rates collectively will encourage the buyers to buy their dream home."
Explaining when exactly banks may pass on the rate cut benefit on home loans, Kanika Gupta Shori, Co-Founder and COO, Square Yards says, "Home buyers will be hoping for cheaper loans from banks now, which will have a direct positive effect on the demand for housing. However, the transmission of this rate cut to the home loan seeker via lower lending rates from the banking system may take some time."
Well, looks like experts are of two opinion in regards to home loan interest rates. However, one thing is clear that your interest rates on this loan is set to come down ahead, making EMIs cheaper. Also, in previous policy, when RBI made same cut in repo rate, many banks did follow the suit by bringing down their MCLR and loans linked to this benchmark. 
It would be interesting, to watch which bank will make the first move. But for now, let's compare who offers best home loan interest rates!
State Bank of India (SBI):
Guess what! SBI has just introduced Repo Linked Loan Product for Home Loans on Friday. This means, now every change in RBI's policy repo rate, the same impact will be witnessed in SBI's home loan interest rates. The new repo linked home loan product comes into effect from July 01, 2019, hence, we will get more understanding of the new interest rates on this loan. 
But currently here, home loan interest rates are set in two categories namely salaried and non-salaried separately for men and women. In case of loan upto Rs 30 lakhs, SBI charges interest rate between 8.55% to 8.65% on salaried women, while the non-salaried ones here get between 8.70% to 8.80%. While, for loans above Rs 30 lakhs but up to Rs 75 lakhs - a salaried women gets 8.80% to 8.90%, while the non-salaried one 8.95% to 9.05%. Similarly, a salaried woman gets rates ranging from 8.90% to 9% and that for non-salaried one the rates are 9.05% to 9.15% on above Rs 75 lakh loans. 
In case of men for similar loans mentioned above, interest rates are just 5 basis points higher in the same manner. So that means, a salaried man will get 8.60% to 8.70% on home loan below Rs 30 lakhs. The same applies on other home loan limit as  well. 
1-year MCLR at SBI currently stands at 8.45%. 
HDFC Bank:
The bank offers interest rates of 8.60 to 9.10% to salaried woman, while 8.75 to 9.25% to non-salaried ones on home loan upto Rs 30 lakh. In the same category, loan above Rs 30 lakh but upto Rs 75 lakh, interest of 8.85 to 9.35% is levied on salaried and 9.00 to 9.50% on non-salaried. While above Rs 75 lakh loan, a salaried women gets 8.90 to 9.40%, on other hand, the non-salaried one 9.05 to 9.55% respectively. 
Similar to SBI, HDFC Bank's rate of interest on home loan for salaried and non-salaried men also gets higher by 5 basis points compared to that of women home loans. 
1-year MCLR at HDFC Bank stands at 8.70%. 
ICICI Bank:
Unlike SBI and HDFC Bank, the private lender ICICI Bank's home loan interest rates are divided between salaried and self-employed borrowers. A salaried borrower will have to pay interest rate of 9.05% on home loan upto Rs 35 lakh, whereas rate of 9.15% is levied for loan between Rs 35 lakh to Rs 75 lakh and finally 9.20% is set on above Rs 75 lakh loans. 
As for self-employed, the home loan interest rates are ranging from 9.10% to 9.25% in the above mentioned loan limit. 
1.-year MCLR at ICICI Bank now stands at 8.75%. 
Bank of Baroda (BoB):
Home loans here are unique and given in form of various schemes. Let's find out! 
1. Baroda Home Loan & Baroda Home Improvement Loan - Interest rates are derived from One year MCLR to One year MCLR +1.00% (As per Risk Rating of the applicant/s.).
2. Baroda Home Loan Advantage - Here upto Rs 75 lakh loan, the interest rate is normal like above. While over Rs 75 lakh loan, the rates would be 0.25% higher than the normal rate. 
3. Baroda CRE Home Loan (Advantage) - Upto Rs 75Lacs : 0.25% over Normal Home Loan Rate. Above Rs 75 Lacs : 0.50% over Normal Home Loan Rate.
Also, one needs to understand that 1-year MCLR set by banks mean that irrespective of current change in repo rate or MCLR, if your home loan is set with 1-year MCLR that means after 1 year only you witness revision of new interest rates that time. For example, if home loan upto Rs 30 lakh for 20 year tenure was taken on July 2018 with 1-year MCLR. This means, no matter how many changes occur in MCLR, your home loan interest rates will be revised in July 2019, by your bank. Hence, the new policy repo rate cut, is definitely a good news for new homebuyers who are looking for home loan. Let, no one stop your dream, because RBI has just made it even more possible. 
From February to April 2019 policy, transmission of the cumulative reduction of 50 bps in the policy repo rate, was 21 bps to the weighted average lending rate (WALR) on fresh rupee loans. Interest rates on longer tenor money market instruments remained broadly aligned with the overnight WACR, reflecting near full transmission of the reduction in policy rate.
This also reflects, that policy repo rate cut are benefits even though at slower pace but are transferred to customers!
Get Latest Business News, Stock Market Updates and Videos; Check your tax outgo through Income Tax Calculator and save money through our Personal Finance coverage. Check Business Breaking News Live on Zee Business Twitter and Facebook. Subscribe on YouTube.
Updated: Sat, Jun 08, 2019
04:01 pm
Mumbai, ZeeBiz WebDesk