SBI charges slashed, 25 cr customers to benefit, but here's why you should close your savings account
Even as SBI slashed its minimum balance charges on your savings account, did you know there is an alternative option available to you that costs nothing?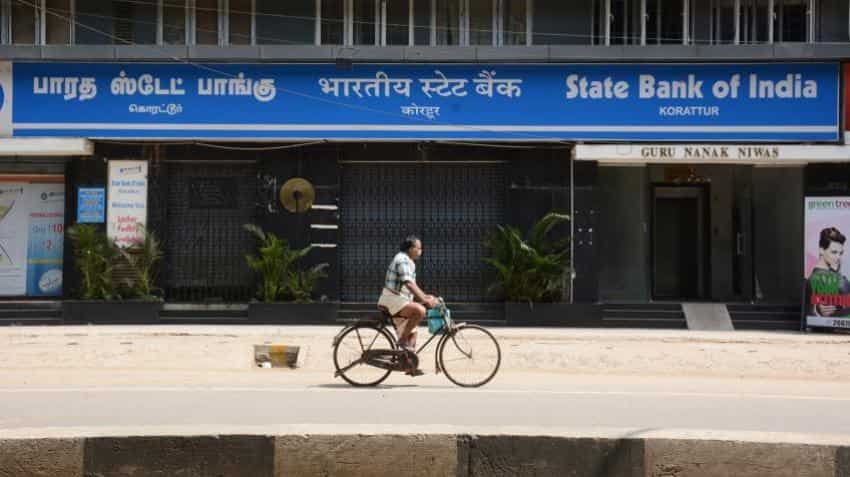 State Bank of India branch in Chennai. Photo: IANS
For eliminating the tension mounting over maintaining average minimum balance among Indian citizens, the largest financial service provider State Bank of India (SBI) in a major move has decided to trim down the charges levied on AMB in savings account with effect from April 01, 2018. The bank has reduced the charges by up to 75% in different categories of savings account, after taking in feedback from various stakeholders. From April 2018 onward, charges for non-maintenance of AMB for customers in metro and urban centres have been reduced from a maximum of Rs 50 per month plus GST to Rs 15 per month. 
Going ahead, customers in semi-urban and rural centres have seen reduction in charges from Rs 40 per month plus GST to Rs 12 per month and Rs 10 per month plus GST respectively. 
At SBI, in metro and urban centres, a customer has to maintain a AMB of Rs 3000, while in semi-urban region the AMB stands at Rs 2000 and in rural centres a Rs 1000 AMB is needed.
The bank believes that the above revision in AMB will benefit 25 crore customers.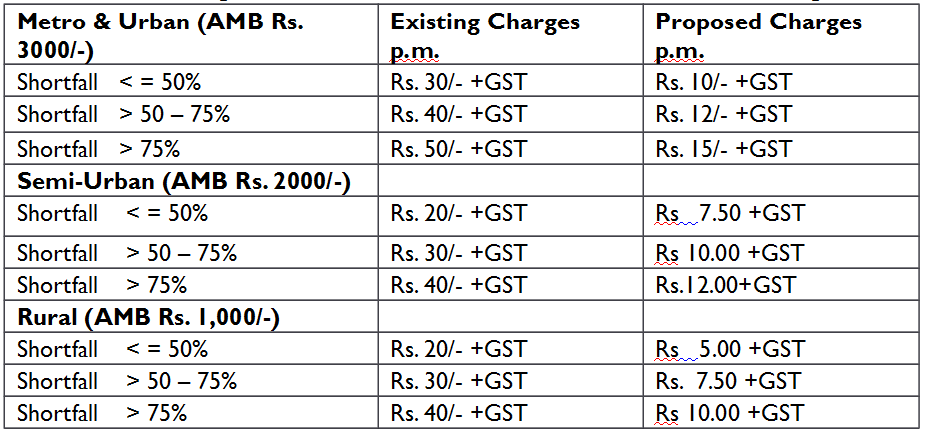 On reduction of charges, P K Gupta, MD – Retail & Digital Banking, SBI said, "We have reduced these charges taking into account the feedbacks and sentiments of our customers. Bank has always focused on keeping the interests of its customers first and this is one of our many efforts towards fulfilling customer expectations."
Interestingly, while SBI provided relief to customers in regards to AMB in savings account, it also encouraged customers for shifting towards Bank Saving Bank Deposit (BSBD) account. 
Shifting to BSBD account is even more convenient and flexible, because there is no charges levied by SBI on them. 
Gupta said, "Bank also offers its customers to shift from regular savings bank account to BSBD account on which no charges are levied."     
A BSBD account can be  opened by any individual provided he/she has valid KYC documents. Primarily meant for poorer sections of society to encourage them to start saving without any burden of charges or fees.
The eligibility of BSBD account is similar to that of regular savings bank account, also it is based on KYC compliant. It can be operated singly, jointly, or with either or survivor, former or survivor, anyone or survivor etc. facility.
Furthermore, there is nil minimum balance amount in BSBD account, also there is no upper limit set for maintaining maximum balance. The rate of interest is same as savings bank account. 
One can withdraw forms at branches or through ATMs, and on opening the account a customer will receive basic RuPayATM-cum-debit card. 
Here's how services charges work in BSBD account. 
Basic RuPay ATM-cum-Debit card will be issued free of cost and no annual maintenance charge will be applied.
Receipt/ credit of money through electronic payment channels like NEFT/RTGS will be free
Deposit/ collection of cheques drawn by Central/State Government will be free
No charge on activation of inoperative accounts
No account closure charges.
However, it needs to be noted that, the customer cannot have any other Savings Bank Account, if he/she has a BSBD Account. If the customer already has a Savings Bank Account, the same will have to be closed within 30 days of opening a BSBD account.
Also, in BSBD account - a maximum 4 withdrawals in a month, including ATM withdrawals at own and other Bank's ATMs and transactions through other mode including RTGS/NEFT/Clearing/Branch cash withdrawal/transfer/internet debits/standing instructions/EMI, etc. 
No further customer debits would be allowed during the month.
In a good news, shifting to BSBD account is also free of charges at SBI. The bank of Tuesday stated that, customer always has the option of converting the regular savings bank account to Basic Savings Bank Account (BSBD account), free of charge, in case he desires to avail basic savings bank facilities without being subject to maintenance of AMB. 
SBI has a very strong deposit franchise having 41 crores Savings Bank accounts out of which 16 crore accounts under PMJDY / BSBD and of pensioner/minors/social security benefit holders were already exempted. 
Additionally,  students up to the age of 21 years are also exempted.  
As on September 30, 2017, SBI has a deposit base of Rs 26.23 lakh crore with CASA ratio of 43.81% and advances of Rs 18.92 lakh crore. 
Updated: Tue, Mar 13, 2018
02:23 pm
Mumbai, ZeeBiz WebDesk