Mutual Funds SIPs: Investment miracle! Get Rs 1.5 crore by just Rs 1000 per month - Here's how
 At present, India's mutual fund SIP has remained stable and recording steady growth. SIP stood at 8,005 crores as on March 2019. On an annual basis, the total SIP of Mutual Fund increased by 13.15%.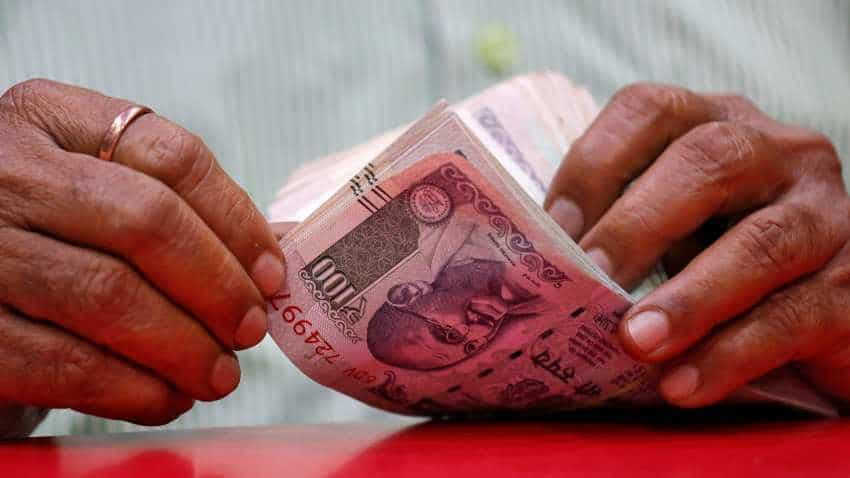 SIP is an easy step and also ensures discipline in your savings. Photo: Reuters
Updated: Thu, Apr 18, 2019
10:22 am
Mumbai, ZeeBiz WebDesk
We all want to make big money, especially with the lowest possible investments. In the current scenario, becoming rich has become quite with so many pools of options available to mark one's money. However, to earn hefty money one needs concentration, commitment and ability to take risks. At present, stock markets are seen as one of the most successful form of investment, as it does provide far better returns than compared to India's traditional option like fixed deposits, small saving schemes, recurring deposits among others. However, before reaping the fruits of stock markets, one has to bear shocks of it first. Equities are highly volatile, risky and without any fixed return guarantee. But for the past few decades, it has proven a commendable money bagger. However, not many can be comfortable with this investment, especially the middle class category of the country. Hence, for these, there is also one option available which acts as a dual benefit provider. And to your surprise, all you need is just Rs 1000 a month. 
There is a saying with greater money comes higher risk. But in case of Systematic Investment Plan (SIP) with higher patience come extraordinary returns. Best way to describe SIP is that with every dew drops become a ocean. SIP not only acts as disciplined scheme, but also a good option for your retirement. At present, India's mutual fund SIP has remained stable and recording steady growth. SIP stood at 8,005 crore as on March 2019. On annual basis, the total SIP of Mutual Fund increased by 13.15%.
SIP is an easy step and also ensures discipline in your savings. All you have to do is open SIP account with a financial institution, and link it with your bank account. Depending upon your investment strategy, money will automatically get deducted from your bank account on weekly, monthly or quarterly basis. 
Considering there are intervals of investment like weekly, monthly or quarterly, you tend feel very little impact of market volatility. 
It is highly disciplined, passive and automated. Funds get deducted automatically from bank, which makes you more committed to guaranteed saving/investment. 
Hassle-free and flexible. Any citizen can create/update/cancel SIP anytime. 
Investment amount in SIP starts to as low as Rs 500 per month, which eliminates the burden of managing your overall expenses on monthly basis, as very little is deducted. 
Watch Zee Business Live here:
Here's how you can get richer by SIP on your retirement!
Expert at IIFL Securities say, "Equity is the best way to create wealth in long term vs. other asset classes like debt, gold, real estate, etc., since historically it has been seen that equity based investments have given inflation-beating returns over long term despite short term volatilities. Equity mutual fund is a right way for investors to invest in equity market who do not have time and/or knowledge to understand the equity market."
They added, "The Indian mutual fund industry is well regulated, transparent and mature. Instead of timing the market, investors can regularly invest in the market and can reap the benefit of 'Rupee Cost Averaging' via SIP."
Thus, IIFL presents some mutual fund recommendations to create wealth in the long term.
For example, if you plan to invest Rs 1000 per month in SIP for 35 years at an expected return of 15%. They for this period, you have invested a total Rs 4.2 lakh in SIP, while your gains have been three times higher the principal investment. On maturity of 35 years, your total gains on SIP returns are over Rs 1.44 crore, taking your overall wealth to nearly Rs 1.5 crore.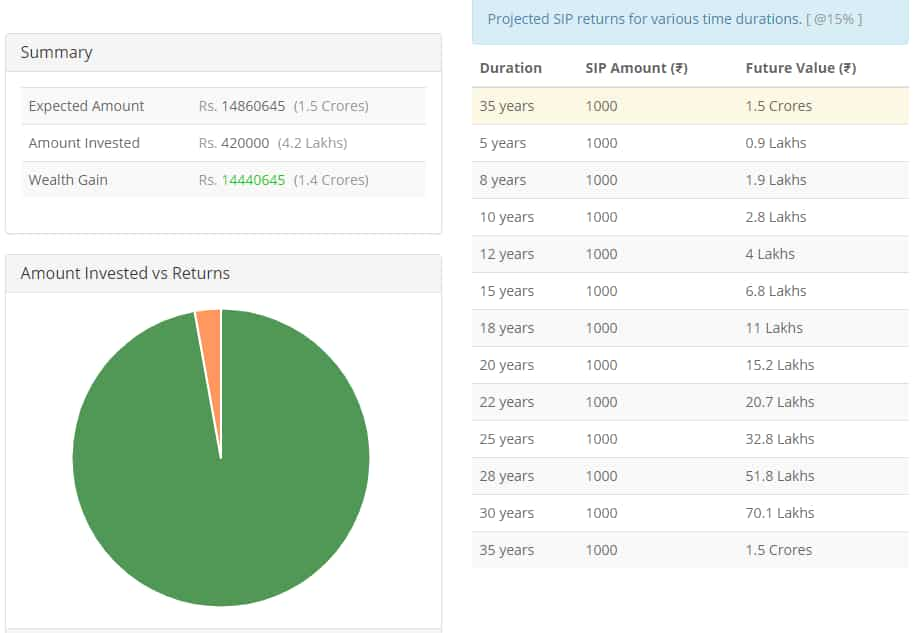 There are two methods which greatly help investors earn big through SIPs. 
Firstly is rupee-cost averaging. As we are aware that market is sentiment driven and unpredictable, this creates an issue on when is the best time for investment. With rupee-cost averaging, an investor with its invested SIP amount earns more units when the price is low and earns less units when the price is high. 
Second would be power of compounding. Every amount you invest, you earn interest on it. This interests get compounded and accumulated over a period of time. The higher the SIP tenure the higher would be your return. 
Hence, with a small and dedicated investment every month in SIP can make you richer than ever before. 
Get Latest Business News, Stock Market Updates and Videos; Check your tax outgo through Income Tax Calculator and save money through our Personal Finance coverage. Check Business Breaking News Live on Zee Business Twitter and Facebook. Subscribe on YouTube.