Money Guru: Is your loan GOOD or BAD? Experts Decode
News Anchor Swati Raina speaks to Col (Retired) Sanjeev Govila, Chief Executive Officer Hum Fauji Initiatives and Viral Bhatt, Founder of Money Mantra to understand what loans could be considered as good and which are the bad ones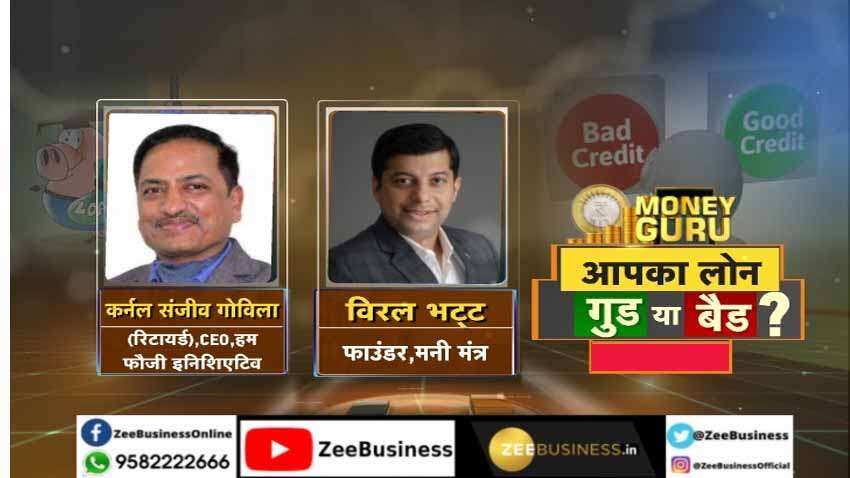 Know how to improve credit score
In this edition of 'Money Guru', Zee Business delves into the conundrum around the loans and their intricacies. News Anchor Swati Raina speaks to Col (Retired) Sanjeev Govila, Chief Executive Officer Hum Fauji Initiatives and Viral Bhatt, Founder of Money Mantra to understand what loans could be considered as good and which are the bad ones.
What to keep in mind when planning to take a loan?
What are the disadvantages of not paying loan in time?
What is the difference between a good and a bad loan?
Is your loan good or bad?
What is good loan?
A loan is good if it increases your net worth.
It is able to create net asset with time
It should be able to create further asset
The return should exceed the interest on it
Which are good loans?
- Education Loan
- Business Loan
- Home Loan
Which loans are considered as bad loans?
Loans where one has to pay over what is paid as interest
Where lender and customer have to face a loss
Failure to pay on time could lead to difficulty in taking loans in future
The interest rates of bad loans are significantly high
Bad Loans:
- Auto loan
-Personal Loan
-Credit card loan
-Consumable loan
Understand this before taking loan
- How much loan can be taken?
- How important is taking Loan?
- First save and then buy
- All debts are to be paid one day
- How much loan is the right loan?
Always keep income to debt ratio in mind while taking loan
Debt to income loan ratio should not be over 40%
Priority is given to people with lower income to debt ratio
Debt to income ratio should ideally be lower than 30 per cent
Benefits of Good Credit Score
Chances of loans at lower interest rate
People with good credit score are likely to get higher loan amount
Banks clear loans in expeditious manner
They also get benefits of low repayment period
What is your score?
  - Score
Very Low – lower than 600
Low - 600-649
Okay - 650-699           
Good - 700-749
Very Good - 750-900
How credit score is spoiled?
Not paying EMIs in time
Score gets negatively impacted on EMI default
Taking loans more than needed on Credit card
Higher income to debt ratio
Increasing credit card limit every now and then
How to improve credit score?
Credit is calculated by CIBIL
Improving Credit score is in the hands of consumer
Focus on reducing payment dues on credit cards
Pay EMIs on time
Avoid taking too many unsecured loans
Do not make too many applications for seeking loans
Credit Cards
Impact of unreasonable expenses
It could lead to high interest rates and one could get caught in debt trap
It has a detrimental impact on CIBILscore
One could be liable to legal action on wrong usage and defaults
It could lead to stress, and may have a psychological, emotional and physical impact
It could lead to long term losses
How to use credit card in a right manner?
Use credit card only when it is necessary
Never use credit card for regular consumption needs
Pay bills on time
Check statements from time to time
Know terms and conditions before starting to use
Do not share password or pin with others
Make budget before using and stick to it
Do not keep to many credit cards
How much loan is right?
Do not take loan more than required
2-3 loans are okay
EMI should not be more than 35 per cent of income
Which loan to pay first?
Pay loan with highest interest first
Personal loan, credit card loans are given at high interest rates
Pay for the credit card loan first
Credit card loan interest rate could be as high as 40 per cent
On personal loan, interest rate could be 20 per cent
Interest rate and penalty on secured loan
Get Latest Business News, Stock Market Updates and Videos; Check your tax outgo through Income Tax Calculator and save money through our Personal Finance coverage. Check Business Breaking News Live on Zee Business Twitter and Facebook. Subscribe on YouTube.
Updated: Sat, Sep 24, 2022
09:10 am
New Delhi, ZeeBiz WebDesk