Market Guru in talk with RJ Salil Acharya of Radio City: People can buy stocks of brokerage houses of their choice
 During a candid radio chat with RJ Salil Acharya, Radio City, 91.1 FM, Mumbai, Mr Singhvi said Brokering companies are a new theme for investment and people can buy stocks of any brokerage house of their choice. A huge action will be seen in these stocks.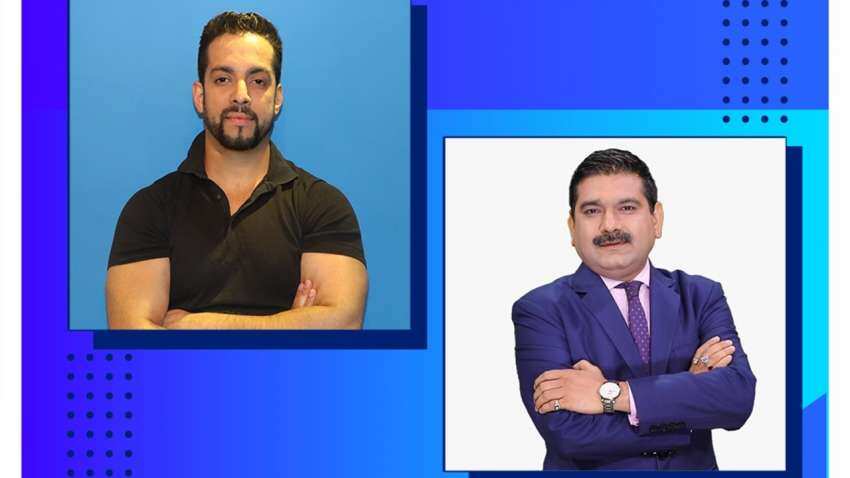 Anil Singhvi, Managing Editor, Zee Business, says, People investing in IPOs of startups/unicorns should know that they are high risk, high return stocks.
Written By:
Jitesh Kumar Jha
Updated: Fri, Jul 16, 2021
08:55 pm
ZeeBiz WebDesk
Anil Singhvi, Managing Editor, Zee Business, says, People investing in IPOs of startups/unicorns should know that they are high risk, high return stocks. During a candid radio chat with RJ Salil Acharya, Radio City, 91.1 FM, Mumbai, Mr Singhvi said Brokering companies are a new theme for investment and people can buy stocks of any brokerage house of their choice. A huge action will be seen in these stocks. 
Starting the radio chat, RJ Salil said, you are the only market expert in the last year that these highs of the market are nothing as the market may go beyond these levels. Actually, there are many experts – due to which I started the podcast - who keep saying that the valuations of the people are quite stretched, every company is looking too expensive, and stocks are also looking expensive, while such profit earning is not happening. What would you say for those people as people get a little scared due to them? To which Mr Singhvi said, it is okay to be afraid, you should always be afraid in the market. The day you will be overconfident, the market will hit you hard. As far as people who are talking about valuations are concerned, can be right to a certain level but they talk about it just because they have missed this bullishness of the market. So, the grapes are sour. When it comes to valuation, I will just say beauty lies in the eyes of the beholder. If I like something then I like it and I have money and will buy it. But if you are afraid then wait, the market gives opportunities, the correction will also come, it is not that every day it will continue to go up and be one-sided. But if you have a view of a week or two or a month or two then you must be afraid but if it is of two to five years then how does it matter if you bought then some 5-10% higher or lower, it doesn't matter much. 
Continuing the chat, RJ Salil said, he has read a report that just for IPOs – as many IPOs are coming like the ongoing Zomato IPO and PayTM IPO -13 lakh DEMAT accounts are being opened for the first time investors who are coming just for IPOs. When someone is searching for IPO then what can be those two to three points for every new investor who might not invest in the stock market and just want to invest in the IPOs? Anil Singhvi in his reply said it is more difficult to invest in an IPO in comparison to buying shares in the secondary market. I will tell you a reason for it, the stocks are listed for a long time, they are posting their results every quarter and you can track their performance. But in the case of the IPO, the company is new and there is very little research on it. The biggest thing is that it is a very difficult task to find out the background of their promoters, it is not easy. On the other hand, people from listed companies come and give interviews in every quarter, they post their results, it helps in knowing how the person is. When it comes to investing in IPOs, people think that it is good, it is happening and we can make listing gains but that is not the right criterion. There are two things, the company should be a good one and the promoters should be good and you are supposed to find it out. This is the most important factor because if the promoter is good, while the business is bad then the money will be lost and if the business is good but the promoter is bad then it is sure that you will lose the money. So, the first thing is that the promoter should be a good one, the business should be good and after that, you should just look at that is it cheap or not. My formula is simple, if I buy a similar stock from the market or something is there in the IPO, then am I getting it at 15-20% cheap valuations, if yes, then the investment should be made otherwise I will buy the one that is available in the market. As far as IPO is concerned, there is so much greenery for the next six months that you will be stunned. Many big IPOs are coming, Zomato has already arrived, PayTM and LIC among others. So, the list is long and you will get many opportunities to invest for the next six months. 
In his next question, RJ Salil said that you have mentioned the name of LIC and I want to know that it is owned by the government. So, is there any difference when we invest in an IPO of a private company? We are a little scared these days. LIC is specifically is such a company that is at the top in the case of insurance because people believe that the government may change but it is an Indian company and will stay in its place like SBI. So is there any difference in their IPO as compared to the rest of the big IPOs that are coming like Zomato and PayTM? Mr Singhvi in his reply said, there is only one difference between the IPOs of the two and as earlier I have talked about the promoter – the one who will run the business - should be good. So, the promoter in this case public companies is the Government of India, which means you are not supposed to check the promoter as you know that if the government is the promoter then there is no need to be worried. So, this is the only comfort but it does not mean that you should jump in IPOs of every public company. Money should be made, maybe I get a Rs 2000 note from you or someone else, the colour of the note is the same. So, money should be made May it comes from a private company or a public company. There will be tremendous interest in LIC's IPO and I think it will be the biggest IPO ever in the history of India.
Continuing the chat further, RJ Salil said, a lot of discussions is happening about the IPOs because it is an IPO season and the frenzy of IPOs will continue for the next few months. But for a simple person, who is investing for the first time in the market and instead of buying the stocks just wants to buy an IPO. Then the biggest question that props up in front of him is which company is good and where is there a chance of being some scam. Normally, when we talk about companies then we look at the one whose debt is a bit low, the one that is coming in profit and has posted good profits in the last two to three quarters. But, when the IPO valuation is out, people are supposed to invest and a robust subscription happens and people are invested. Then people say that it is a loss-making company but has a big valuation. How it can happen? Mr Singhvi in his reply to the question said in the entire interviews I have done with you till date, this is the best question and is a good question because you think in America, you have Alphabet, Facebook, Netflix and many others such companies are listed and we think hopefully these companies would have ever been in our country. Now, the problem is that you should have a track record of profit and dividend of a minimum of three years to bring an IPO. Now, these new types of start-ups with new types of businesses like MobiKwik, PayTM and Zomato. If you will have a look at them then by the time, it will be too late by the time they will become profitable. So, the government has made a new rule in which these startups can bring their IPOs with some relaxation. So, you will think that it is a loss-making company but are taking a hefty amount. But these are different types of IPOs, they are start-ups and unicorns and the investors who are investing in them should understand that they are high-risk high return stocks. The risk is that these companies have not started making money yet but can may money at some point and if a return is made then it can be a big one. If not and the business does not run then there is a possibility of losses. And, if a big competitor comes on the way and creates troubles for them then that too can be difficult. They are high risk, high return IPOs. So, the new type of IPOs, which are in a process of coming – at least five to six such IPOs will come in the next six months – so you should invest some money in those by being careful. Taste them, if being into a good restaurant and will not taste a new dish then how will you get to know that it is good or bad. So, invest small amounts, i.e. you can invest for one lot as there is no problem in investing Rs 15,000, if you are at a loss then how big the loss will be but if it works then a good wealth will be created. 
In his next question, RJ Salil said Nifty has reached near the 16,000 levels and asked about Mr Singhvi's horizon for the remaining part of July and August and the stocks where one can focus. Mr Singhvi in his reply said we have talked about the textile stocks they are buzzing and most of the stocks since we talked about them have increased by at least 50% and a few have even doubled in themselves. At the same time, cement stock and paper stocks are performing well. What to talk about the sugar stocks. I will provide a new theme today and that is stocks of the broking companies, i.e. brokerages. Ultimately, you will buy and sell the stocks and in the process, whether you make a profit or not but it is sure that the broker will make a profit as their brokerage is confirmed. And the new account, the new IPOs you have talked about have increased the business of the brokerages due to which the brokerage houses will declare fantastic results for the quarter. So, you can buy any brokerage company of your choice, like GM Financials, IIFL Securities, Angel Broking, Motilal Oswal and ICICI Securities among others. So, you can have an eye on the shares of brokerage companies. Many stocks are listed and a huge action will be seen in those. 
At the end of the chat, RJ Salil said, that Mr Singhvi is a good bull who wish that everyone makes money and the market should also be at the top. Am I right on that? To which, Mr Singhvi said, 101% correct. The first condition of investing is that you should be positive about the future. If you are not positive about the future of any asset class or share or market then why will you invest in it? If you have a feeling that the world will come to an end tomorrow then should invest your entire savings in a day. So, positivity is the first requirement. Whether money is made or not is a different matter, but if your mindset is not positive then how will you move forward in life?
Get Latest Business News, Stock Market Updates and Videos; Check your tax outgo through Income Tax Calculator and save money through our Personal Finance coverage. Check Business Breaking News Live on Zee Business Twitter and Facebook. Subscribe on YouTube.