It is the right time to buy homes; interest rates are at the lowest level: Renu Sud Karnad, MD, HDFC
Renu Sud Karnad, Managing Director (MD), Housing Development Finance Corporation (HDFC), talks about the Goddess that inspires her and reason behind it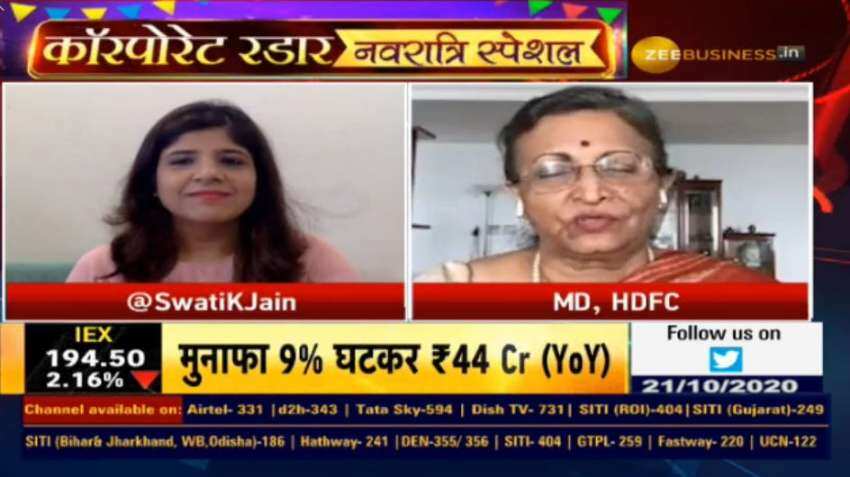 If you worship to Saraswati then you will learn, actually people will grow through education, says Renu Sud.
Written By:
Jitesh Kumar Jha
Updated: Wed, Oct 21, 2020
07:30 pm
New Delhi, ZeeBiz WebDesk
Renu Sud Karnad, Managing Director (MD), Housing Development Finance Corporation (HDFC), talks about the Goddess that inspires her and reason behind it, women participation at higher levels in the corporates, takeaways from COVID-19 pandemic, home loan demand and what government can do to boost the real estate sector further among others during an exclusive interview with Swati Khandelwal, Zee Business, in the Navratri Special Series. Edited Excerpts 
Q: Navratri are going on and I would like to know about the Goddess who inspires you and why? 
A: All the Avatars are wonderful but if it comes to one Avatar than she is Saraswati. If you worship to Saraswati then you will learn, actually people will grow through education. We need so much education in our country, especially women education. When women in educated – many such examples are there and I am not saying anything new – the whole family gets educated and health becomes an important aspect. So, I feel the most important Avatar is Saraswati and once you have Saraswati then rest will come to you automatically. 
Q: You have been on the board of HDFC for many years and that to on your merit as there was no regulatory compulsion when bringing a woman on the board was decided but it has been made mandatory now. But what is your view and what kinds of change have you seen on the board members and acceptance and what more is needed?
A: It has increased a lot and I am not saying that it has not happened. There has been a lot of improvement. I think it should be more even now. You know that recently the government has mandated that we need to get more women on the board. What happened at the same time, I am talking about the independent directors, not the promoter directors, that they reduced the number of boards who can be there as independent directors to seven from ten. So, there were lots of women, who were at the top, who done very-very well, actually, eventually got all taken up. Now, we need a new generation of women and this new generation of women is very smart but the biggest problem is that you don't get enough; you don't have enough pool of talented women. Although, I think that if you wait for the next 5-6 years then a completely new pool of talent is about to come in which you can get women who excelled in the last 10 years are going to be available. But from the first lot to the second lot, you can see that many companies are there who can get some of the good independent women directors. I think for this you have to go back into our system, I think right from the time to the MBA schools and how many women are present in those MBA schools after this when the women add to the workforce then what are the various things that the employer provides so that they don't have to leave and they can come back. So, what I have seen over a period is that some of the women who were the smartest I tell you to have to drop out because of the children, because of the family. I feel a complete social structure is required due to which women the brightest of them have to come up the level, where other people from outside will say this person is fabulous, I think we must get her on the board because she is going to be able to contribute. So, the population of we women are going to increase, it has been restricted a bit till date, but I feel that in the next 5-10 years you will see that many smart women will come-in, who is now I would say are in their 40s or so. 
Q: Let's talk about the business. You have been in the HDFC group for so many years and you also represent on the board of many other MNCs along with HDFC. So, what kind of narrative changes have you seen due to COVID, the pandemic, on all your companies? What is the biggest takeaway and what you have learnt from it? Also, tell us about your experience of this pandemic?
A: A lot of narratives has changed. All of a sudden, I think almost every company started conserving cash. When it started no one knew and still no one knows how long it will last of course now things are much better. But the huge move towards cost-cutting, huge move towards being careful with your money, liquidity is available or not and how to save liquidity. Not only in the financial institutions but in every company, how can we see that if our business remains low for the next 3-6 months then how will we continue our work? I think that it was a big shift that we all saw. The other thing we saw was a lot of companies started moving digital. A lot of companies think digital means you have got computers and you are meeting through videos on computers, it is not so, but the work has started happening in the digital space. I think a lot of learning has happened here and I can say it in my case, i.e. HDFC. The kind of learning that we got in the last three to six months; I feel that it has not happened in the last three to six years. The way, we adapted it and also made our customers adopt the same because the customer has to play a big role in the kind of products we have. We also enabled our channel partners to adopt it, trained them and motivated them. It is very difficult all of a sudden that you have to keep everyone motivated when you can't see them, I mean, in real life. On camera whatever you say there are limitations always, even today as we are talking, I am sure if we had this interview sitting across each other would have been so much better. So, these were the challenges and I think that every industry went through and I think most of them came out very well. In the case of financial services, I would say that we have handled it in a good manner. 
Q: Home loan demand is a big issue and your business premise is based on it. So, tell us about the kind of response you have seen since COVID-19 to this date? Do you think that there is a good rise in demand and going forward it can be sustained? What is the business outlook for the future? 
A: I can tell the numbers because it has been announced at the stock exchanges. So, in September, we have done close to 95% of our normal business in the month. But if we have a look on April then there was zero business, it was slightly up in May and the business was seeing a gradual growth in June. But in July, August and September, we saw – maybe it included the pent-up demand – there would have been a pent-up demand in July and August. In September I can say very surely and even if you talk to some of the builders, even if you look at some of the studies that have come out that there are green shoots people are looking at and buying homes. Honestly, why not as everybody knows our stakes that we have a very young population, our housing penetration is one of the lowest in the world. Mortgages to the GDP are only 10%, whereas in other countries it is at 60% and 40% etc. So, the housing shortage exists and this is the right time, I would say that people should come out and start buying. I think the problem is that people cannot move out and the house is not something that a person can buy by looking it on the screen. There is a need to see the location and the nearby facilities, like are schools there around, what are the facilities. I think the moment that it started happening; people started moving out once in July and August, I think sales started taking up. And, what we are seeing sales in the middle-income segment. I would say between Rs 30-40 lakhs in smaller cities and metros I would say Rs 80 lakh. People from this band is getting out and buying. Secondly, I think that I have to say that the government has been very-very good at it. They provided moratorium to those who were facing problems due to the loans. Through the moratorium, the EMIs of six months were pushed back. Now they are talking about the restructuring of the institutions where they have said that we can restructure the loans of the developers. These are the two problems in which the developers were not able to sell and developers were not even coming out because they in themselves were in a state that what next. I think these things have also strengthened the developers to some extent. They actually want to come out and make sure that they are in the market if a customer comes in. Believe me that none of them has dropped prices and is not going to do that but if you go to them and you are a serious buyer, they are willing to talk business with you. 
Q: You were saying that the government has taken many steps but do you think that there is a need to do something at the central level. We have seen there has been some reduction at stamp duty level and RBI has also tried to make loans affordable. But is there something yet to be done that can give a push to this sector resulting in good growth?
A: I should not be really commented on this that what they should do because they have their reasons, they also need finances. If they would have reduced the GST that too for a short period because GST is payable when the houses are being built but it is not paid on the built houses. Of course, that amount has been reduced considerably; they have reduced it to 5%. But even that for a short while if the government had brought it down, I think, it will go a long way. Again, for the same reason, housing today effects close to 260 & 270 industries, like cement, steel, those who are into manufacturing of the screws, it is a livelihood for many people. So, if for three to six months again I am talking with the point of view of giving a start in housing. it has shown over many cycles when housing constructions takes off, the economy starts looking up. 
Q: In the realty space some people feel that the prices will go down more from the current levels. Do you think that people should wait as there are people who feel that the prices will go down from here and that's why they should wait before buying a house? What is your view on this situation related to prices especially in urban cities, like Mumbai, where prices are still very high?
A: If you see than the prices have not increased for the last 2 years and there is inflation and it is going up. So, really it is not at all, I would say that you should think that it is overpriced and we should wait for the prices to correct. Whatever correction was supposed to happen has happened even before the COVID. I think this is really right time. The rate of interest has never been so low at least in my 42 years. The lowest I know the last time was about 7.25% or 7.75%. Today, the rate of interests is sub 7, i.e. around 6.9% and 6.95% rate of interest. You can calculate the tax benefit that you will get. If you use the tax benefits smartly then your cost of money the interest that you raised really comes down to as little as maybe 3 or 4 depending upon the bracket in which you are in. So in the terms of interest rates, it is the lowest. When we talk particularly of Maharashtra then the stamp duty has never been lower than this. And the builders, honestly, I can't speak on behalf of them but let me tell you that if actually you go and say that I am really a real buyer then they are willing for a deal with you. I think it is time to go and buy homes, for whoever needs it. Of course, if you are living in a rental house and are paying rent there you may take that rental and pay it as EMI to a company like HDFC or someone else.
See Zee Business Live TV Streaming Below:
Get Latest Business News, Stock Market Updates and Videos; Check your tax outgo through Income Tax Calculator and save money through our Personal Finance coverage. Check Business Breaking News Live on Zee Business Twitter and Facebook. Subscribe on YouTube.