Investing in these large and mid-cap mutual funds can give better returns
We tell you which mutual funds to invest in this Christmas that will give you better returns.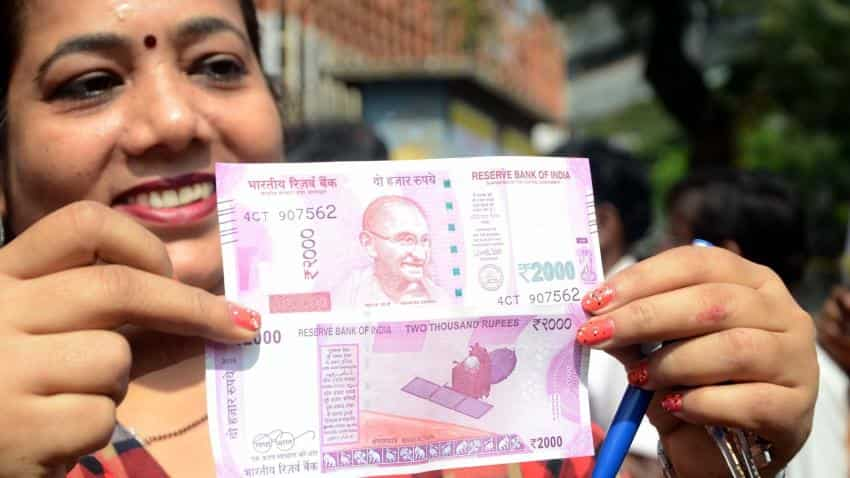 Representational image of a woman with a Rs 2000 note. Image Source: IANS
Updated: Sat, Dec 23, 2017
11:53 am
Mumbai, ZeeBiz WebDesk
Disclaimer: This story is for informational purposes only and should not be taken as investment advice.
Investors today are spoilt for choice when it comes to investment in mutual funds. Still cherry-picking the best schemes to invest in can be challenging.
In this episode of 'Money Guru' on Zee Business, we speak to experts who advise on mutual fund schemes and give advice on how much one needs to invest in each fund.
Mutual funds is a professionally managed investment scheme that brings together a group of individuals and invest their money in stocks, bonds and other securities.
"There are different categories in different funds. In large cap funds you can look at ICICI Prudential's focus blue chip which has had consistent performance and has not disappointed its investors. For the midcap category I would advise you to buy Aditya Birla Life Pure value fund, which is a value investment style fund," Expert and financial planner, Pankaj Mathpal, told Zeebiz.
Mutual funds are usually described in terms of market capitalisation or m-cap. Small, medium and large cap funds indicates the size of the companies in which the fund invests, not the size of the mutual fund itself.
"For the mult-cap category, where investors can take advantage of large cap, midcap and different stocks in a portfolio, Aditya Birla Sun Life Advantage fund is a good one to keep around. Besides this the SBI multi-cap fund can be included in your portfolio," Mathpal added.
"Another option for the mid-cap fund investors can be Principal Emerging Business fund. It is an emerging blue chip fund and can be included in your portfolio," Mathpal said.
In the top performing mutual fund schemes for December, an ET report named these funds in its 'best mutual funds' list.
SBI Bluechip
HDFC Balanced Fund
Aditya Birla Sun Life Top 100
SBI Magnum Multicap Fund
Mirae Asset Emerging Bluechip Fund
L&T India Value Fund
Also Read:
Watch the full episode to know more: