How to turn Rs 1,000 into Rs 30 lakh; mutual fund portfolios you should invest in
A small sum of Rs 1,000 can be converted into lakhs of rupees if invested in the right place at the right time. Here's how.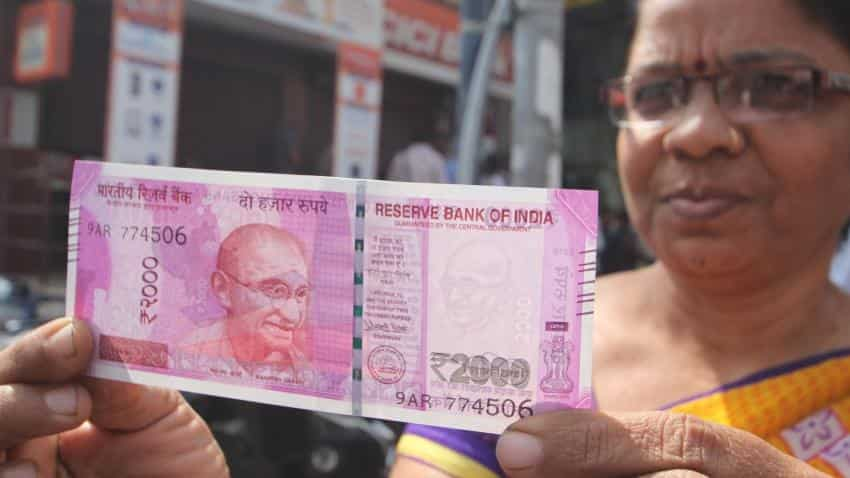 A woman posing with Rs 2,000 note. Image Source: IANS
Disclaimer: This story is for informational purposes only and should not be taken as investment advice.
Savings made in a piggy bank can teach you valuable lessons like small amounts can grow to a sizeable sum over a period of time. More so when your money grows with interest and the risks are hedged due to diversification of investment.
A small sum of Rs 1,000 can be converted into lakhs of rupees if invested in the right place at the right time.
Mutual funds is one such example of flexible and liquid funds that can be redeemed at any time, with the exception of ELSS. Mutual funds are a professionally managed investment fund that pools money from many investors to purchase securities.
"If you go to the market and want to buy 12 pack of colour pencils but in the name of diversification you bought 12 of the same colour. Will you then have the benefit of the 12 colour pencils pack? No you won't. In the same way when you invest in four schemes, your objective should be to have different 'flavours' in your portfolio. You should have large cap, multi-cap, mid-cap which will increase your portfolio's exposure to every aspect of the market. This will bring diversification (to your portfolio)." Harshvardhan Roongta, CFP of Roongta Securities said.
An inquiry to Zee Business' Mutual Fund Helpline sought to grow his investment from a mere sum of Rs 1,000  invested in six different SIPs to Rs 30 lakh over a period of 15 years.
The 31-year old investor had put money in PPF and Rs 7,000 divided in over six mutual fund schemes. He wanted Rs 30 lakh for his children's education in a period of 15 years.
The funds invested in were – Mirae Asset India Opportunities, ABSL Frontline Equity, Kotak Select Focus and HDFC Mid-Cap Opportunities.
Though the portfolio appeared adequately diversified, the investment amount was not ideal.
"If we look at your portfolio, Rs 7,000 investment in your six SIP mutual funds schemes is not necessary. However, since you have begun these investments you can continue with them. Keeping in mind your financial goals you will have to increase your monthly investments in the future," Roongta said.
The investor was advised to put any further lump sum investments into existing SIP portfolios in order to not create excessive funds.
We had reported earlier that a small amount of Rs 500 per month in SIPs can garner hefty returns.
Investing Rs 6,000 in SIPs per month for 17 years with an expected rate of return of 20% per annum could grow to Rs 1 crore at the time of maturity.
It should be noted that investment amount for the entire time period of 17 years was calculated to be Rs 12,24,000 for this illustration.
WATCH:
Updated: Wed, Jan 03, 2018
01:03 pm
Mumbai, ZeeBiz WebDesk