How to become rich: Turn Rs 10,000 into Rs 1 crore; here is how
How to become rich: It's never too late to earn big on your investments, and the age of 25 years may be your best option.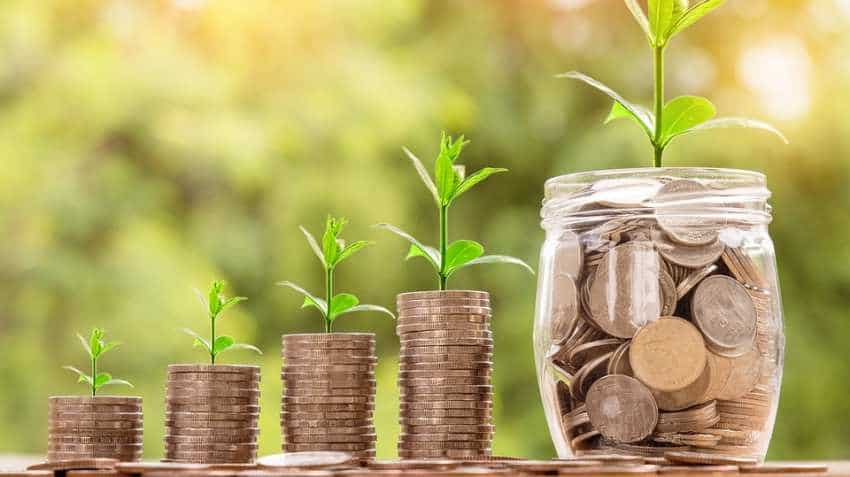 Representational Image: Photo: Pixabay
Updated: Fri, Nov 16, 2018
07:54 pm
Mumbai, ZeeBiz WebDesk
How to become rich: We may decide to take a job at an early age, let's say 20 or 21. However, our full potential is reached somewhere around 25 years of age. At this age, we are not only mature and skilled, but also have higher capability, in terms of money, experience as well as brainpower, for investing big. It's never too late to earn big on your investments, and the age of 25 years may well be your best option. There are loads of reasons for making investments and the biggest one of them all is not to be caught in a money crisis later in life.
There are always ways to make money to fulfill dreams like buying a house or your own favorite vehicle. These desires can be fulfilled by investing in equities. There is no doubt, that stock markets are money making machines. However, stock markets may have their glory, but they also have their own dangers as they come without any guarantee of generating profits for you. If you are not among the risk takers and want a safe and secure future investment, there are plenty of other options. The Indian economy is vast, and there are a bundle investment tools that can help you generate better earnings. One of which is planning for retirement.
There are two government schemes, namely Public Provident Fund (PPF) and National Pension Scheme (NPS) which are hassle free schemes, and eliminate the worry of earnings in comparison to the volatility in stock markets. These two schemes even allow you a guaranteed return, at a certain period of time. All you have to do is just invest a little portion of your salary. Guess what! If you start to invest Rs 10,000 per month from the age of 25 years, then you can even earn up to Rs 1 crore from these two schemes. Here's how!
PPF
PPF is said to be a tax-savings cum savings scheme which was introduced by National Saving Institute of the Ministry of Finance. This has helped general public a lot. Even those who do not earn more than Rs 15,000, can invest in this scheme at minimum amount of just Rs 500 to earn big in future course. The maximum investment can be done up to Rs 1,50,000.
Generally, the goal of PPF is to provide savings in small amounts for people, helping them cultivate the habit of investment.
Investing in PPF is very flexible, as there are no limits to how many time one should invest. However, investment amount can vary and depend upon on your choice.
One can link PPF investment with the desired bank and let every month a certain amount get deducted.
The maximum return PPF gives is about 8.1% per annum. One big reason, that PPF stands out is that it is completely tax free and money is compounded annually.
This means, that you will earn every year an appreciation of your desired amount by means of compound interest.
However, PPF is not a short term investment. It has a lock-in period of 15 years. But still, you can make partial withdrawal from the 7th year, if there is any need of financial aid. You can manage your PPF account online as well and keep a track of your balance amount.
If your PPF account is with a bank then all you have to do is have access to internet banking facility. All you have to do is simply log into your e-portal and follow the procedures.
In case your account is with a post office, you will have to visit the respective post office branch to have detail of your PPF account.
Interest rate on PPF is calculated on the minimum balance on the account of an individual between 5th to the last day of each month. Hence, if you plan to make any large deposits, then remember to do it before 5th so that you can get higher returns.
Opening a PPF account is very simple, you can approach state-owned and private banks like SBI, Bank of Baroda, PNB, HDFC Bank, ICICI Bank and Axis Bank, etc. You can ask them to open a PPF account.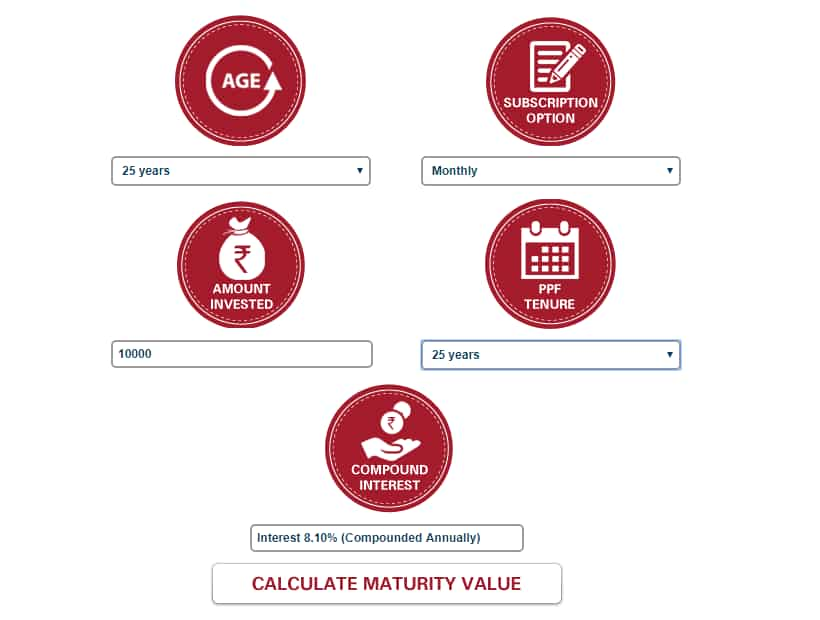 Coming back to how you can earn up to Rs 1 crore through PPF. Let's say you deposit Rs 10,000 every month when you are 25 years, at PPF interest of 8.10% and follow the investment pattern for next 25 years. At the age of 50, your retirement earnings would be around Rs 1.02 crore.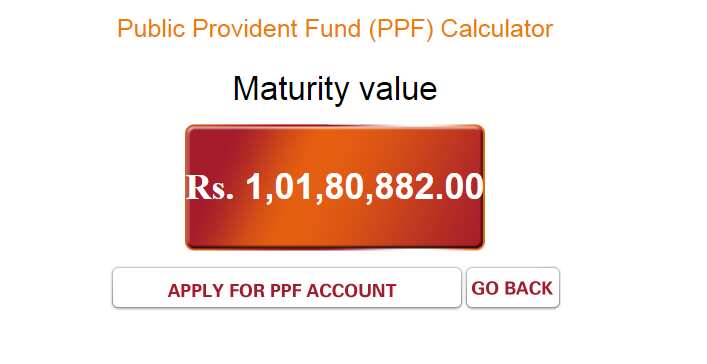 (Image Source: ICICI Bank calculator)
NPS
NPS is a contribution scheme launched by the Indian government. This scheme offers a large variety of investment options to employees. It is supports individuals in regards to where they invest their pension wealth.
Main objective of NPS is to lower the liabilities of the government with regards to total pension, alongside ensuring citizens would earn a stable income following their retirement. NPS is an helping hand to those individuals who do not want to take risk and earn decent returns on their investment. Anyone can open an NPS account right from starting age of 18 up till 60 years.
With the introduction of eNPS, opening this scheme account is easy - you can do it in just 30 minutes. A Unique Permanent Retirement Account Numbers (PRAN) is sanctioned to each subscriber under this scheme during the time of joining. Not only this, individuals are allocated two accounts, which can be easily accessed at any given time.
One can begin their investment in NPS with a minimum amount of Rs 500 at the time of opening the account. It needs to be noted that, the NPS account matures when the subscriber reaches retirement.
An individual can withdraw 60% of the corpus on maturity and the remaining 40% is used to purchase annuities.
NPS also allows tax benefit, under section 80C of the Income Tax Act.
Because the NPS invests subscriber's money into a broad range of investment options, the scheme does not have a specific interest rate.
Interestingly, the NPS has a potential to provide interest rate anywhere between 8% to a whopping 14% interest -  very much on the higher side when taking other investment options into consideration.
Let's say, at the age of 25, you began investing Rs 10,000 every month in NPS at interest rate of 9% interest rate, for a retirement period of 25 years of age. This means you invested about Rs 30 lakh for 25 years.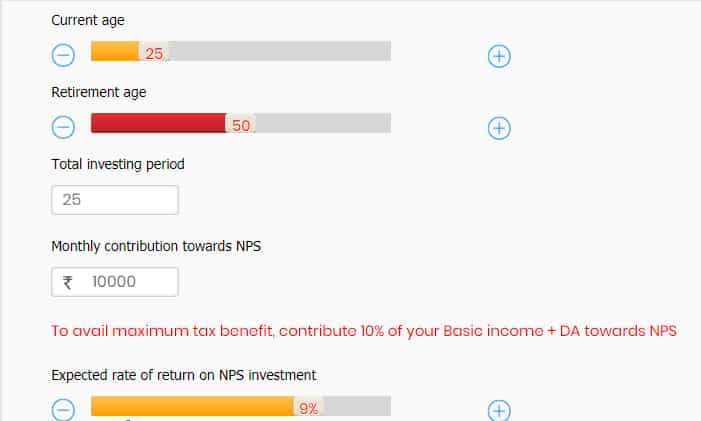 With this you generated about Rs 81.70 lakh as interest and your overall pension wealth was at Rs 11.70 lakh. From the amount, you save tax up to Rs 1.80 lakh.
After the retirement period, if you decide to reinvest 60% of your pension wealth in annuity plan, then your pension that would be reinvested is Rs 67.02 lakh, and you will receive pension of Rs 50,267 per month.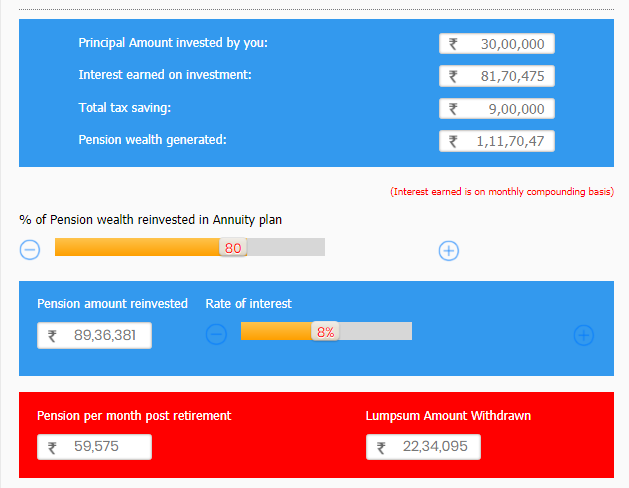 (Image Source: SBI Pension Funds calculator)
The 40% amount that you withdraw before reinvestment would come to Rs 44.68 lakh. The more percentage you offer for reinvestment in annuity plan from your pension wealth, the higher pension you get post retirement period.
Hence, if you are at 25 years of age and are looking to make most of your future, then you might want to consider the above mentioned schemes to make better choices and yes, retire a crorepati!
Get Latest Business News, Stock Market Updates and Videos; Check your tax outgo through Income Tax Calculator and save money through our Personal Finance coverage. Check Business Breaking News Live on Zee Business Twitter and Facebook. Subscribe on YouTube.