How to become crorepati: Turn Rs 100 into over Rs 1 cr - Here's how SIP creates magic
How to become a crorepati is a question that every working man asks and aspires to become as soon as possible in her or his career. Interestingly, crorepati dreams can be set in motion in a simple manner. 
Making a lump sum investment can be burdensome, even if it is in Systematic Investment Plan (SIPs). Photo: Pixabay
Updated: Wed, Jun 26, 2019
08:44 pm
Mumbai, ZeeBiz WebDesk
Making a lump sum investment can be burdensome, even if it is in Systematic Investment Plan (SIPs), which at the moment, is a strong performing scheme in mutual fund sector. But how would you like it, if you could make make a start with as little as Rs 100 saved as a daily investment in SIP, and then retire as a crorepati? Amazing and unbelievable as it sounds, it can be turned into a reality. 
What it involves? 
Imagine you have just started to work as a fresher and your basic income is Rs 10,000. To minimize the tension of savings you can just begin a SIP worth Rs 100 applicable on a daily basis. By opting for this medium, you not only earn hefty returns but also the scheme becomes cheap for you. 
Generally, minimum Rs 500 is the criteria for investment in SIPs. Also, SIPs interest calculation are done monthly, quarterly and yearly basis. However, not many are aware that there are actually some mutual fund houses that have introduced daily SIP investment as well. Some of the names are ICICI Prudential Mutual Fund and HDFC Securities.
Explaining why mutual fund SIPs are better investment, IIFL Securities in its research note said, "Equity is the best way to create wealth in long term vs. other asset classes like debt, gold, real estate, etc., since historically it has been seen that equity based investments have given inflation-beating returns over long term despite short term volatilities. Equity mutual fund is a right way for investors to invest in equity market who do not have time and/or knowledge to understand the equity market."
 "The Indian mutual fund industry is well regulated, transparent and mature. Instead of timing the market, investors can regularly invest in the market and can reap the benefits of 'Rupee Cost Averaging' via SIP," added the note. 
How to become a crorepati with just Rs 100? 
Here are some top mutual funds so far in 2019 as listed by ClearTax:

(Image source: ClearTax)
Equity SIPs have the potential in giving between 10% to over 16% return annually. Now let's use Rs 100 daily investment as an example. 
If you have decided to let's say invest Rs 100 on a daily basis at the above mentioned fund houses, for a tenure of 30 years and expect a return of 12%. Then, your total investment for 30 years would be Rs 10.95 lakh, and your earnings through SIP would be over whopping Rs 97.29 lakh - which simply means you retire with a massive amount of over Rs 1.08 crore. Isn't it amazing.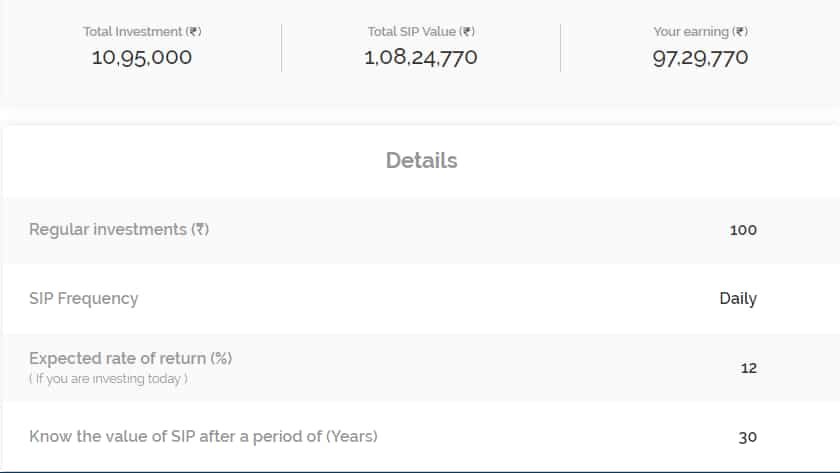 (Image source: HDFC Mutual Fund)
Pros of investing in SIP involves
It is a highly disciplined, passive and automated method. Funds get deducted automatically from bank, which makes you more committed to guaranteed saving/investment. 
Hassle-free and flexible. Any citizen can create/update/cancel SIP anytime. 
There are two methods which greatly help investors earn big through SIPs. 
Rupee-cost averaging: As we are aware that market is sentiment driven and unpredictable, this creates an issue on when is the best time for investment. With rupee-cost averaging, an investor with invested SIP amount earns more units when the price is low and earns less units when the price is high. 
Power of compounding: Every amount you invest, you earn interest on it. This interests get compounded and accumulated over a period of time. The higher the SIP tenure the higher would be your return. 
Minimum age for beginning a SIP is 18 years. Hence, if you begin at this age today, well before you reach your 60s you are a crorepati. It is advisable to always diversify your portfolio in SIPs and have proper guidance from fund managers. Notably, by deciding to invest just Rs 100 on a daily basis your investment in SIP becomes anything between Rs 3,000 to Rs 3,100 on a monthly basis. So, even before you know it, you are investing a good amount. Therefore, the burden of investment is minimized. The only thing to ensure is that the investments is continued in a disciplined manner. 
Get Latest Business News, Stock Market Updates and Videos; Check your tax outgo through Income Tax Calculator and save money through our Personal Finance coverage. Check Business Breaking News Live on Zee Business Twitter and Facebook. Subscribe on YouTube.