Gold or Bitcoin? See what fear-ridden investors have gone and done now
Fed rate cut and US-China trade war have created bad luck for stock exchanges, but not for gold or Bitcoin!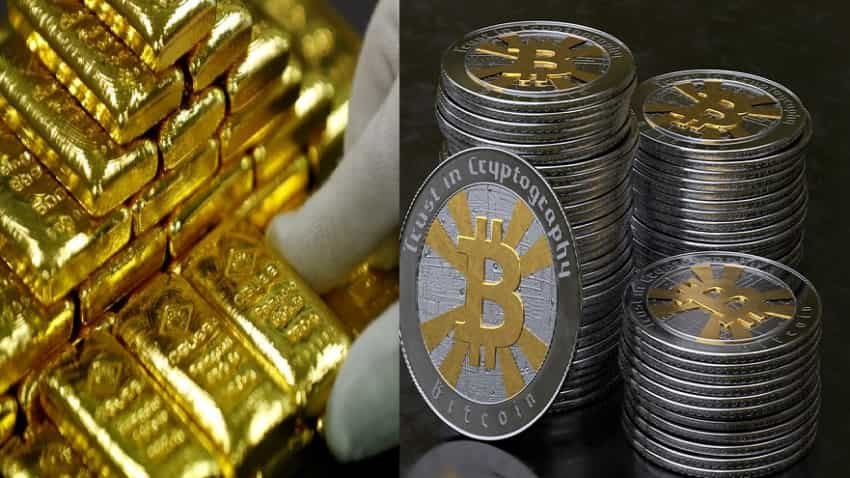 Fear is ruling the markets and investors are searching blindly for a safe haven. Photo: Reuters/ Pixabay
Fear is ruling the markets and investors are searching blindly for a safe haven. Gold clearly comes under that description. Amazingly, there is an immense love for Bitcoin! So much so that over the last 7 days this cryptocurrency has even soared over the 12,200-mark. The year 2019 so far has been fruitful to Bitcoin, just like every other safe haven assets such as gold, especially in the midst of US interest rate cut and trade war. On Monday itself, the S&P 500 plunged 3%, while the Nasdaq Composite finished lower by 4%. On the other hand, Bitcoin cracked its week's high of  12,273.82 gaining over 3%! According to CoinMarketCap data, Bitcoin was trading above 2.93% at 12,057.84 levels on Tuesday as well. 
In the past few months we all have written about how Bitcoin is a safe haven asset alongside gold or let's say cash. For your information, both rate cuts and trade war has created some bad luck for stock exchanges, but not for gold or Bitcoin. And make no mistake gold and Bitcoin are definitely best picks during global uncertainty. But the real question now is which safe haven is worth adding in your kitty. 
Bitcoin the special safe haven?
In last 24 hours, a lot has changed in Bitcoin. At first, the digital coin floated near 11,700-mark with very minimal movement recorded during US trading session. But it was during Asian trading session which has boosted Bitcoin's price and led to a bull market in the cryptocurrency during past few days. Hence, this led Bitcoin to tap a high of nearly 12,300-marks. This has led to a massive rise of nearly 30% or $2,781 in Bitcoin in just 7 days. 
Tim Draper the founder of DFJ Venture Capital via his twitter account said, "Nasdaq down 3.4% Dow down 2.9%. Bitcoin up 3.2%. Bitcoin may be a remarkable hedge."
Last week, Draper highlighted that, Bitcoin passes new milestone as network Mines 85% of its total supply. Square doubles Bitcoin Revenue, generating $125 Million via Cash App in Q2. 
Trade tensions between US and China have increased on President Donald Trump's plans to slap a 10% tariff on Chinese items from September 2019. Trump even tweeted stating that China is manipulating its currency and that the US Federal Reserves must take a note of it. 
Dr. Soumya Kanti Ghosh, Group Chief Economic Adviser at SBI in a research note said, "US Fed has cut the interest rates by 0.25% and given an indication for more rate cuts in the coming months with the caveat that the present rate cut is a mid cycle adjustment given the macroeconomic and financial conditions. Nevertheless with US targeting China again through tariffs, monetary policy normalization could now be extended across economies. The impact of the Fed rate cut on financial & commodity markets has been moped. Oil prices have nosedived, equity across countries have moved sideways & US 10Y yield is now firmly anchored below 2%. The reaction of other central banks has been mostly unequivocal in cutting."
Ghosh added, "We now believe that the apparent short cycle of monetary policy normalization could very well turn into a uniform rate easing cycle across emerging economies global central banks, in contrast to 2008, when the easing cycle did witness a non synchronized rate cutting."
Bitcoin better than gold?
Bitcoin has even risen better than gold at the moment. Notably, the latter is already at 6-year high. Spot gold is now at $1,464 up by 0.60 an ounce. Also, the December gold futures were last seen higher by $19.60 an ounce at nearly 1,477. Reason behind gold and Bitcoin upsurge is strongly believed to be led due to US-China trade war and civil unrest in Hong Kong. Even, the Chinese Yuan was in free fall depreciating at near record low to 7.1086 per dollar. 
Hence, Bitcoin finds more favor in the eyes of investors as safe haven asset.
Honestly! Bitcoin not different than gold
Among the major similarities between gold and Bitcoin is that both are mined. However, the former is obtained through physical mining, while the latter is carried virtually via deciphering of special computer encryption.
Another amazing fact would be that, both gold and Bitcoin have limited quantity for trading. According to a report of JM Bullion, it is estimated that there are approximately 171,000 metric tons of gold in the world. As for Bitcoin, investors are very well aware that one can generate this cryptocurrency to the tune of  21,000,000 bitcoins or unless further advancement is made. Hence, it is quite understandable to why both of these assets are preferred highly during political and global uncertainty. 
But which is better gold or Bitcoin?
Anthony Pompliano the co-founder of Morgan Creek Digital in an interview with CNN's Julia Chatterley recently stated that, loose monetary policy combined with Bitcoin's upcoming halving event as the "perfect storm" for the rise of the digital asset. 
He says that, "Whenever we get to a recessive period or kind of slowing growth, central banks have kind of two tools: They can cut interest rates, which they did yesterday, and they can print money (quantitative easing). And so, when they do both of those things, it usually takes anywhere between 6 to 18 months to feel the effect of those tools, and what it's going to do is it's going to coincide with the Bitcoin halving."
Accepting that gold have been viewed historically as safe haven assets during monetary easing, however, Pompliano did point out few benefits of choosing Bitcoin over the yellow metal.
According to him, the difference between Bitcoin and gold is that with Bitcoin, we know exactly how many are getting created. So, 1,800 Bitcoin are going to be created today. The second thing is we know the total supply available, which is 21 million. So, it's not: Hey I wonder how much is in the ground. We know exactly how much it is, and we can actually go and audit or verify the software code of the system.
However, via his twitter account, Pompliano also warns investors that, BTC is very volatile. You can lose all of your money, and hence invest only when it is ok to lose. He even added that, do not buy BTC with credit cards, maintain low time preference and always do your own research. 
With that, even though a shift is evident in safe haven assets.  However, the problem with Bitcoin and why it will never replace gold is that the coin does poses a heavy magnitude of financial risk. Even though there is an uptick in Bitcoin, it still continues to have significant fluctuation, whereas with gold the surge has been consistent in past month. Also, because trading in Bitcoin is unanimous, the coin is yet to achieve the status of a true legitimate form of currency worldwide, which makes gold a safe investment. Another issue with Bitcoin is its security, as due to high digital availability in past months the coin has fallen prey to massive frauds. Hence, its a long run for Bitcoin to achieve a status like gold for safe investment. 
Get Latest Business News, Stock Market Updates and Videos; Check your tax outgo through Income Tax Calculator and save money through our Personal Finance coverage. Check Business Breaking News Live on Zee Business Twitter and Facebook. Subscribe on YouTube.
Updated: Tue, Aug 06, 2019
07:06 pm
Mumbai, ZeeBiz WebDesk