Fixed Deposits Interest Rate: Banks vs NBFCs, who offer best benefit to you; Find out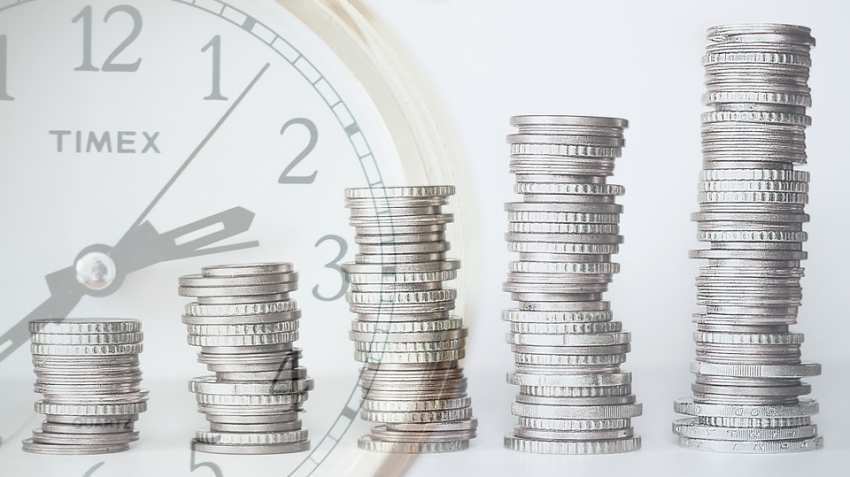 Representational Image: Photo: Pixabay
Updated: Sat, Jul 21, 2018
03:17 pm
Mumbai, ZeeBiz WebDesk
Among many accounts that are introduced in Indian banking system, one such is the fixed deposit account which offers guaranteed return and is considered as safe instrument. One of the major reasons why our parents and many in our generation would like to have this investment pool, is because of it's safety features. This account is determined by changes in RBI monetary policy such as repo rate, base rate etc, internal liquidity position of banks, economic conditions and the level of credit demand.
Another advantage of FD would be it's flexible maturity date, as one can invest in them for a time frame of six months to as long as 10 years or even more period. One can invest in FDs, if their risk appetite is very low.
This month, majors banks and other financial institutions have set interest rates for fixed deposits, in case if you are planning to invest your hard-earned money in this account, here's a comparison of banks to avail best offer.
In July 2018, lenders like HDFC Bank, SBI, PNB, Axis Bank, Dena Bank have hiked their fixed deposits rate.
SBI is offering between 5.75% to 6.75% interest rate on FDs for a tenure between 7 days to 10 years.  Similar interest is offered by PNB as well on FDs. Meanwhile, Dena Bank is giving from 4% to 6.70% rate on FDs for the same tenure. On the hand, HDFC Bank is giving rates from 3.50% to 7%, while Axis Bank from 3.50% to 7.10% on FDs for the same.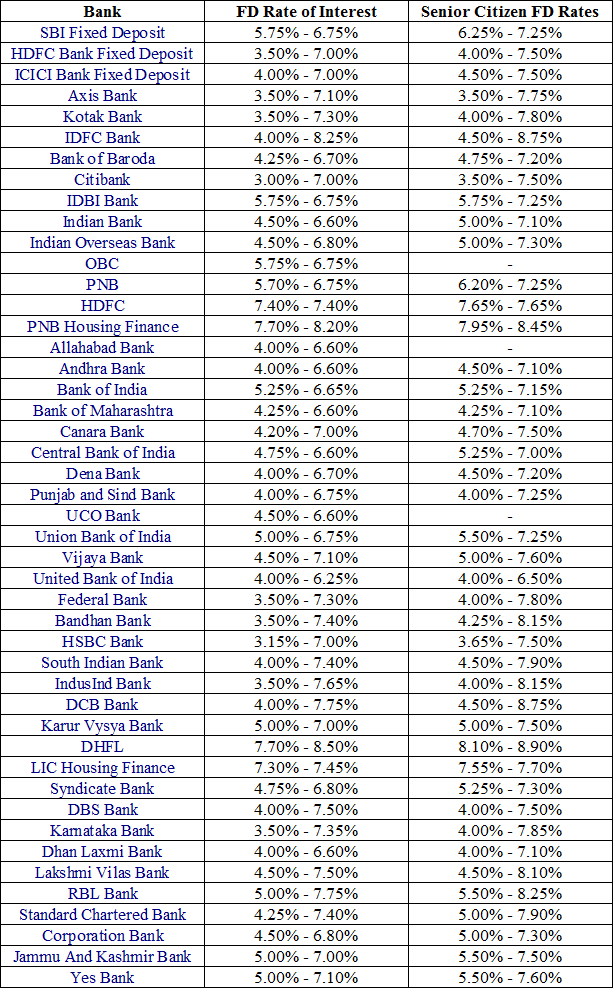 Interestingly, based on the comparison on all banks, IDFC Bank is the one who is offering the highest interest rate on FDs ranging from 8.25% with a tenure of 3 years 1 day to 10 years.
As banks FDs are risk free, they do not require credit ratings, however, they still offer lower interest rates than the ones provided by NBFCs. In non-bank, the PNB Housing Finance gives an interest rate of maximum 8.20% and Dewan Housing Finance Limited is offering 8.50% on FDs.
It needs to be noted that, generally banks lower rate of interest on deposits with a shorter tenure. Currently, for a tenure of 1 year, the highest rate on FDs is 7.75% and highest FD rate on longest tenure FD of 10 years is 8.25% for general people.
As for senior citizens, the interest rates range from lowest 3.50% to highest 8.90% which is given by DHFL. In banks, the highest rate is 8.75% offered by IDFC Bank for senior citizen.
Features of an FD account
This can be opened by almost every citizen of India including minors and HUFs. One can open an FD account by appointing two nominees who are seen as eligible people to receive the investment amount after the death of account holder.
It does not allow withdrawal before maturity period. Premature withdrawals are allowed in emergency cases.
There are three types of FDs. Firstly is the regular one which is made for a fixed time period with bank and also allows to earn higher interest rate. Secondly, tax saving deposits which helps depositor in claiming deduction on interest earned of FD under IT Act of section 80C - the deduction is maximum up to Rs 1.50 lakh. Lastly, flexi FD which helps depositors to link their FD account with a savings account as well.
Further, tax exemption on interest income of deposits with banks has rose from Rs 10,000 to Rs 50,000. Not only this, even TDS is not required to be deducted under section 194A and it has been extended to all FD and RD schemes.
Also, having a fixed deposit account supports in getting a loan. A person can borrow up to 90% of the fixed deposit amount from their bank.