Five mantras to use your credit cards wisely
Surely, credit cards do help you in times of need when your salary does not stretch far enough, but they also give you sleepless nights when you fail to make timely repayments.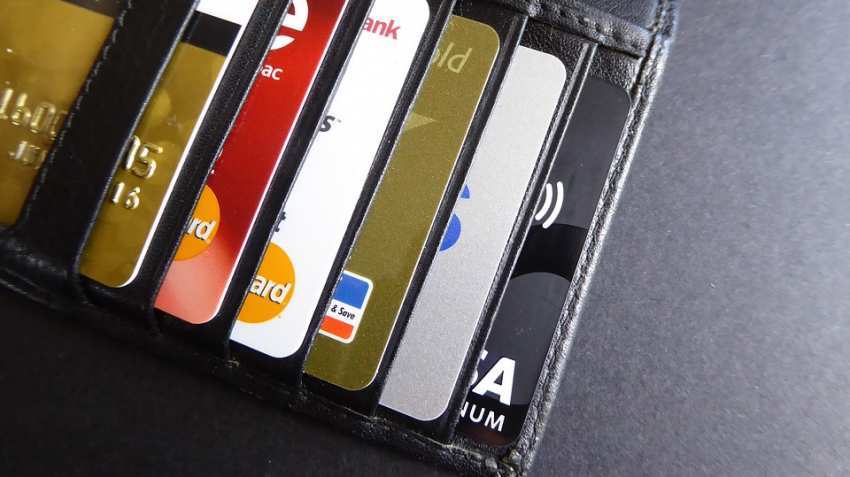 Representational Image: Photo: Pixabay
Updated: Sun, Jul 29, 2018
02:59 pm
Mumbai, ZeeBiz WebDesk
If you are a salaried employee and earning more than Rs 20,000, you must have witnessed the pattern where you open your salary account and the respective bank promptly offers you a credit card facility as well. In fact, nowadays, credit cards are being offered not just to the salaried employees, but many category of citizens too. Having a credit card in your hand has its own pros and cons. Surely, credit cards do help you in times of need when your salary does not stretch far enough, but they also give you sleepless nights when you fail to make timely repayments.  
There are different types of credit cards available in India offered to different kind of people. They are: Auto / Fuel Credit Cards, Balance transfer Credit Cards, Business Credit Cards, Gold Credit Cards, Cashback cards, Classic Credit Cards, Credit cards for Women, Entertainment Cards, Lifestyle Cards, Platinum Credit Cards, Premium/Signature Credit Cards, Prepaid Credit Cards, Silver Credit Cards, Titanium Credit Cards and Travel Credit Cards. 
These cards depend upon how much you earn on a monthly basis or how much bank balance you have. A bank keeps a track of every amount in their account which reflects your ability for repayment of the money you borrowed from the lender using credit cards. 
But credit cards, which look like a helping hand at one point of time, can also become a debt trap if not used correctly or if you spend more than what you can repay. 
If you enter into the debt trap linked to credit cards, then you will find it difficult to even avail personal, home, vehicle loans as banks check your credit score while lending you any money. 
Therefore, it is always best to be wise enough in using credit cards. Here are five mantras that you can follow while using credit cards. 
Timely payment
Firstly, make sure you make timely payment every month. This will save you from paying extra interest rate or fees levied on credit cards once you miss the due date. Guess what! If you pay your balance on time and in full every month, you may in fact gain interest on the cash in your savings account since the time you make purchase on your credit card till the time your statement comes to due. 
Just in case you feel your expense is getting higher in any given month, make sure you prepare a detailed budget so as to spend as much as you can pay. 
Don't keep high balance 
If you feel you are unable to pay the balance in full, then try paying back as much as possible before due date. If your balance is carried forward, then you should avoid making additional purchases on your card unless really necessary.
There are people who have more than one card and are already in debt on one card and therefore, it is advisable to focus on paying the card off before spending on any other card. Too much debt would only make it worse going ahead.  
For the ones who are not disciplined enough, then they should spend using cash or pay with a debit card. 
Opt for EMIs wisely
This is best for people who are not in position to repay their credit card bills in full, as EMI facilities can lend a great helping hand. 
What happens is that some credit cards providers do give you an opportunity to convert your balance or large purchases to monthly instalments at a small charge and lower interest than what is charged by your card.
There are EMI options of 6-12 months or more offered by the credit card providers. 
Don't withdraw cash
This one should be taken very seriously. Always remember not to make cash withdrawal using credit cards, if you want cash then debit cards are what you should use. 
It needs to be noted that cash withdrawals made on credit cards are charged interest from the day of withdrawal. Not only this, some credit cards charge an additional interest for cash withdrawals.
Just in case, if there is an emergency and no other option is left but to withdraw cash from credit cards, then always make sure to clear the debt amount as soon as possible. As interest rate will be charged on a daily basis, however, by making balance payment soon, the interest rate charged on balance outstanding will get lowered. Don't fall for reward points.
Avoid reward points or cashback
There are different type of rewards offered by different banks. Some also give bonus reward points on purchasing a new card. 
Different bank will offer you credit cards with varied reward offerings. Some give bonus reward points on purchasing a new card. But here's why you should not fall for reward points. 
The first thing to remember is that one bank may offer you a reward point of Rs 100, but as it varies from bank to bank, the other might be offering reward points of Rs 150. This simply means the difference does not end and its vast.
Secondly, the process of redeeming reward points is different from card to card. It is noteworthy that some banks allow you to claim reward points only if a limit is crossed or some even restrict the list of offerings available for reward points. Some banks only allow reward points on purchase of a specific item. 
Even if you feel you can manage the above two mentioned points in case of rewards on cards, then you should also know about the annual fees charged by the banks. It is advisable to select low annual fees, as the amount of reward points you collect may not be sufficient to cover the annual fees. 
Considering the above, you should know that some banks offer you cashback or reward points just to make you spend more and use their credit cards in heavy amounts. This in return leads to heavy debt which you may not be able to pay in full or miss the repayment. This way, you end up paying higher interest rates. 
Hence, if you have a credit card and are using it on a frequent basis, then you might want to remember the above mentioned mantras in order to be a wise user.