Will retirement age be increased and what will be its benefits to employees? Central EPFO Commissioner KK Jalan explains
Retirement fund body EPFO is in favor of increasing the retirement age of employees. It has said that the retirement age must be change with the view of life expectancy. It has argued that the pension system could be made more robust if the retirement image of the employee is increased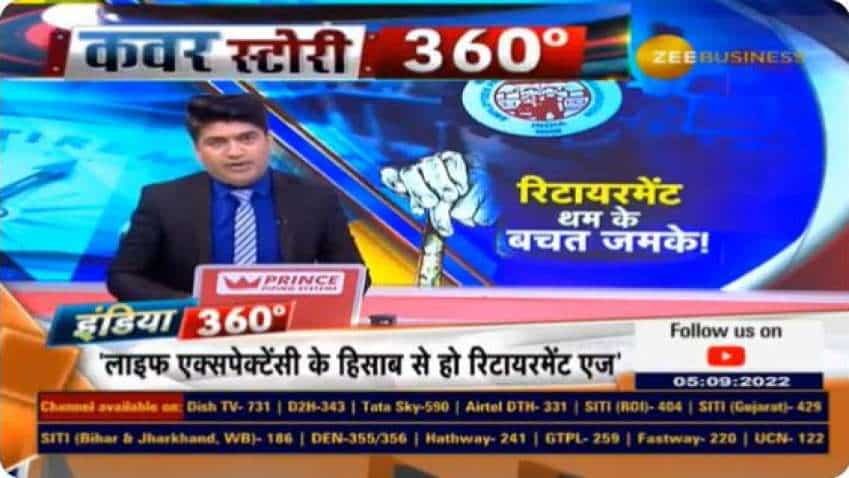 KK Jalan, Central EPFO Commissioner tells Zee Business that the retirement age of the government employees is decided by the government
Retirement fund body Employees' Provident Fund Organisation (EPFO)is in favor of increasing the retirement age of employees. It has said that the retirement age must be change with the view of life expectancy. It has argued that the pension system could be made more robust if the retirement image of the employee is increased.
The retirement age in India is between 58 and 65 years. While the age is 58 years for private employees, it is up to 65 years in many government departments.
This will also ensure that the members get adequate retirement benefits.
The EPFO is of the view that if the retirement age is increased, the members will be able to save more and will also get higher pension amount.  
The retirement age in India is lower than many countries.
If EPFO sends the proposal to the Board of Trustees and the latter approves, over 6 cr members of this retirement fund body will stand to gain.
KK Jalan, Central EPFO Commissioner tells Zee Business that the retirement age of the government employees is decided by the government. As for private employees, labour department decides this and EPFO does not decide the retirement age, he said.
In private sector, there are two retirement ages. At some places it is 58 years while at others it is 60 years. In many companies it is even more.
He said that in EPFO, pension can be taken at 58 years and 60 years. The rule pertaining to this was passed in 2015, Jalan said.
If one opts pension at 60 years, he will be entitled to an 8 per cent higher pension. At 59 years, the pension is greater by 4 per cent.
In the vision document of 2047, EPFO is of the view that the retirement age will go up as the life expectancy in India has increased. It could be 65 years or more.
If the retirement age is 65 or more, then the pension amount will increase and also the contribution will go up, he further said.
Members, who want to contribute towards EPFO even after retirement, can contribute it till the age of 65. But there will be no pension benefits on contribution after the retirement, the Central EPFO Commissioner said.
On the burden on company or government, Jalan said that there will be no burden if the age is increased from 58 years to 60 years. He said that on increasing the retirement age, the pension fund size will go up.
 Watch Full Video Tweet Here:
रिटायरमेंट एज बढ़ाने के पक्ष में EPFO

रिटायरमेंट एज बढ़ेगी तो क्या फायदा मिलेगा?

रिटायरमेंट एज बढ़ने से क्या होगा बदलाव?

देखिए पूरी खबर इस वीडियो में

#ZeeIndia360° | @AnchorDeepak_ | #EPFO | #retirement pic.twitter.com/qRqrIM23T1

— Zee Business (@ZeeBusiness) September 5, 2022
 He said that increasing the size of the pension fund augurs well for the economy as the pension fund could be used to contribute in the economy.        
Updated: Mon, Sep 19, 2022
04:13 pm
New Delhi, ZeeBiz WebDesk