Do you know credit cards can help you save big on fuel purchase
Petrol and diesel price revision in various cities are determined by global crude rates, rupee-dollar exchange rate along with excise duty and VAT levied by the ministry and the state government.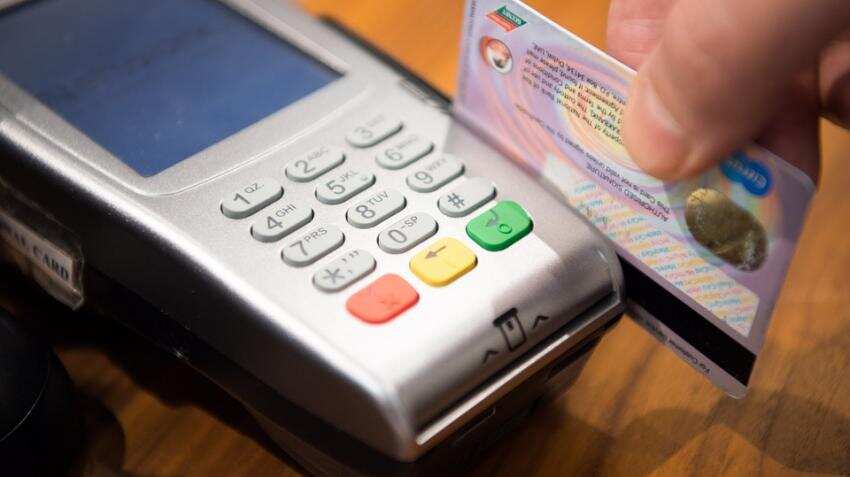 Representational Image: Photo: Pixabay
Even though petrol and diesel prices are undergoing reduction since last week, they still stay near three-year high, affecting common people.
Last year, when the government linked petrol, diesel prices with the international markets, it hoped that consumers will get the benefit. But, the move has rather boomeranged as petrol and diesel prices have remained unchanged since 2014.
Taking into consideration the rising petrol, diesel prices, we would like to tell you certain benefits of using credit cards in purchasing fuel to save your hard-earned money.
There are four pointers to gain maximum benefit on fuel credit cards, as GoodReturns.in suggests.
Annual fees: Such credit cards targeting a particular purpose feature high annual fees. However, in case some minimum amount is spend on the card annually, the associated high fees is waived off. So, before zeroing in on the fuel credit card ensure that the minimum spend on the card is not very high.
Likewise, also ensure that in order to avail the available benefits, total amount required to be spent using the card is not very high.
Fuel surcharge: You should also ensure that the credit card you choose offers complete waiver on fuel surcharge.
Usability at all fuel stations: One has to ensure that the card covers all the fuel station such that all benefits can be availed irrespective of the oil station.
Redemption of rewards and points: Easy and hassle-free redemption on card should be available.
Here's a list of credit cards by banks, you can use for your fuel purchase.
 
IndianOil CITI Platinum Credit Card
 
This fuel credit card lets you earn on all your spends and not just fuel payments.
 
Features
Earn 4 Turbo Points for every Rs 150 (2.67%) of fuel purchased
Full waiver of the fuel surcharge (1%) on fuel purchases
1 Turbo Point equals Rs 1 worth of fuel.
Your card must be swiped on Citibank EDCs only to avail the above benefits.
The Turbo Points that accrue in this category would be capped to purchase amount of Rs 10,000(or 267 Turbo Points) per transaction.
On transactions exceeding Rs 10,000, customers would not earn any points.
Here's how IndianOil CITI Platinum Credit Card work everyday to earn you free fuel.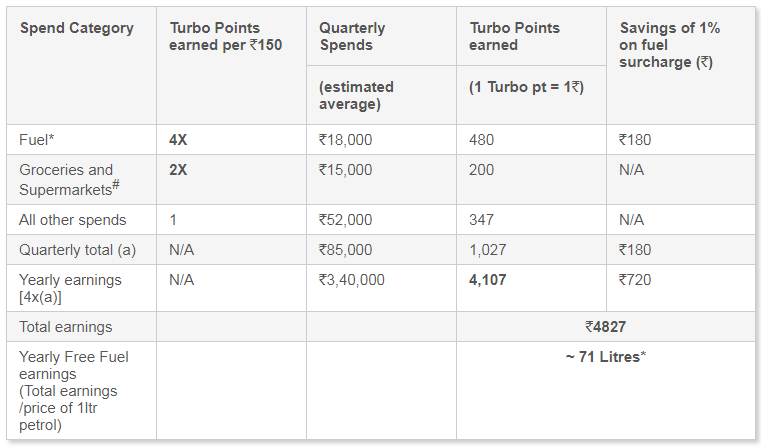 Annual fee on the card is Rs 0 when you spend Rs 30,000 or more on your card in a membership year.
 
Card members with annual spends of less than Rs 30,000 on their cards are charged an annual fee of Rs 1,000.
HDFC Bank Bharat Cashback Card
One can enjoy spending Bharat CashBack Credit card with 5 % cash back on IRCTC / Bill Payment / Fuel.
 
Features
Enjoy 5% CashBack on Fuel Spends - which is upto Rs 150
1% fuel surcharge waived off on fuel transactions - for minimum transaction of Rs 400. Maximum cashback of Rs 250 per statement cycle
Cash back is obtained as points.
Avail up to 50 days of interest free period from the date of purchase (subject to the submission of the charge by the Merchant).
Enjoy 5% CashBack on all Bill pay and recharges done using the Bharat CashBack card.
Enjoy 5% CashBack on rail bookings through IRCTC website or mobile app
 
You can save up to Rs 3000 annually using this card. If you lose your card, report it immediately to our 24-hour call centre. After reporting the loss, you have a zero liability on any fraudulent transactions made on your card.
SimplySAVE Advantage SBI Car
With SimplySAVE Advantage SBI Card, you get unlimited privileges as it not only helps you earn reward points but also makes your shopping bill low by providing cashback.
 
Features
Get freedom from paying the 1% fuel surcharge at any petrol pump
Transact an amount between Rs 500 to Rs 3,000 at any petrol pump in India to avail the offer
To avail fee reversal, you need to have spent Rs 90,000 or more on your SimplySAVE Advantage SBI Card in the previous year
Earn 1 Reward Point per Rs 100 spent
 
Your SimplySAVE Advantage SBI Card is an international credit card and is accepted in over 24 million outlets across the globe, including 3,25,000 outlets in India
 
It may be noted that Rs 499 is charged annually as fee, while Rs 499 as renewal fee per annum is being levied.
Kotak Royale Signature Credit Card
Just like above mentioned digital card service provider, Kotak Mahindra Bank also provides various benefits on fuel products through its Royale Signature Credit Card.
 
Features
Customers will not earn reward points on fuel and railway surcharge waiver
Customers will not earn reward points on fuel transactions
Applicable on transactions between Rs 500 and Rs 3000
Maximum fuel surcharge waiver allowed in a calendar year is Rs 3500
Save railway surcharge waiver for transactions on www.irctc.co.in and for transactions on Indian Railways Booking Counters. Maximum railway surcharge waiver allowed in a calendar year is Rs 500
Earn up to 4X reward points on every Rs. 150 spent across all spends done on your Kotak Royale Signature Credit Card
 
There are no joining fees on Kotak this card, however a customer will be charged with Rs 999 fees annually. Interest charges on outstanding balance is 3.4%.
 
In case your credit card is stolen, you get a cover of Rs 2,50,000/- against fraudulent usage up to 7 days pre-reporting.
Axis Bank Privilege Credit Card
For activating this card, Axis Bank is providing yatra voucher worth Rs 5,000 upon completion of 3 transactions within 60 days of card setup.
 
Features
Valid on transactions between Rs 400 and Rs 4,000 only
Service tax charged on fuel surcharge is non-refundable. No reward points are earned on fuel transactions
Maximum benefits upto Rs 400 per month
 On any transaction over Rs 2,500, contact the Bank to convert a big credit card purchase into EMIs.
Double the benefit upon achieving spends milestone of Rs 2.5 lakh - by converting your earned eDGE  points to Yatra vouchers worth twice the value
 
A person will have to pay Rs 1,500 as standard joining fee with Axis Bank. The fee from second year onwards also stands the same.
RBL Bank Titanium Delight Card
Tank up with Titanium Delight Credit Card with waiver of fuel surcharge at all fuel stations.
 
Features
This card is valid for fuel transactions between Rs 500 and Rs 4000. Maximum waiver of Rs 100 per month.
Gain Reward Points for all your domestic and international purchases and redeem them for the products you love.
Get a welcome gift of 2000 Reward points on 1st swipe within 30 days and payment of joining fees by first payment due date
Get 1000 additional points on spends of Rs 10,000 within 60 days
You earn 1 reward point for every Rs 100 spent on all your purchases like travel, groceries, dining and even your electricity bill
 
Standard Chartered Super value Titanium Credit card
This one is best for those who like spend more amount on fuel, as the card provides a maximum cashback of Rs 200 in every billing cycle at rate of 2.5%.
For availing the above benefit, a minimum amount of Rs 750 must be spent on fuel by you.
Apart from this, there is surcharge reversal of 2.5% offered on the transaction amount. On other spends, for every Rs 100 spent, cardholders' get 1 reward point.
IndusInd Bank Iconia Credit Card
You can get a fuel surcharge waiver every time you purchase fuel for a minimum transaction of Rs 400 and maximum of Rs 4000. IndusInd Bank can impose a cap for the maximum fuel surcharge waiver allowed per month.
 
There 2% also provided on weekend spends, and 1.5% weekdays additional points. It also gives reward points on fuel spends at any company petrol pump.
Updated: Thu, Feb 15, 2018
05:30 pm
Mumbai, ZeeBiz WebDesk