Crorepati Calculator: Turn your Rs 4,500 monthly SIP into massive Rs 5.71 Crore
Crorepati Calculator: A 10 per cent annual step-up trick in SIP of Rs 4,500 can give an investor Rs 5.71 crore on maturity.
Crorepati Calculator: Same Rs 4,500 SIP for 30 years without 10 per cent step-up trick would fetch Rs 2.54 crore after 30 years. Photo: Reuters
Updated: Sat, Mar 14, 2020
09:10 am
New Delhi, ZeeBiz WebDesk
Crorepati Calculator: How to become rich or a crorepati is what the majority of the investors want to know. They want to invest their money and expect it to give them outstanding returns. In short, they want to become crorepati multi times over. So, at a time when the stock market is plunging, mutual funds have once again emerged as a better option for long-term investors to turn their dreams of becoming rich into reality.
The most important investment opportunity for investors is in the form of Mutual fund SIP (Systematic Investment Plans). SIPs are available for mutual fund investors who don't have a huge lump sum amount to invest at one go. According to the tax and investment experts, an equity mutual fund with SIP mode can help investors retire at the age of 55, provided they started to invest at the nascent phase of their careers or say between 25 to 30 years of age.
See Zee Business Live TV streaming below:
Speaking on the minimum return that investors can expect after investing for around 30 years, Kartik Jhaveri, Director — Wealth Management at Transcend Consultants said, "If an investor invests for around 25 to 30 years in SIP, he or she can expect to get around 15-17 per cent return on investment, depending upon the stock market performance in the last 2-3 years of before the maturity of the mutual funds SIP." 
He said that mutual fund SIP is gaining traction among the young professionals as with minimum amounts too. Jhaveri advised young professionals to start a SIP with Rs 3,000 to Rs 4,500 and go as long as they can, maybe till their retirement.
Let's assume a 15 per cent return on Rs 4,500 monthly equity mutual funds SIP for 30 years. In such SIP an individual would be investing Rs 16,20,000 in the entire investment period and the return would be Rs 2,38,53,893. This means the maturity amount the investor would get after 30 years of Rs 4,500 SIP would be Rs 2,54,73,893.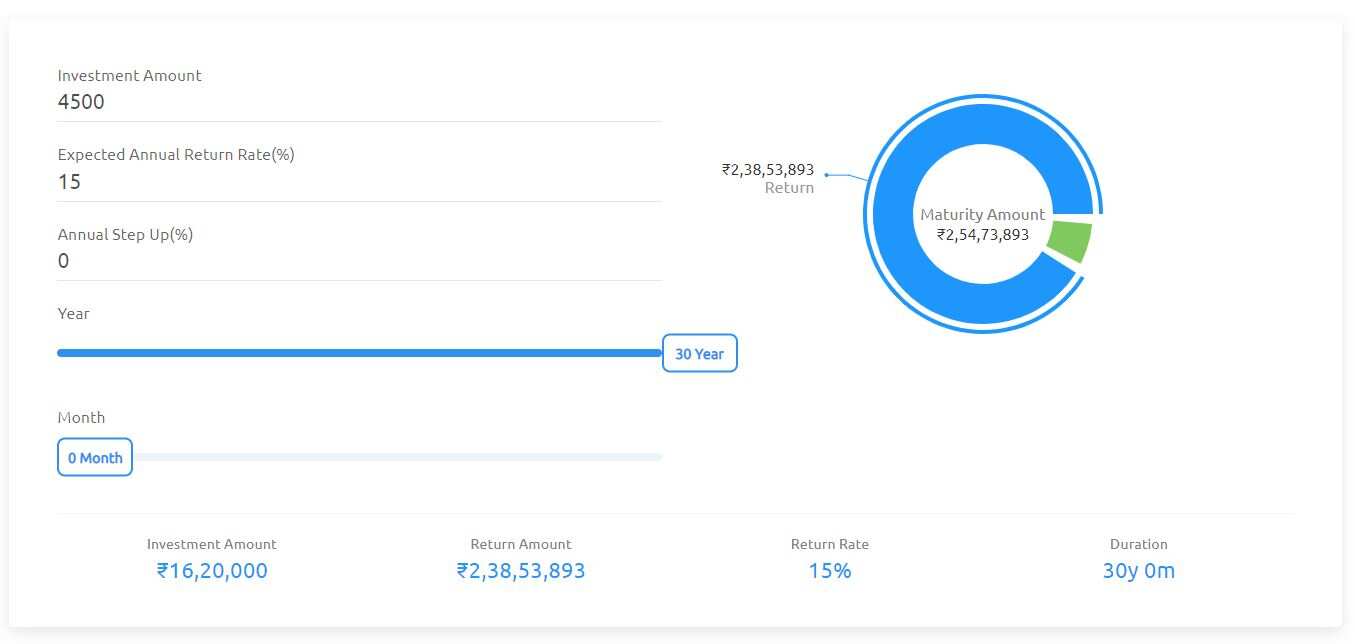 Surprisingly, there is another way through which the same Rs 4,500 monthly SIP or Rs 150 per day can become a whopping Rs 5,71,44,674 maturity amount in the same period! There is an investing trick involved in this. Elaborating upon the trick, Jitendra Solanki, a SEBI registered tax and investment expert said, "One generally gets annual increment of at least 10 per cent as an employee. The ideal way of making a good return on SIP for the long-term is to increase SIP by at least 10 per cent per annum. In that case, the maturity amount grows geometrically and one can think of retiring with that kind of amount 4-5 years before the ideal age of retirement."
On the basis of what Solanki advised, let's assume that one steps-up one's Rs 4,500 SIP by 10 per cent annually, in that case, the SIP calculator suggests that one would be investing Rs 88,82,677 in 30 years and the return he or she would get in the same period would be Rs 5,71,44,674. This means the maturity amount that the investor would get after 30 years in the step-up form of SIP would be Rs 5,71,44,674, which is 124 per cent higher than the SIP maturity amount of Rs 2,54,73,893 without step-up.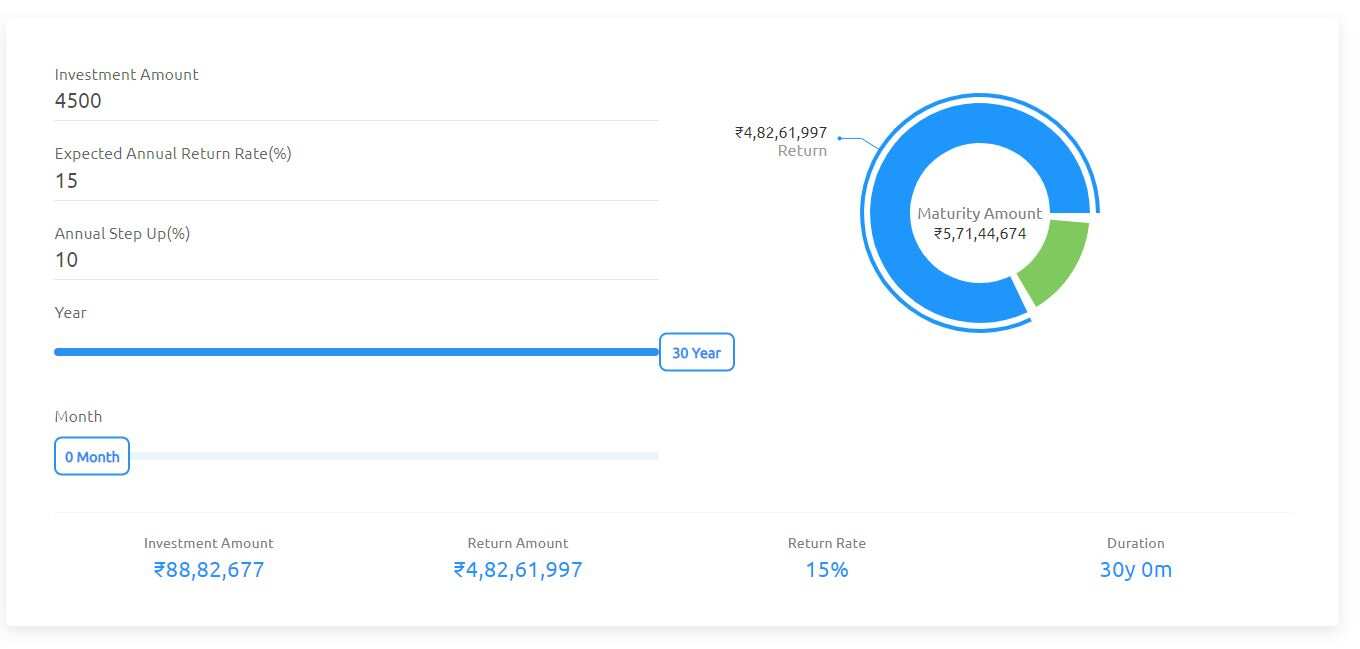 So, as per the SIP calculator, one can grow one's money 124 per cent more in 30 years of SIP by using a 10 per cent step-up rick and generate a retirement fund which can be as much as the earning individual is expecting at the time of retirement. Yes, investors can realise their dreams and become crorepati multi times over!
Get Latest Business News, Stock Market Updates and Videos; Check your tax outgo through Income Tax Calculator and save money through our Personal Finance coverage. Check Business Breaking News Live on Zee Business Twitter and Facebook. Subscribe on YouTube.