Big changes in HFCs make banks the new home loan harbor for buyers - Best EMIs compared here
HFCs now are facing stiff competition from banks when it comes to financing housing loans.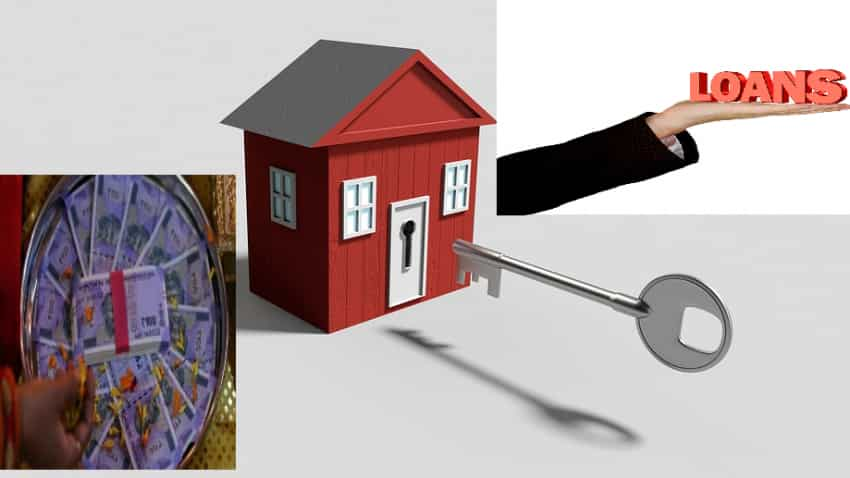 Housing Finance Companies (HFCs) have been facing big challenges since mid-2018. Photo: Pixabay/Reuters
Housing Finance Companies (HFCs) have been facing big challenges since mid-2018, and now the impact is clearly being witnessed in their home loans. Notably, disbursement of loans have slowed down from HFCs, which as per an India Ratings research note. This is believed to have had a spillover impact on both retail home loan borrowers and property developers. However, while HFCs are trying to ensure their lending businesses do not fall precariously, state-owned and private banks have become the new harbor for home loans. With back-to-back cut in policy repo rates, banks have also reduced their benchmark MCLR. In fact, even banks like State Bank of India (SBI) and HDFC Bank have also revised their home loan rates downward, making EMIs cheaper. Now, HFCs are facing stiff competition from banks when it comes to financing housing loans.
According to India Ratings, "The housing finance sector has been facing challenges, which have led to a contraction in spreads, a rise in funding cost and an increased spotlight on their asset-liability mismatches. Such mismatches have resulted in constrained financing from both market-based sources (CPs and NCDs) and banks for many players."
Ind-RA explains that, the systemic rise in market borrowings rate has affected the housing loan business. The borrowing cost for some large HFCs could be upwards of banks' marginal cost of funds-based lending rate (MCLR). This has led to the shrinking of margins in mid-to-large ticket housing loans, where banks are highly competitive. Furthermore, the ongoing challenges in the real estate and small and medium enterprise segments (loan against property customers) may lead to HFCs reassessing loan growth plans, thereby putting pressure on their margins.
"As risk aversion increases among lenders in the wake of rising concerns over asset quality and asset-liability tenor, funding access has been constricted. Many HFCs had increased short-term funding to reduce funding cost, supported by benign liquidity conditions. During tight liquidity conditions, the varied nature of lending and funding duration could lead to a mismatch in the asset-liability tenor. HFCs lend for a long duration but their funding duration remains three-four years, leading to asset liability gaps," says Ind-Ra.

The rating agency highlights, the mismatch has come to the fore after September 2018 as liquidity and market borrowing got tighter to mobilise, along with the reluctance of banks to increase exposure to the housing finance industry.
Hence, with HFCs difficult days banks here have the opportunity to further strengthen their home loan presence. 
So how much difference is there between the HFC and the others? Let's compare who offers best home loans and EMIs:
SBI - With effect from May 10, 2019, SBI's home loan below Rs 30 lakh, now has interest rate between 8.55% to 8.75%  for salaried women and 8.60% to 8.75% for salaried men. Meanwhile non-salaried women and men will get interest rates between 8.70% to 8.80% and 8.75% to 8.85% respectively. 
HDFC Bank - For home loan upto Rs 30 lakh, the bank levies interest rate of 8.70% and 8.75% on salaried women and men respectively. While if one is self-employed then, rate will be 8.85% and 8.90% on women and men. 
ICICI Bank - Here a salaried borrower will get 9.05% interest rate on home loan upto Rs 35 lakh, while 9.15% and 9.20% is set on loans between Rs 35 lakh to Rs 75 lakhs and above Rs 75 lakhs. 
Housing Finance Development Corp (HDFC) - Home loan upto Rs 30 lakh for women, the HFC offers 8.65% to 9.20% interest rates. While for other category, the rate varies from 8.70% to 9.20%. 
PNB Housing Finance - Here loan are offered at a starting rate from 9.10% to maximum 11.25% for salaried and self-employed. 
Dewan Housing Finance Corp Ltd (DHFL) - Home loan interest rate here are set at a starting rate of 9.75% per annun onward. 
Indiabulls Housing Finance - Home loan interest rates here begin from 8.80% to maximum 12% per annum. The final rate depends upon Profile , Loan amount , tenor and property type.
Updated: Tue, May 21, 2019
03:14 pm
Mumbai, ZeeBiz WebDesk