Best home loan offers compared: SBI vs HDFC Bank vs ICICI Bank vs Bank of Baroda
Let's compare who offers best home loan interest rates among major lenders.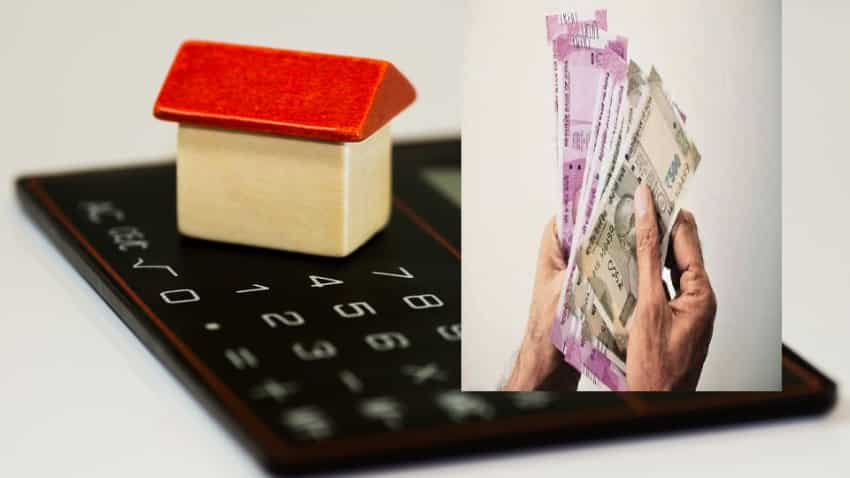 MCLR aka Marginal Cost of Funds based Lending Rates, is a minimum interest rate for banks below which they cannot lend money to borrowers. Photo: Pixabay/PTI
Updated: Tue, Apr 30, 2019
05:42 pm
Mumbai, ZeeBiz WebDesk
Experts were split in two opinions when the Reserve Bank of India (RBI) decided to trim the repo rate by 25 basis points. But, the RBI followed the downward trend in inflation indicator CPI. This definitely did come as a good news for homebuyers, as banks were now well positioned to bring down home loan interest rates. Although many banks reduced their MCLR benchmark, it was largest lender State Bank of India (SBI) that the took first step. The real case scenario is that even if MCLR gets deducted, the existing home loan borrowers will not see the material impact in their EMIs. Similarly, new home loan interest rates also depend on the spread placed by the bank against MCLR. SBI's move forced other banks to bring down their home loan rates too. Let's find out who offers best home loan interest rates among major lenders. 
SBI - SBI made its housing loan up to Rs 30 lakh more affordable by reducing it by 10 basis points. Now SBI offers home loan to women if they are salaried, at an interest rates between 8.60% to 8.70%. Whereas, for non-salaried women, the interest rate ranges from 8.75% to 8.85%.  In other category, home loan for salaried has an interest rates of 8.65% to 8.75%. While, the non-salaried sees interest rates of between 8.80% to 8.90%.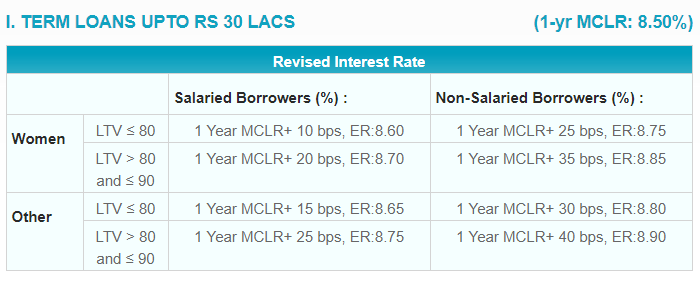 HDFC Bank -  Loan up to Rs 30 lakh, has interest rates of 8.70% and 8.75% on salaried women and other category. Meanwhile, the non-salaried women and men will see home loan interest rate of 8.85% to 8.90%. 

ICICI Bank -  The home loan limit here is up to Rs 35 lakh, and a salaried borrower enjoys 9.05% interest rate. Whereas self-employed borrower will see 9.10%. 
Bank of Baroda - The home loan interest rate here is derived from taking into consideration one year MCLR + 1%  as per risk rating of applicant. One year MCLR of BoB is 8.65%. 

SBI and HDFC Bank home loan interest rate on similar lines and better compared to other lenders. However, SBI leads the way because its home loan interest rate is lowest at 8.60%, and also they are sanctioned depending upon loan-to-value ratio. 
When RBI brought policy repo rate down by 25 bps to 6% from previous 6.25%, experts had indicated an upswing home loan. 
For April 2019 policy, Sarojini Ahuja - VP, Sales & Marketing, Transcon Triumph said, "The second consecutive rate cut of the calendar year 2019 by RBI will have a positive impact on the Indian economy. The decision is expected to bring down home loans, solving the liquidity crisis of the banks and other lending bodies. Presuming that the banks will pass on the benefit to the customers which will lead to lower EMI and higher purchasing power capacity of the home buyers. Declining interest rates along with new reduced GST rates which are effective from April 01, 2019, collectively will encourage the buyers to buy their dream home."
Further, Ravindra Sudhalkar ED & CEO of Reliance Home Finance said, "Setting up the committee for assessing housing finance securitisation market is a welcome move which will help further easing liquidity in the system. Overall, cut in rates will positively impact home loan interest rates by reducing EMIs, and in turn provide stimulus to demand-side in real estate. We also expect improvement in flow of bank credit to NBFCs."
Surely, the new borrowers will enjoy the rate cut benefit in their home loan and hence cheap EMIs. There is a fine line that an existing borrower must understand.
At first, RBI postponed its plan to eliminate MCLR with external benchmarks. RBI in December 2018 policy, declared that, banks will link their floating rate on retail loans including home loan with external benchmark such as RBI's policy repo rate, government's 91 days treasury bill yield produced by FBIL and 182 days treasury bill yield led by FBIL. A deadline of April 01, 2019 was set by RBI for banks to follow. Interestingly, SBI ones again became the first bank to follow the pattern, but by linking its savings account deposits and short term loan above Rs 1 lakh with repo rate. 
However, in April 2019 policy, RBI led by governor Shaktikanta Das decided to halt this move for further discussions with stakeholders in order to work out mechanism for transmission of rates. This means, MCLR is still the vital benchmark which decides changes in your home loan interest rates. 
What is MCLR?
MCLR aka Marginal Cost of Funds based Lending Rates, is a minimum interest rate for banks below which they cannot lend money to borrowers. It simply means that, banks decide their loan interest rates above MCLR but not below. Home loans are decided taking into consideration MCLR and spread. Notably, banks have the freedom to decide their own spread of interest rates either to make their loans attractive or protect their cost of funds. 
MCLR rates are revised every month for tenures like overnight, one month, three month, six months, one year, two year and three years. In a rate cut scenario, borrowing from RBI becomes cheaper for banks. This in return reduces cost of funds for banks, and also lessen their dependency on deposits for funding during lending. Hence, banks have the opportunity to reduce their lending rates. 
Generally, when MCLR comes down, the impact should be seen positively in account of home loan borrowers. But the real issue is the benchmark.  Noticeably, SBI, ICICI Bank and BoB, they all have set 1 year MCLR benchmark on their loan. 
The 1-year MCLR plays a major role! For instance, if you have taken an home loan in the month of  July 2017 and your bank has set 1-year MCLR. This means irrespective of changes in MCLR rates, your home loan interest rates will see a revision in July 2018 only. Some banks even set above 1-year MCLR benchmark on loans. Hence, you miss out on rate cut opportunities.
In such cases, your possible move can be to wait for the MCLR rate change to reflect in your loan on reset date. Or else you can always switch your home loan to other banks, if they offer cheaper EMIs. As for new borrowers, it will be advisable to always check, the MCLR benchmark and compare banks interest rates while opting for home loan. Hence, change in your EMIs will also be automatically reflected. 
Get Latest Business News, Stock Market Updates and Videos; Check your tax outgo through Income Tax Calculator and save money through our Personal Finance coverage. Check Business Breaking News Live on Zee Business Twitter and Facebook. Subscribe on YouTube.