ATM charges: On cash withdrawals from banks, this is what you pay, but it is set to change
Bank ATMs provide a huge number of services that are very helpful for citizens. However, customers pay for them. RBI has looked deeply into this and has made an announcement that will come as a big relief for customers.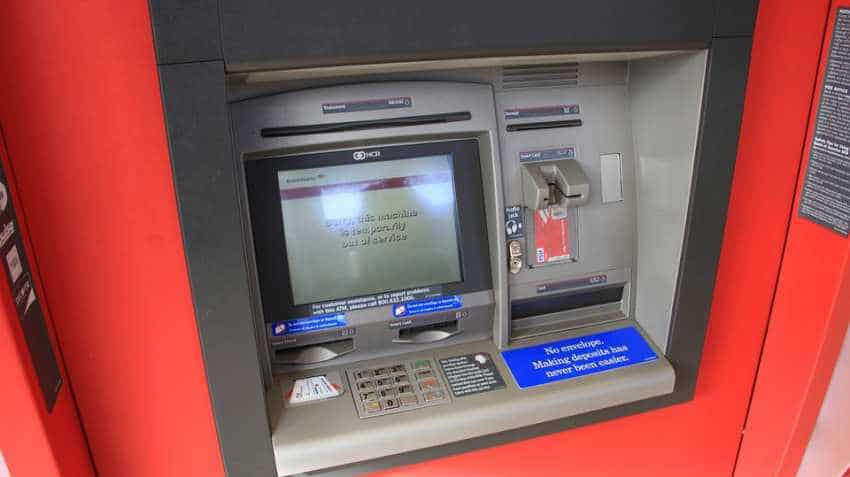 Cash withdrawals from bank ATMs and digital transactions have become a key focus area for the Reserve Bank of India (RBI). Photo: Pixabay
Cash withdrawals from bank ATMs and digital transactions have become a key focus area for the Reserve Bank of India (RBI) - it has looked at bringing relief to customers. RBI, in its monetary policy meet yesterday, announced that it has decided to do away with charges levied on NEFT and RTGS and it is also looking at service charges that customers pay on bank ATM transactions. ATM services have become very advanced and they are not restricted to just balance enquiry, withdrawing cash or reviewing statements. Now, one ATM with one debit card can help you pay bills, file income taxes, e-verify ITR filing, cash deposits, pre-approved loan application, mobile recharge, book railway tickets or even apply for fixed deposits. Hence, the scope of ATM services is vast. 
RBI in June 2019 policy said, "There have, however, been persistent demands to change the ATM charges and fees."
Thereby, to address these issues, RBI decided to set up a Committee involving all stakeholders, under the chairmanship of the Chief Executive Officer, Indian Banks' Association (IBA), to examine the entire gamut of ATM charges and fees.
While, the composition and terms of reference of the committee will be issued in a week, however, RBI has given two months time to these members in examining the charges system in ATM services. 
From April 2018 to April 2019, there has been a drastic rise in the number of ATMs to 2,27,164 from previous 6,723. Meantime, debit cards transactions at ATMs increased by 7.4% to Rs 2.8 trillion (last year the growth was 22.1%).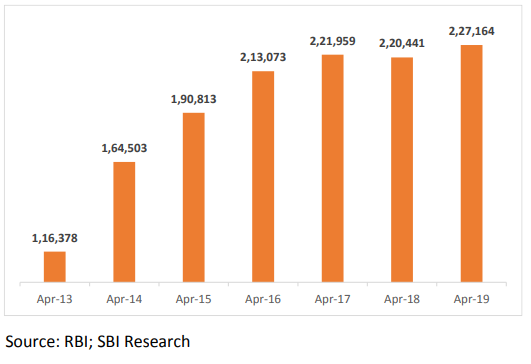 Dr. Soumya Kanti Ghosh, Group Chief Economic Adviser at SBI said, "Since Apr'18, the figure for per debit card transaction at ATM has also increased marginally by on an average Rs 300 to Rs 3,200."
Against this backdrop, Ghosh said, "RBI's decision to review entire gamut of ATM charges and fees is very timely. We believe that ATM charges should be rationalised to benefit all the stakeholders of the ATM industry. The growing cost of ATM deployment and maintenance incurred by banks on the one hand as well as the rising interchange out-go should be considered by RBI before taking any decision. As per the estimates, one ATM transaction costs around Rs 30 (based on 120 transaction/per day), while banks charges customers at max of Rs 20 per transaction."
With the rise in card issuance powered by Jan Dhan scheme and other Government initiatives, Ghosh says, "there is a need for a sustainable business model for the ATM industry."
Apart from this, even ATM availability recommendations are also expected. K. Srinivas, Director, Confederation of ATM Industry (CATMi) told Zee Business Online, "CATMi has been, over the last two years, highlighting how inadequate Interchange is hampering the deployment of ATMs in semi urban and rural areas. With increasing adoption of DBT as the preferred and optimal method of distributing subsidies to the rural poor, the inadequate ATM infrastructure in semi urban and rural areas started to show up as a major bottleneck."
Srinivas also said, "The recent report submitted by CDDP, a committee chaired under the Chairmanship of Nandan Nilekani as well as the benchmarking report published by RBI also highlight this issue of inadequate ATM infrastructure in SURU areas."
Giving thumbs up to RBI's new move on ATMs, Srinivas added, "ATMi is pleased that RBI recognised the issues highlighted by the industry and has decided to set up a committee to comprehensively look at ATM costs and charges. We are optimistic that the committee will come out with recommendations to address this critical gap in driving financial inclusion and ensuring the availability of an ATM within a 5 km radius of every citizen in the country" 
Well, every citizen who practices ATM services in their day-to-day life, are hoping for some revision in regards to charges and fees. However, an outcome can be expected within 2 months. That said, let's find out how much you are being charged for carrying out ATM services. 
Notably, unlike RTGS and NEFT charges, there are host of fees levied by banks on ATM services right from balance enquiry to cash withdrawals.
SBI:
Rs 100 plus GST is levied on ATM card application or KIT returned by courier due to wrong address. Also, if you visited your ATM, but your transaction  declined due to insufficient balance, then Rs 20 plus GST is applicable. Meanwhile, Rs 22 plus GST is given on cardless cash withdrawal at ATMs. Also, if you are making cash withdrawal from wallet balance through ATM, then Rs 25 per transaction charge is imposed. 
A total 5 transaction is free of charge on SBI's ATMs in both 6 metros and other centres. However, if SBI debit card is used at other banks ATM, then only 3 transactions are allowed in a month in 6 metro centres, while only 5 is given on other centres. It needs to be noted that, these limits are available for transaction value below Rs 1,000 and between Rs 1,000 to Rs 25,000. If these limit exhausted then, SBI will levy Rs 10 plus GST on their ATMs. Whereas, on other bank ATMs the limit if surpassed, then Rs 20 plus GST each is levied on 6 metro centres and others. 
Interestingly, SBI does not have any limit on ATM transactions valuing Rs 25,000 to Rs 50,000; Rs 50,000 to Rs 1 lakh and above on their machine. But, if used other bank ATMs, then there is a limit of only 3 transactions per month on 6 metro centres and 5 for other centres for values between Rs 25,000 up to Rs 1 lakh. SBI allows unlimited transactions at other bank ATMs, if the transaction was over Rs 1 lakh. 
Further, SBI has balance enquiry service at ATMs, for which the bank levies Rs 25 plus GST.
HDFC Bank:
The ATM card is given for free of cost. However, on replacement of the card, there Rs 100 plus taxes levied. The bank also allows free balance enquiry. However, 5 free cash withdrawal transaction per month at a non-HDFC Bank ATM is allowed. If surpassed this limit, then Rs 20 per transaction will be levied on other bank ATM. Per transaction limit will be Rs 10,000. 
Rs 25 plus taxes on transactions which declined at other Bank ATMs anywhere in the world or at a merchant outlet outside India. 
ICICI Bank:
First 3 transactions are free at non-ICICI Bank ATMs in 6 metros like Mumbai, New Delhi, Kolkata, Delhi, Chennai, Bengaluru and Hyderabad in a month. Meanwhile, 5 transactions are free of cost in other cities.  Transactions carried at ICICI Bank ATM, then 5 transactions in a month is free. Thereafter, on limit exhaustion, Rs 20 per financial transaction and Rs. 8.50 per non financial transaction will be imposed. 
Punjab National Bank (PNB):
At PNB ATMs, 5 transactions are free in a month. After that, Rs 10 plus taxes is levied. NB Cardholders attached to Saving Bank accounts may make three transactions in 6 Metro and five transactions in other cities at ATMs of other banks free of cost in every calendar month. Any transaction after these limit, will attract charges of Rs. 20 for financial transactions and Rs. 9 for Non-Financial Transactions respectively at other Bank ATMs.
From the above, it is quite clear ATM charges come with a lot of baggage. Also, one of the top issues is that, sometimes a customer forgets the monthly limit or doesn't have availability of his or her bank's ATM or it is running dry, which results in usage of other bank ATMs and exhausting the limit. Hence, key reforms can be expected from RBI in coming two months in regards to ATMs too.
Get Latest Business News, Stock Market Updates and Videos; Check your tax outgo through Income Tax Calculator and save money through our Personal Finance coverage. Check Business Breaking News Live on Zee Business Twitter and Facebook. Subscribe on YouTube.
Updated: Fri, Jun 07, 2019
05:14 pm
Mumbai, ZeeBiz WebDesk