Akshaya Tritiya 2018: Buying gold? Don't get cheated; follow these 7 steps
Akshaya Tritiya:  Gold usually sees massive rise in demand on this day every year either in the form of jewellery or coins.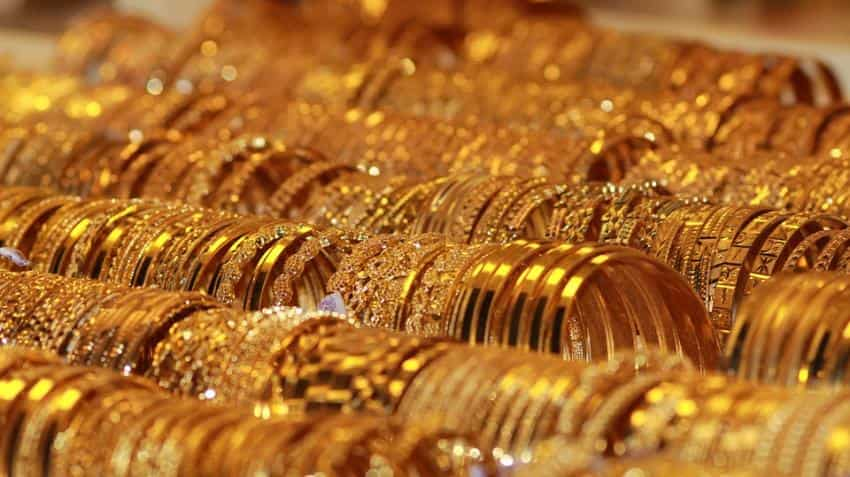 Representational Image: Photo: Pixabay
Akshaya Tritiya:  Indians wait eagerly for an auspicious occasion to roll by in order to purchase gold. The yellow metal turns virtually into a magnet on such occasions be it Diwali or even Raksha Bandhan. Indians always find a way to celebrate festivals with a touch of gold. One such festival is Akshaya Tritiya and this fest is right around the corner. People from different regions in India will be celebrating Akshaya Tritiya on April 18. During this period, demand for gold particularly physical gold in the form of jewellery, bars and coins usually witnesses a rise. 
Traditionally investors in India purchased gold in physical form, which along with real estate forms a big portion of country's household savings. However, they tend to forget a list of additional costs (for example storage costs) that is latched to the purchase of physical gold from the investment perspective.
As per a BankBazaar report, the country has gold reserves of over 550 tonnes, while the total gold in the country is estimated to be over 20,000 tonnes.
Generally, prices of yellow metal trend on higher note during this day, as demand increases from both buyers and retailers. In this week, both 24 karat gold and 22 karat gold in 10 gram has surged to over Rs 32,000-mark and Rs 30,000-level respectively. 
Despite the expensive yellow metal, jewellers are very optimistic on the demand of gold this Akshaya Tritiya, as they expect nearly 20% increase in sales, mainly on the back of positive market sentiment, stable prices and ongoing wedding season. 
All India Gem And Jewellery Domestic Council (GJC) Chairman Nitin Khandelwal told PTI, "Things are looking positive this year and the prices are also stable, ruling at around Rs 30,820 per 10 grams. There is also a lot of traction for wedding jewellery due to ongoing marriage season." He added saying, "Overall there is a positive sentiment in the market, so we are hoping 15-20 per cent growth in sales this Akshaya Tritiya, compared to last year."
Jewellers usually see massive rise in demand for yellow metal on this day every year either in the form of jewellery or coins – however, there is a chance that you may be misled. Hence, it is always a smart move to keep a list of factors in mind while buying this metal to avoid being cheated. 
1. Know the Purity of Gold:
Purity of gold is denoted in karats – with 24 karat gold being 99.9% pure and 22 karat gold being 92% pure. 
Each karat of gold is equivalent to 4.2% pure gold, which means that 14 and 18 karat contains only 58.33% and 75% pure gold, respectively.
24 karat gold is not suited to make jewellery, which is why jewellers use either 14, 18 or 22 karat gold. 
2. Making charges:
Current gold rates usually include making charges - so it is important to insist on fixed making charges otherwise one can be fooled by jewellers in paying higher making charges. 
Gold jewellery prices can be calculated by Gold price per gm)* (Weight in gm) + (Making charges)*(Weight in gm) + GST. 
3. Man-made versus Machine made ornaments:
One should discuss the making charges with the jewellers and as these charges on machine made artefacts are lower than charges on man-made artefacts -  making  them cheaper. 
4. Check the weight:
In India, most jewellery are sold by weight. Heaviers pieces usually cost more. 
Precious stones like diamond and emerald are often added to gold jewellery, making them heavier in the process. 
5. Buy back:
In case if you want to exchange your old jeweller with a new one, there are buyback options available in many jewellery shops
While designs and trends can change, the value of gold remains same and discussing buy backs during a purchase could benefit one.
6. Jewellery store: 
There are million of jewellery stores in India. 
Purchasing gold jewellery from small stores could be a risk as they might pass of impure gold as pure gold or could sell stolen gold artefacts. 
Thus, buying gold from a reputed jeweller erases the amount of risk as it comes with guarantee.
7. Mark of Bureau of Indian Standards: 
Buy gold which are hallmarked by Bureau of Indian Standards (BIS). 
The BIS Hallmarking Scheme has been aligned with International criteria on hallmarking (Vienna Convention 1972). As per this scheme, licence is granted to the jewellers by BIS under Hallmarking Scheme. 
To check the jewellery stores which are hallmarked by BIS. Click Here
Last year, gold sales went by as much as 30.5%,, compared to the trend seen in 2016. To put this number into perspective, gold sales have hit almost 23.5 tonnes last year compared to the 18 tonnes sold in May of 2016.
Updated: Tue, Apr 17, 2018
09:39 am
Mumbai, ZeeBiz WebDesk