Japan's factory output races in April to hit its highest level since 2008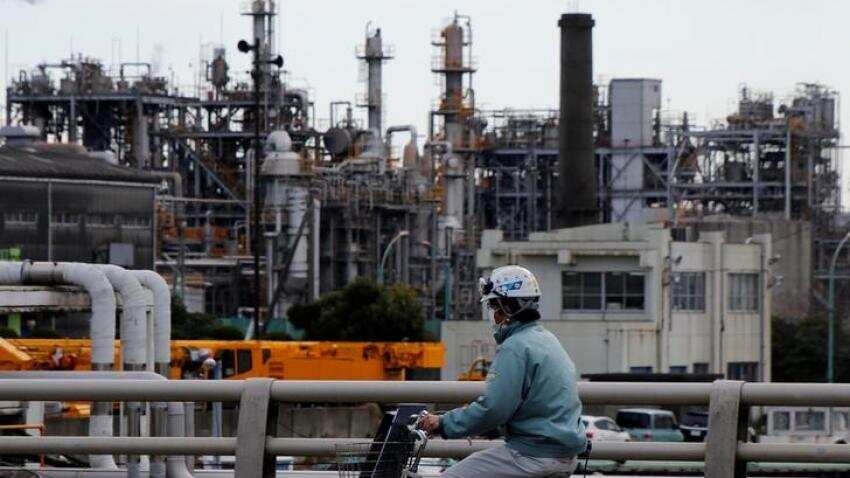 FILE PHOTO: Worker cycles near a factory at the Keihin industrial zone in Kawasaki. Pic: Reuters
Updated: Wed, May 31, 2017
08:40 am
Tokyo, Reuters
Japan`s factory output rebounded in April from March and grew at the fastest pace in almost six years, taking production to its highest level since 2008.
Japan`s industrial output rose 4.0 percent in April from the previous month, the strongest growth since posting a 4.2 percent gain in June 2011, although slightly shy of the median estimate in a Reuters poll for a 4.3 percent rise.
Cars and car parts, plus equipment for making flat panel displays and semiconductors, were the fastest-growing among the 11 sectors in the 15-sector index showing growth.
The seasonally-adjusted production index for April hit 103.8, the highest level since October 2008`s peak at 107.4, as robust overseas demand continued to support growth.
"Output grew at a very high level in April. I think production will continue to grow as a trend," said Norio Miyagawa, senior economist at Mizuho Securities.
"The result kicked off a start to the second quarter that gives us hope for positive growth," Miyagawa added.
Overall inventories increased 1.5 percent in April from March, the fifth straight rising month, as stocks of cars and trucks rose.
The rise in inventory of cars may have been partly due to holidays in early May that delayed shipments, a Cabinet Office official said.
The official noted that production and inventories were not completely balanced, with companies starting to build larger inventories.
"I don`t think inventories will continue to rise at a worrying level," said Takeshi Minami, chief economist at Norinchukin Research Institute.
Manufacturers surveyed by the ministry expect output to fall 2.5 percent in May on decreased output of transport equipment, fabricated metals, and iron and steel, but to rise 1.8 percent in June.
Japan`s economy grew in the first quarter at the fastest rate in a year to mark the longest period of expansion in a decade, thanks to solid exports and a helpful boost from private consumption.