Mankind Pharma, SpiceJet, Orient Bell, Delta Corp, Tata Steel, Wipro, and MCX among top stocks to watch today
Stocks to watch: Mankind Pharma said on Monday that commercial operations with respect to pharmaceutical formulations had commenced at the company's newly set-up plant in Udaipur, Rajasthan, with effect from Monday, i.e., September 25, 2023.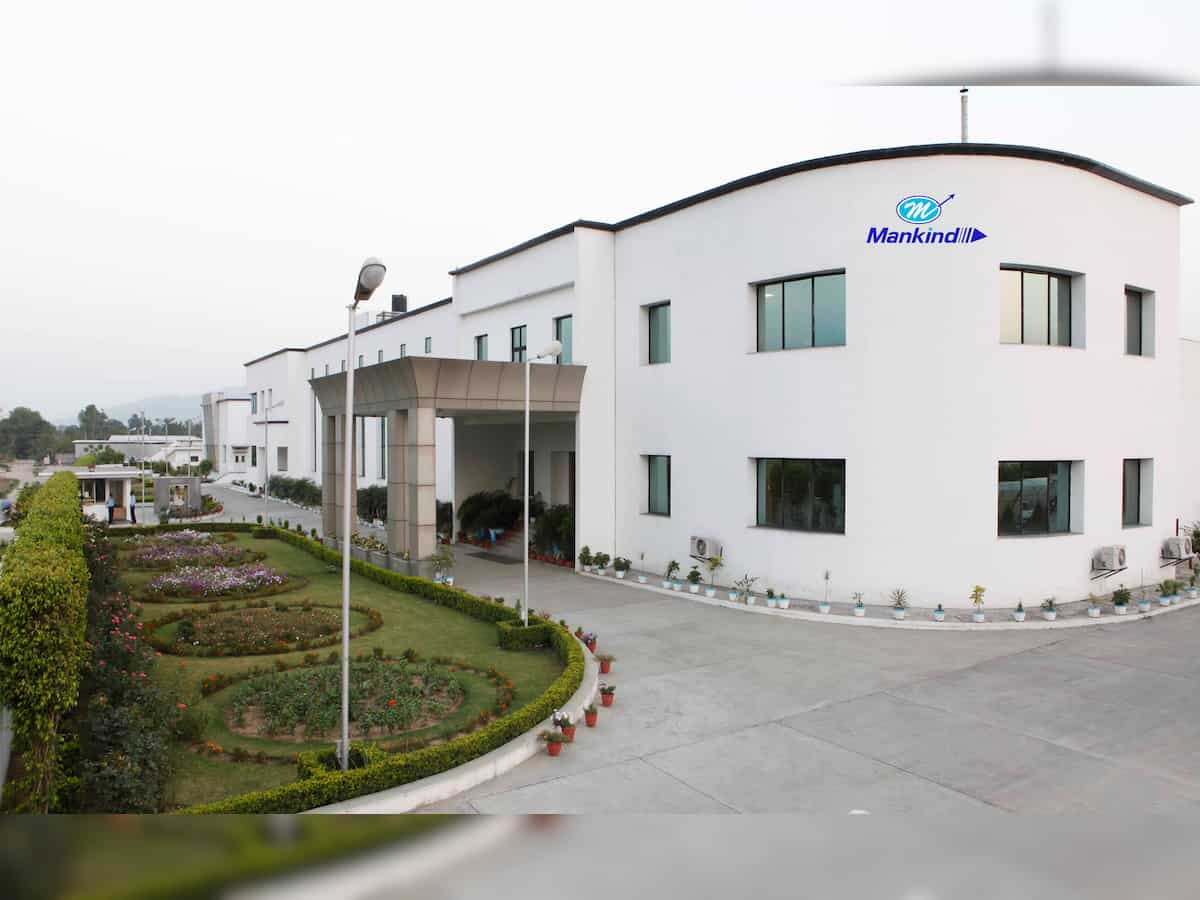 Stocks to watch: A Mankind Pharma company unit. Photo: File/Representational
Stocks to watch: At around 8:03 a.m. on Tuesday, September 26, the GIFT Nifty futures traded 51.25 points, or 0.26 per cent, lower at 19,653, suggesting a flat-to-negative start to trading on Dalal Street.
On Monday, the S&P BSE Sensex gained 14.54 points to settle at 66,023.69, while the NSE Nifty settled flat at 19,674.55.
ZeeBiz takes you through the list of shares that can make an impression in early trading hours on Tuesday (September 26, 2023).
Tata Steel: Moody's has upgraded the corporate family rating to 'Baa3' from 'Ba1' positive. 
G R Infraprojects Ltd: National Highway Logistics Management Ltd. cancelled two bids worth Rs 1875 crore and Rs 1,738 crore, for which G R Infraprojects was the L1 bidder.
Welspun Corp Limited: Welspun Corp Limited's subsidiary Sintex BAPL signed a Memorandum of Understanding with the Telangana government to establish a manufacturing unit in the state for the production of water tanks and PVC pipes. The investment is Rs 350 crore.
SME stocks: Listed SME stocks will be strictly monitored from now on; short-term ASM will also be applicable to SME shares as of October 3. The move comes after the rise of SME stocks against the average price and volume of the Nifty 500 and BSE 500.
Wipro: The company sold 14 acres of land in Chennai for Rs 268 crore.
Ami Organics: The company raised Rs 52 crore through a preferential issue. 4.43 lakh shares were issued to Kavita Bhatia and Ram Bilas Sharma for Rs 1169 per share. 
Indian Hotels: The company will invest Rs 95 crore in the Netherlands subsidiary.
MCX: The Annual General Meeting (AGM) will be held at 11:30 a.m. today.
Mankind Pharma: The pharma company said on Monday that commercial operations with respect to pharmaceutical formulations had commenced at the company's newly set-up plant in Udaipur, Rajasthan, with effect from Monday, i.e., September 25, 2023.
SpiceJet: The aviation company on Friday gave an undertaking to the Apex Court that it would pay a monthly instalment of $1 million for the next six months and, thereafter, $500000 per month to clear its outstanding dues to Credit Suisse.
The assurance was given by the company's counsel on Monday to a bench of Justice Vikram Nath and Justice Ahsanuddin Amanullah during the hearing of a contempt petition filed by Credit Suisse.
Orient Bell Limited: The company announced on Monday that CRISIL has reaffirmed its long-term as well as short-term ratings on the bank loan facilities.
While CRISIL has reaffirmed Orient Bell's long-term rating as 'A' stable, it has also reaffirmed the company short-term ratins as A1.
"The re-affirmation of the credit ratings by CRISIL reflects the unique positioning of Orient Bell Limited within the tiles industry," the company said in a statement on Monday.
Delta Corp., India's largest casino chain, was down more than 18 per cent in trade on Monday due to an alleged tax shortfall of Rs 11,139 crore. Ace investor Ashish Kacholia sells 15 lakh shares in the company.
The stock closed at Rs 143, down 18.4 per cent, on the BSE. It will be interesting to see if the share plummets further on Tuesday.
Tips Industries: Music company Tips Industries Limited on Monday announced the appointment of Mr. Hari Nair as its new Chief Executive Officer.
"Hari brings in 25 years of overall experience, of which the last two decades were spent in the music ecosystem. With this appointment, TIPS aims to strengthen its core leadership team as well as focus on driving revenues further, the company said in its BSE filing.
Voltamp Transformers: The promoter is likely to sell 12 lakh shares, 10 per cent stake through a block deal. The deal size is Rs 550 crore at a floor price of Rs 4,600, which translates to a 10 per cent discount from the current price. 
Vishnu Prakash R Punglia: The company recorded a profit of Rs 16.4 crore against Rs 10.8 crore, up 51.6 per cent year-on-year (YoY). The company's margin stood at 11.72 per cent from 11.30 per cent a year ago. The revenues were up 46.5 per cent to Rs 278 crore against Rs 186 crore a year ago. 
Century Textiles: The company launched a project launched in Bengaluru, 'Birla Trimaya Phase-1'. Bookings worth Rs 500 crore are already done under Phase 1. The estimated earning potential of the entire project is Rs 3000 crore.
Selan Exploration: Merger approved with promoter Antelopus Energy. The company will also give a loan to Antelopus Energy which will come under a related-party transaction.
Auto stocks: HSBC maintained a 'buy' on Maruti Suzuki and raised the target to Rs 12,000 apiece from Rs 11,000 apiece.
Meanwhile, Jefferies maintained a 'buy' on Eicher Motors and raised its target to Rs 4,150 apiece from Rs 4,000 apiece. 
Larsen & Toubro (L&T): Goldman Sachs maintained a 'buy' on Larsen & Toubro and raised the target to Rs 3,140 apiece from Rs 2,830 apiece on the back of strong YoY growth in order inflow, revenue, and net income (double-digits) in Q2. The brokerage estimates the Q2 earnings to reflect the next few years of growth trends. 
Varun Beverages: BoFA Secutritiores has maintained a 'buy' on Varun Beverages and has raised the target to Rs 1,030 apiece from Rs 925 apiece. 
Catch the latest stock market updates here. For all other news related to business, politics, tech, sports and auto, visit Zeebiz.com.
(With inputs from PTI)
Updated: Tue, Sep 26, 2023
09:23 am
New Delhi, ZeeBiz WebDesk