Akshaya Tritiya 2023: Key things to keep in mind while buying gold this time
Akshaya Tritiya 2023: As there have been changes in the rules of selling gold applicable from April 1, buyers need to be aware of these rules to avoid buying fake gold.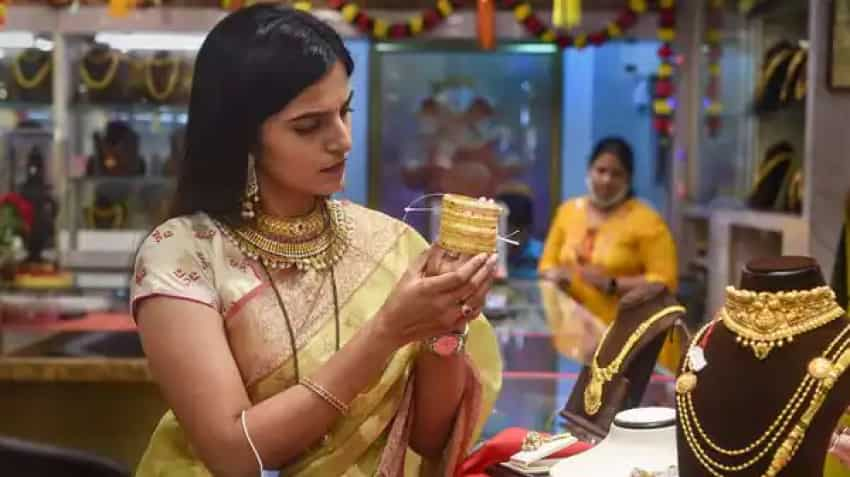 Akshaya Tritiya 2023: How to check the purity of gold, when to buy gold, all you need to know, Pic- PTI
Akshaya Tritiya 2023: Akshaya Tritiya, also known as Akha Teej, is an auspicious and holy day for Hindus. It takes place in the month of Vaishakha during Shukla Paksha Tritiya. This year Akshaya Tritiya will be observed on April 22, 2023. The term Akshaya signifies "never diminishing", thus, it is believed that buying gold on this festival guarantees endless wealth.
As there have been changes in the rules of selling gold applicable from April 1, buyers need to be aware of these rules to avoid buying fake gold. Let's have a quick look at these rules.
Bureau of India Standards (BIS) has prohibited the sale of hallmarked – a mark placed on gold jewellery to ensure its fineness and purity – gold jewellery or gold artefacts without a six-digit alphanumeric Hallmark Unique Identification Number (HUID) after March 31, 2023.
HUID code is a six-digit alphanumeric identification number consisting of numbers and letters.
Akshaya Tritiya: What happens to the old gold jewellery?
Hallmarked jewellery lying with consumers as per old schemes shall remain valid. As per section 49 of BIS Rules, 2018 in case Hallmarked Jewellery bought by the consumer is found to be of lesser purity than that marked on the jewellery, then the buyer/customer shall be entitled to compensation which shall be two times the amount of difference calculated on the basis of shortage of purity for the weight of such article sold and the testing charges.
How to check the purity of gold this Akshay Tritiya?
After the introduction of HUID, the hallmark consisted of 3 marks – the BIS logo, purity of the article, and six-digit alphanumeric HUID. Each hallmarked article has a unique HUID number which is traceable.
ALSO READ: Income Tax Return 2023: Check ITR Filling Last Date, How to e-File Income Tax Returns Online - all you need to know detail process 
a) BIS Standard mark
Any gold jewellery with the BIS hallmark will display the BIS logo, signifying that the purity of the product has been verified by one of the BIS' authorised labs. Customers can recognise this logo on any gold or silver jewellery and coin. The only organisation in India with official approval to hallmark gold objects to certify their purity is BIS.
b) Purity/Fineness Grade
The second mark that verifies pure gold in the jewellery is the fineness number and karat (denoted as KT or K). Gold alloys with other metals like silver and zinc are used to create a durable type of gold since 24K gold is too soft and malleable to be used for jewellery.
Another technique to gauge the purity of gold in jewellery is to use the fineness number, which measures purity in parts per thousand. It is simply another word for 22K gold. For, e.g., if 22K gold weighs 100 gm, it contains 91.6 gm of pure gold per 100 grams of alloy.
c) 6-digit alpha-numeric code or HUID
The jewellery is stamped with the unique number manually at the Assaying & Hallmarking centre. HUID gives a unique identity to each piece of jewellery enabling traceability. It is critical to the credibility of Hallmarking and addressing complaints regarding the purity of Hallmarked jewellery.
When to buy gold this Akshaya Tritiya?
Akshaya Tritiya will be observed on April 22, 2023. On this day, the auspicious time to buy gold according to Drik Panchang is:
Morning Muhurat-7:49 AM to 09:04 AM
Afternoon Muhurat-12:20 PM to 05:13 PM
Evening Muhurat - 6:51 PM to 8:13 PM
Night Muhurat- 9:35 PM to 1:42 AM, April 23
Early Morning Muhurat - 4:26 AM to 5:48 AM, April 23
Catch the latest stock market updates here. For more news on sports, politics follow Zee Business 
Updated: Sat, Apr 22, 2023
09:33 am
Mumbai, ZeeBiz WebDesk