Zee Business Exclusive: SEBI's nod on NSE-NCDEX merger likely to come soon; avenues for agri-commodities to grow significantly
The Securities and Exchange Board of India may approve proposal of merger of National Commodity and Derivatives Exchange Limited with the National Stock Exchange (NSE) in this week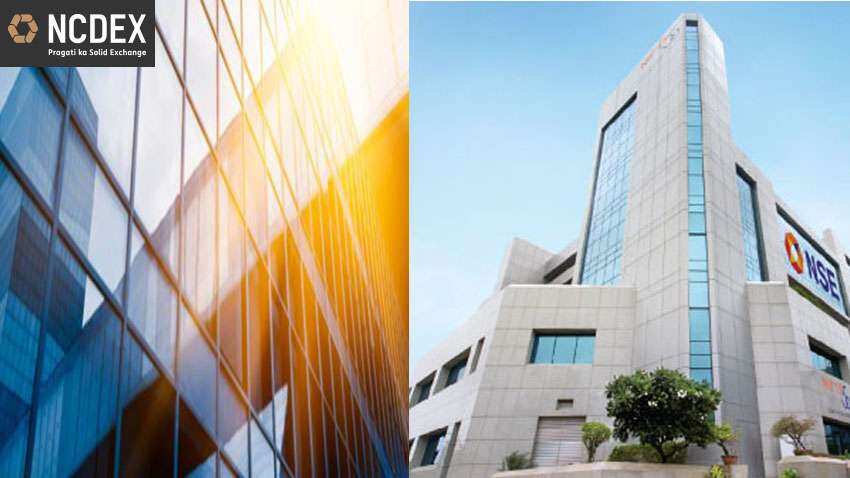 A source close to development told Zee Business that "In-principal approval of merger of NCDEX-NSE may come at any point of time".
The Securities and Exchange Board of India may approve proposal of merger of National Commodity and Derivatives Exchange Limited with the National Stock Exchange (NSE) in this week.  
A source close to development told Zee Business that "In-principal approval of merger of NCDEX-NSE may come at any point of time".  
See Zee Business Live TV Streaming Below:
A market expert told Zee Business " NSE is market leader in equity and NCDEX has highest marker share in agri commodities. And merger of the two entities could be a game changer for agri commodity business".  
In India, NCDEX was the second exchange after Multi Commodity Exchange which started commodity derivative on exchange platform in December 2003.  
MCX and NCDEX started their operation in a month time interval. However, MCX strategically moved out from sensitive agri commodities to non agri commodites especially bullion and base metal products.  
NCDEX focused more on agri commodities and many of them directly affected the budget of kitchen and also fuelled inflation. So became politically sensitive that's why every successive government intervened in their business directly.  
After four years of launch, NCDEX faced first heat from the government in 2007. When the Government banned future of tuar and urad blaming the same for then rise in inflation.  
After that,Guar seed and Guar gum prices jumped exponentially which were major volume contributor. After that exchange faced twice time ban on castor seed.  
Currently, majorly NCDEX volume contributed by thin base commodity. Like Guar Seed or Guar Gum which produce only in three states Rajasthan, Haryana and Gujarat. Similarly with castor seed mainly in Gujarat, Rajasthan and Andhra Pradesh.  
Those commodities which have pan India production or consumption either banned by the government or not traded on NCDEX.  
Recently, also Sebi has banned future and option trading of Chana and Mustard after consultation with government. Both commodities are volume generators for this exchange.  
After Forward Market Commission merger with Sebi most of the things at par with equity market. However, participation of domestic institutional investors are lacking on agri commodities.  
Marker expert feels that after merging with NSE, Both, foreign and domestic institutional investors may trade on NCDEX as they already trading on NSE.  
Institutions like LIC, IFFCO and NABARD each have stakes in NCDEX. State-run Punjab National Bank and Canara Bank each also have 5 per cent shares in the NCDEX.  
Another source close to development told Zee Business "NSE-NCDEX merger talks were going for more than two years. In between NCDEX tried to launch Initial Public Offer also which did not worked out due to COVID-19".  
Source further said, "Sebi proposed amendments in Securities Exchanges Clearing Corporations Regulations which allows NCDEX to become subsidiary of NSE. However, this discussion paper is getting delayed due to difference of opinion in board, or could be scrapped also after resistance from Ministry of Corporate Affairs and Finance Ministry in board of Sebi".  
NSE and NCDEX both have declined to comment on the story. 
Calling this a big development, Narendra Wadhwa, President of Commodity Participants Association of India (CPAI) said that the SEBI's nod augurs well for the development of the agri-commodity segment. He said that the agri-commodity segment is big and carries a lot of potential.The exchange was created for the development of this segment.  
(Disclaimer: The views/suggestions/advices expressed here in this article are solely by investment experts. Zee Business suggests its readers to consult with their investment advisers before making any financial decision.)
Updated: Tue, Nov 23, 2021
05:24 pm
New Delhi, ZeeBiz WebDesk