Star Cement has a target to sell 3 million tonnes of cement by end of the year: Sanjay Kumar Gupta, CEO, Star Cement
The Company has posted a strong set of numbers both on revenues and profits front.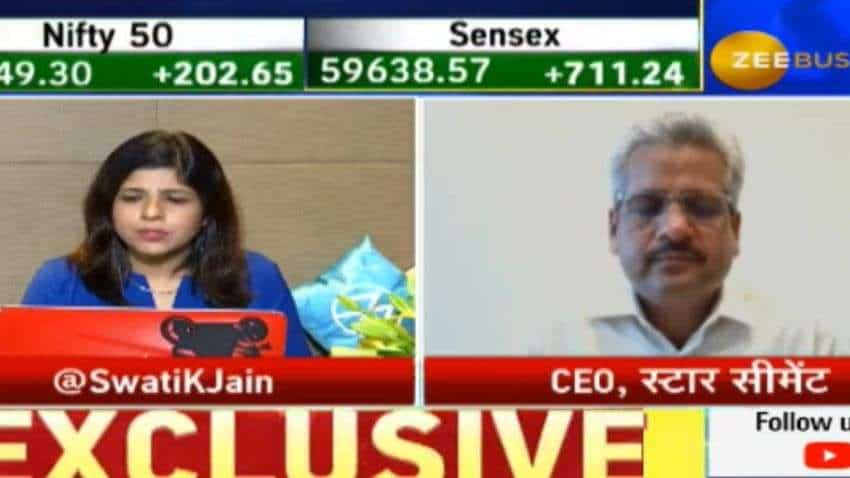 The Company has posted a strong set of numbers both on revenues and profits front.
Written By:
Jitesh Kumar Jha
Updated: Fri, Sep 24, 2021
12:49 pm
ZeeBiz WebDesk
Sanjay Kumar Gupta, CEO, Star Cement, talks about the June quarter numbers, prices, Buyback announcement, capacity and CapEx, debt situation, the ratio of trade sales Vs non-Trade sales, business performance in North East India and growth outlook for FY22 among others during a candid chat with Swati Khandelwal, Zee Business. Edited Excerpts:
Q: The Company has posted a strong set of numbers both on revenues and profits front. What are the highlights of the June quarter and going forward what kind of trend is visible?
A: In the June quarter, we sold around 7,60,000 tonnes of cement as compared to 4,50,000 tonnes sold in the corresponding quarter last year which was largely impacted in April as it was almost a washed-out month. In terms of profitability, the first quarter has been good. But in the second quarter, July onwards, there has been a decline in the cement volumes. If you will have a look at entire Eastern India, the cement volumes of almost every cement player are slightly down. This has been down largely on account of rains, which is happening across India majorly in Eastern India due to which there is a slowdown in construction activities and it has had an impact on the demand for cement. But going forward in quarters three and four, we expect that the cement demand will come back strongly and we will be able to regain the volumes that we have lost in the second quarter. 
WATCH | Click on Zee Business Live TV Streaming Below:
Q: Have you taken any price hikes in the recent past and what is your outlook on it for the future?
A: Fall in demand also has an impact on the price. If you have a look at July and August, the price has corrected by 7-8%. It has been slightly low in North East but there has been a correction of 7-8% in the Eastern sector. It is not surprising, normally, prices are always correct in the monsoon season. We expect that the prices will increase against in third and fourth quarters as the demand picks up arrives, the prices will firm a bit. Price will also firm because the pricing level that has reached in eastern India has reached a very threshold level and operating the cement business profitability below this level will be quite difficult because there is a lot of cost pressure on the cement business at present as coal prices have more than doubled, increase in fuel cost (petrol and diesel) has impacted the transportation cost. All these factors have impacted, so the prices are bound to go up and it will increase in the third and fourth quarter. 
Q: The stock jumped gains on the buyback announcement. How is the buyback offer lucrative and what are you offering the potential shareholders? 
A: The size of the entire buyback is 2% of the total equity and the buyback price has been set at Rs 150 and the existing market price will be around Rs 110. So, the price itself suggests that the company has a lot of confidence in its stocks, this is why the company is making a buyback. The company has a policy under which 30% of the total profit of the company is distributed and buyback is one of the means of doing that distribution and I expect that all the investors will participate in it. 
Q: What is your current capacity and do you plan CAPEX going ahead?
A:  Currently, our cement grinding capacity stands at 5.7 million tonnes and clinker's capacity stands at 3 million tonnes. Going forward in the next two to three years, we have made plans to add another 3 million tonnes clinker capacity and it will be added in North East. Currently, we are implementing a 13 MW WHR plant in the same area. So, two plants have already reached the implementation stage, which will require an expenditure of Rs 1,300-1,400 crore in the next two to three years. After that, we will also think about a grinding plant and the capacity will be increased in the Sonapur plant near Guwahati. So, the company has a robust CapEx plan because the company has cash of Rs 600 crore at present and it will utilize it to expand its capacity.
Q: There has been a significant decrease in your debt. How are you managing it and how are you planning to reduce it more?
A: As of now, the company is a zero-debt company as it does not have any debt. Going forward, when the CapEx will be done, as the company is in a healthy business environment and is generating cash and has the plan to spend Rs 1,300-1,400 in the next two-three years, I believe that all this expenditure will be met through internal accruals. Maybe there can be a lumpiness in debt and we may have to take some debt but by the time the project will be completed, we will be able to fund the CapEx through internal accruals. 
Q: What is the ratio of trade sales Vs non-Trade sales at present and how is the business performing in North East?
A: We are the largest cement player in North East. Demand is stable in the North East region as a lot of decline in demand has not been seen in the region, more or less the demand is similar to what it was last year. Pricing is also stable in North East and has fallen by just Rs 10-15 but it is a general phenomenon and I think it will correct soon. Outside North East, we are more focused on Bengal and Bihar because the Siliguri unit was made operational in January 2021 and it is a 2 million tonnes griding unit. We will sell cement manufactured at the unit in Bengal and Bihar. The capacity utilization of that unit is yet to come to the optimum level, currently, we are being able to run it at a capacity of around 35-40%. Going forward, the capacity utilization of the unit will increase. I expect that we will be able to take the capacity utilization of the unit to 60-70% by March 2022 and at around 90% in the coming years. The overall demand is down at present but as last year we felt that the overall cement demand will sink due to the COVID but it did not happen. Similarly, in 2022, I think, that the phenomenon of a month or two is temporary and we will bounce back strongly in the third and fourth quarters. On a full-year basis, I expect that cement demand should increase by at least 6-7% on an all-Indian basis. 
Q: Do you have any plans for inorganic growth to strengthen your presence in new markets where you are not that strong?
A: We are an eastern-based company and in the coming 4-5 years, our focus will be in the East. Definitely, if we get any growth opportunity in eastern India then we will have a keen look at it. As you would know, we had keenly watched Emami as well and we were quite interested in Emami's business but we didn't succeed in it. But, going forward, if we get any such opportunity then we will have a look at it as we are completely focused on the East and any opportunity in the Eastern sector will be a way to move forward. 
Q: What are your targets for the top line, bottom line and margins at the end of FY22? What growth is expected at the year-end on a year-on-year basis?
A: We sold 2.6 million tonnes of cement last year and we expect that we will be able to sell 3 million tonnes of cement on a full-year basis. Last year, our EBITDA margin stood at around Rs 1,350 per ton and this time, we expect that by year-end the margin will achieve a margin of around Rs 1,400-1,500 per ton. The margin will be maintained at these levels only if we get price support and we expect that the industry will get the pricing support in the third and fourth quarters. 
Get Latest Business News, Stock Market Updates and Videos; Check your tax outgo through Income Tax Calculator and save money through our Personal Finance coverage. Check Business Breaking News Live on Zee Business Twitter and Facebook. Subscribe on YouTube.