Motherson Sumi share price down 7-8 pct today - all positives priced-in at current market rate
Motherson Sumi Systems (MSSL) recently held an investor conference to share details of various businesses under the 90% promoter held entity - Samvardhana Motherson International Limited (SAMIL).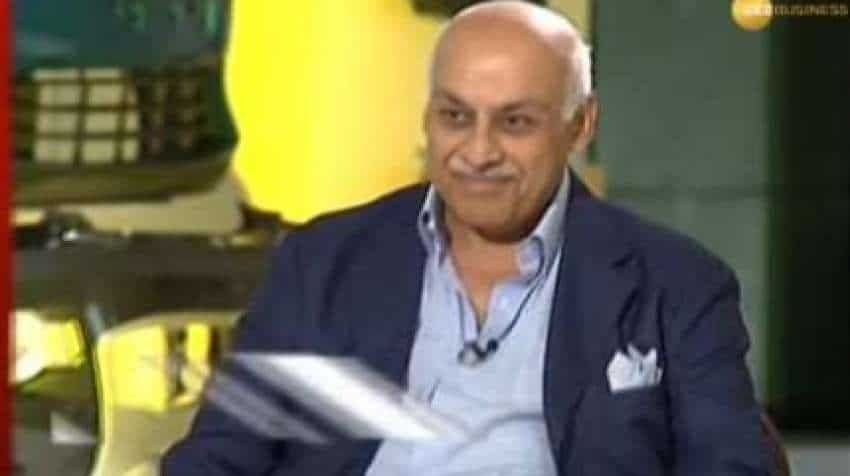 Motherson Sumi share price down 7-8 pct today - all positives priced-in at current market rate
Updated: Mon, Oct 12, 2020
06:04 pm
Mumbai, ZeeBiz WebDesk
Motherson Sumi outlined the key business of SAMIL that it wants to grow in the next five years. As per the management inclusion of SAMIL into MSSL would be EPS accretive from the first year.
Under the new scheme of arrangement, domestic wiring harness division (DWH) would be demerged from MSSL, post which SAMIL would be merged into MSSL (excluding DWH). SAMIL has 15 JV partners from 6 countries with Rs 28 bn in topline with 50 facilities in businesses like lighting solutions, structural parts, HVAC (heating, ventilation and air-conditioning), shock absorbers and vehicle telematics. The contributions of these businesses are currently small with FY20 consol revenue/EBITDA contribution of 3.8%/6.4%.Over a period of time SAMIL has been incubating new products and technologies via JVs to offer a wider portfolio of products to OEMs.. JM Financial believes SAMIL also provides a play on 'Atmanirbhar Bharat'. Prabhudas Lilladher maintains Buy rating with revised Target of Rs139 (vs Rs125) as they now value MSS at 20x (vs 18x) to factor in better than expected recovery in global auto volumes and tight control on debt.
Looking to leverage groups capabilities to diversify and grow into above areas like lightings, suspension, staming, HVAC in the coming five years. In Prabhudas Lilladher view, while current contribution is small, businesses such as lighting, suspension and structured parts are scalable. The top 10 business of SAMIL (such as automotive lightings, HVAC, structural metal parts, shock absorbers and entry in to aftermarket segment) contributes 85% of revenues and 89% of EBITDA for SAMIL (FY20 consol revenue/EBITDA contribution of 3.8%/6.4%). Post the restructuring, SAMIL would be included in one of the listed companies of MSS.
Additionally, while current contribution is small, business such as lighting (among top 3 suppliers in exterior Auto lightings), Suspension (large aftermarket opportunity) and shift from cold stamp to hot stamp (for light weighting) will be a meaningful contributor in coming years for MSS. Also, it has potential for inorganic expansion. (Global opportunity size of $ U.S. 200 bn)
What businesses does SAMIL add to MSSL's portfolio?
 SAMIL brings in businesses of automotive lighting, structural parts, HVAC, shock absorbers, vehicle telematics to MSSL.
SAMIL as a play on 'Atmanirbhar Bharat':
India has 60% dependence on import of key auto components from China, Korea, Germany and Japan. As a result, providing $ U.S.12bn opportunity for import substitution to SAMIL. While the government has already targeted import of tyres, there exists more areas for import substitution. Auto component segments like engine electrical, cabin and load body, cabin electrical, HVAC and others are some of the high opportunity import substitution areas and SAMIL through its various businesses like MMLI (lighting solution), MSGI (body parts), MTTL (high performance tools), VMTI (bus HVAC), CMT (tooling equipment for body parts), FMCEL (cabin solutions) and others, has exposure to these key component segments and is likely to be a key beneficiary from import substitution under 'Atmanirbhar Bharat'.
SAMIL's financials vs MSSL:
SAMIL will be merged with existing MSSL after the demerger of Domestic Wiring Harness division (DWH) from MSSL. As highlighted by the management, SAMIL has Rs 28bn in revenue and Rs 3.7 bn in EBITDA. As a result SAMIL provides an incremental 4%/7% to consolidated revenue and EBITDA of existing MSSL. During FY20, MSSL posted an EBITDA margin of 8.2%. On the other hand top 10 businesses of SAMIL had an EBITDA margin of 13.8% (on an aggregate basis and 13.3% margin at a gross SAMIL level).
Highlights of SAMIL's key business
Mareli Motherson Automotive Lightings (MMLI) is among top 3 players in exterior lighting in India.
1)     MMLI's revenue/EBITDA have increased at 33%/51% CAGR over FY15-20 to Rs 8.7 bn and Rs1.7 bn. MMLI is currently the largest supplier to Maruti Suzuki by value.
2)     As per company's estimates PV LED lighting penetration in India is at 30% as on FY20 (v/s 0.1% in FY10); which compares to 85% in Europe (v/s 1% in FY10). Owing to evolution of automotive lighting from being a commodity to technology, the pricing for head lamps has increased 2.6x over FY10-20 while that for rear lamps increased 2x.
3)     The company has localized almost 100% of components for this business in India. Most of the infra capex in this business is done through internal accruals and the company hasn't borrowed in the last three years.
4)     MMLI intends to focus on B+ PV segment to scale its business.
Marelli Motherson Automotive Lighting India (MMLI)
MMLI is the largest supplier of premium/ LED exterior lighting in India for cars (head light 57% of revenue and tail light 24% of revenue). JV partner Automotive lighting is the world second largest exterior automotive lighting maker and a leader in innovation and new technology advancements. MMLI is Maruti's largest lighting supplier by value. Other customers include - Honda, Mahindra, Ford, GM etc. Indian auto industry in the last decade witnessed 160%/100% increase in price of head /tail lamps driven by higher LED content and is likely to follow the path of the EU and reach 85% LED in a decade (current 30%).
MS Global India Automotive (MSGI)
Products include body and chassis components body in white (BIW, 73% of revenue), chassis (22% of revenue) and hot stamping (5% of revenue). Globally 15% of body parts are hot stamping while in India it is still lower due to slow adoption by Japanese OEMs in India. Hot stamping reduces weight by 25-30% (light weighting) while providing better crash testing strength. MSGI currently has 5% revenue from hot stamping and plans to increase it to 25% by FY25.
Marelli Motherson Auto Suspensions Parts (MMAS)
MMAS is a 50-50 JV between SAMIL and Marelli (leading player in shock absorbers and suspension). Products include shock absorber and suspensions. The company plans to expand its portfolio from small cars to SUVs and from LCVs/ MCVs to HCVs.
Motherson Techno Tools (MTTL)
MTTL is a 75-25 JV between Motherson and Sumitomo Electric Industries (globally reputed manufacturer of high-performance cutting tools). Products include high performance cutting tools - solid carbide drills, polycrystalline diamond tools, inserts, deburring solutions, reamers etc.
CTM India
CTM is a leading automotive tooling manufacturer with 20 years of experience in injection, compression, blow and low pressure manufacturing tools. Products include tooling equipment for bumper, door panel, instrument panel, floor console etc. CTM is the strategic tool maker for Maruti Suzuki in tool localisation for bumper and trims tools.
Key driver for the company are:
1) Localisation efforts by OEMs
2) Reduction in overall SOB within Motherson group (from current 40% to lower)
Valeo Motherson Thermal Commercial Vehicles India (VMTI)
VMTI is a 51-49 JV between Valeo and SAMIL. JV partner Valeo is a leader in thermal systems management. VMTI manufactures HVAC systems for buses and has 97% SOB (Start of Business) from Tata Motors and 70% SOB from Ashok Leyland. Other key customers include Daimler India, JCBL, Mahindra, MG, Volvo and others.
Fritzmeier Motherson Cabin Engineering (FMCEL)
FMCEL is a 50-50 JV between SAMIL and Fritzmeier, Germany (a global leader in providing complete solutions for operator safety cabins for construction, mining, agriculture and material handling equipment). Product offering ranges from cabins to high value fabricated parts, fuel tanks, hydraulic tank and tooling. Key customers include Escorts, John Deere, Mahindra, Tata Hitachi, Caterpillar, Ashok Leyland Defence, Komatsu and many more. After penetration in south India, the company is expanding its footprint in North & West. Key drivers include mandatory ROPS/FOPS (Roll-Over Protective Structures (ROPS) and Falling-Object Protective Structures (FOPS)) regulation in India by 2022-2023, increasing value / content through technology changes in the market.
(Authored by Rahul Kamdar)
Get Latest Business News, Stock Market Updates and Videos; Check your tax outgo through Income Tax Calculator and save money through our Personal Finance coverage. Check Business Breaking News Live on Zee Business Twitter and Facebook. Subscribe on YouTube.