Market Guru in talk with RJ Salil Acharya of Radio City: Search opportunities to buy real estate & Insurance shares when Nifty corrects & trades at 17,100-17,300 levels
Anil Singhvi, Managing Editor, Zee Business, says, slight correction is bound to happen in the market due to the way it has grown and reached a mark of 17,800.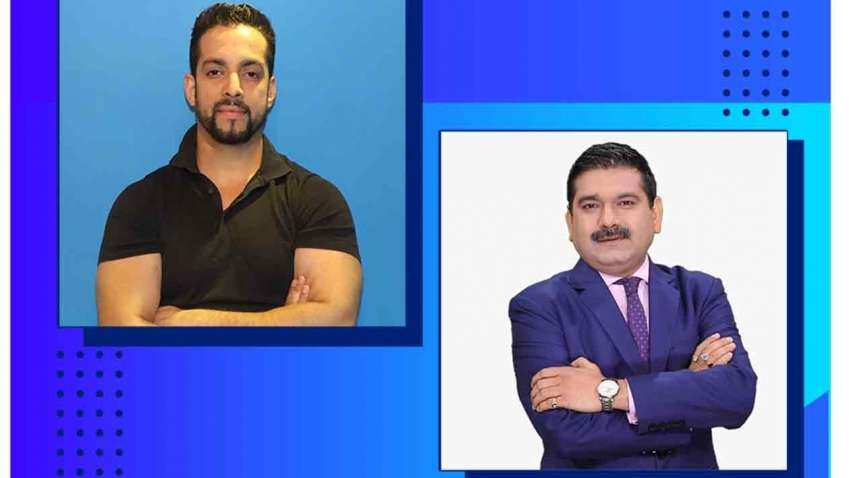 Singhvi said book profit in the stocks that you have bought and find opportunities to buy in the real estate and insurance sector when Nifty declines.
Written By:
Jitesh Kumar Jha
Updated: Sat, Sep 18, 2021
12:13 pm
Patna, ZeeBiz WebDesk
Anil Singhvi, Managing Editor, Zee Business, says, slight correction is bound to happen in the market due to the way it has grown and reached a mark of 17,800. Correction is good for the health of the market. During a candid radio podcast, "Kadak Currency', with RJ Salil Acharya, Radio City, 91.1 FM, Mumbai, Mr Singhvi said book profit in the stocks that you have bought and find opportunities to buy in the real estate and insurance sector when Nifty will decline and trade in the range of 17,100-17,300.
See Zee Business Live TV Streaming Below:
RJ Salil at the start of the podcast, 'Kadak Currency' said that the stock market is giving a victory to India almost every day and is providing a feeling that blockbusters are happening every Friday at the box office. In fact, it is giving a similar feeling almost every day at the stock market because new records are being set daily. After this he asked, there is always a limit to go up, now there is a fear and it is going up so much that people are not being able to understand it. ITC has broken the record, which was not happening for these many years and IRCTC is also touching the sky. There are many such stocks that are signalling and running even though they were not running earlier. So, what should be done? To which Mr Singhvi replied by saying if your view is for a very short term then be alert because the way the markets have moved up and has reached around 17,800 then slight corrections is bound to come, it will come and should also come, which is good for the health of the market. But if your view is for more than three days or three weeks for six months or a year or two then these things, small corrections and bullishness, will continue and it is not a reason to be worried. If in this fall, you get to see a slight correction of about 15-20% in the midcap shares, 7-8% in the heavyweights of Nifty then there will be an opportunity to buy again. But yes, you should hold the stocks which were purchased earlier from the perspective of investment and you should book the profits if they were bought for trading purposes, you should wait if you have cash. There is equal opportunity for all three, the market will give opportunities, do not leave it. 
In the next question of the podcast, RJ Salil said, every day one big news was coming into the market this time, whether it was the telecom sector, which has been a depressed sector for a long time. In fact, the government in the last two years has announced something related to the problems associated with different sectors as well as the economy. Now, the latest announcement came in the form of a moratorium after which the telecom sector stocks behaved bullishly. Even you had a discussion about it a few days ago and said that you can buy things for a short term as you can get a good rise. But what if we keep a thought process for the long-term then can stock like Vodafone Idea and Bharti Airtel can be bought? Mr Singhvi in his reply said no, not now, as the news is out now and the stocks have run a lot, this is why I was asking you earlier when there was an opportunity to invest. Vodafone Idea has moved 40-50% up from the lower levels and Bharti Airtel has also moved 25-30% up, so, now wait for a correction. Now, the big trigger is not related to the AGR dues as it is out. Now the big trigger will come when these telecom companies will come out with the pricing power and start increasing the prices. So, we should wait for it for some time, as I feel that in the next one to one-and-a-half months these stocks will be available at a lower level from here and it will be a time when they should be bought. To which, RJ Salil said, it may bring some problems for us because WhatsApp use will increase because otherwise costing will increase for the phone calls. Mr Singhvi replied by saying yes, for both, phone calls as well as the data both may go up. 
Continuing the podcast further, RJ Salil said, the stock market is touching new highs, which throws a question that what is the right time to enter into the market. Diwali or the month of October is always a time when we see shopping starts in the shops as well as of the vehicles and consumer goods. What is your prediction for the upcoming three months? To which Mr Singhvi replied, where are the vehicles? The conditions are very bad. You will not believe that every week I receive three to five calls requesting please help me in getting this vehicle if you know anyone as there is a waiting of six months or nine months or a year. So, this is the situation at present. There are two reasons for it (i) Demand is strong and (ii) chip i.e., there is a shortage for the semiconductors due to which the vehicles are not getting ready on time and production is stuck for many companies. Looking at these two factors, demand is there but a lot of vehicles will not be sold as it is not available. So, I feel, the season will be a bit down this time in the sense that the production is low at the company level. Otherwise, as you have saved money for the vehicle, and if you do not get a car, what will you do with the money. You have money and are supposed to buy something during Diwali, then you will buy something. So, the economy will remain strong and healthy and the stocks related to consumption will remain good. Even if people do not buy the vehicles, two-wheelers or four-wheelers then also other white goods and electronic items will be there and a good buying will be seen here. 
In his next question, talking about the IPOs, RJ Salil said nowadays stocks of the IPOs keep running even after the listing gains, we have seen it in Zomato as well as Ami Organics. So, can we keep a long-term perspective for these IPOs where people used to sell them during the listing gains but now everyone is afraid that if it is running then let's wait? Mr Singhvi replied to the question by saying if your luck is good and you get an allotment in a good quality IPO then do not tamper with it by selling it one or two days after listing. Because what happens is your cushion goes up in where you got an allotment in the IPO, the price at which you got it and it is listed at a premium then it does not come down to your price quickly and you can hold it for a long term. You will believe it or not but ask all those people who are sitting with blue-chip stocks to list the last 10-15 years and you will get to know that 80% of those investors have invested in the IPO. They got the allotment in the IPO at cheaper values after which his desire to sell it ends here and then you stick with it and the same will provide good returns in the next 15-20 years. So, I can't say it for every IPO because fundamental of every IPO is different but is you get allotment in the good quality IPO, please don't be in a hurry to sell them, never think that it has moved 50% or 100% higher than what. It is oaky and will take some time in which initially it will behave bullishly for four to five days and then will be silent for next five to six months but eventually, if you have a view of three to six years then you will earn good returns in these good quality IPOs. 
At the end of the podcast, RJ Salil asked about the opportunity to earn at these levels in some stocks. Mr Singhvi said this time the opportunity to earn is slightly different in which you should book profit in the stocks that you have bought. Wait for a slight correction and suppose that Nifty returns back in the range of 17,100-17,300, then think about entering there. It is not a huge correction but what will happen is that MidCap and SmallCap shares break a lot in such corrections of 400-500 points and there you will get good opportunities. Let me tell you what should be bought and they are (i) real estate shares and you should buy in the segment in the correction as they are looking quite good and (ii) insurance stocks and you are supposed to buy stocks like SBI Life, HDFC Life and ICICI Prudential. So, these are the two sectors where you should look at opportunities to buy in a correction. 
Get Latest Business News, Stock Market Updates and Videos; Check your tax outgo through Income Tax Calculator and save money through our Personal Finance coverage. Check Business Breaking News Live on Zee Business Twitter and Facebook. Subscribe on YouTube.